2023 BARRY AWARD NOMINEES AND NEW ISSUE OF DEADLY PLEASURES MYSTERY MAGAZINE
The Editor of Deadly Pleasures Mystery Magazine, George Easter, has revealed the Barry Award Nominees for 2023. The winners of these awards will be announced at the Opening Ceremonies at the San Diego Bouchercon on 31 August, 2023.
The nominees were chosen by panels of experts in mystery/crime fiction. The readers/subscribers of Deadly Pleasures Mystery Magazine will determine by vote who wins each category.
The Awards are in three categories: Best Novel, Best First Mystery or Crime Novel, and Best Thriller. Eligibility for the Awards are based on release dates and format in the United States.
The nominees, in alphabetical order, in the various categories are:
BEST NOVEL
THE ACCOMPLICE, STEVE CAVANAGH
DESERT STAR, MICHAEL CONNELLY
THE DARK FLOOD, DEON MEYER
SHIFTY'S BOYS, CHRIS OFFUTT
SECRET IDENTITY, ALEX SEGURA
CITY ON FIRE, DON WINSLOW
BEST FIRST MYSTERY OR CRIME NOVEL
BEFORE YOU KNEW MY NAME, JACQUELINE BUBLITZ
DON'T KNOW TOUGH, ELI CRANOR
SHUTTER, RAMONA EMERSON
THE MAID, NITA PROSE
BLOOD SUGAR, SASCHA ROTHCHILD
DIRT CREEK, HAYLEY SCRIVENOR
BEST THRILLER
IN THE BLOOD, JACK CARR
WINTER WORK, DAN FESPERMANN
SIERRA SIX, MARK GREANEY
BAD ACTORS, MICK HERRON
KILLERS OF A CERTAIN AGE, DEANNA RAYBOURN
GOERING'S GOLD, RICHARD O'RAWE
I think that the lists are strong. The nominees are selected by a broad panel of experts from the United States, Canada, the United Kingdom and Australia, and will be voted on by crime fiction fans. I think that this makes the awards more representative of what readers think, rather than some other awards which are decided by a small handful of authors and experts.
Not all of the titles that I would have liked to have seen on the list are there, but certainly some of my favourites made it there! I was particularly pleased to see Australian author Hayley Scrivenor on the list for her debut Dirt Creek and Australian/New Zealand author Jacqueline Bublitz for her first book Before You Knew My Name.
I was also pleased to see some of my favourites from 2022 on the list, including Deon Meyer's The Dark Flood, Michael Connelly's Desert Star, Steve Cavanagh's The Accomplice, Mick Herron Bad Actors and Dan Fespermann's Winter Work. Richard O'Rawe's little known Goering's Gold is also a good addition, as is Sascha Rothchild's quirky Blood Sugar.
All the categories look strong, especially the Best Thriller Category, which actually has a diverse range of titles from the action orientated military thrillers of Jack Carr and Mark Greaney, to the more cerebral spy novels by Mick Herron and Dan Fespermann to Deanna Raybourn's witty Killers Of A Certain Age and Richard O'Rawe's old styled Goering's Gold.
The most variety is probably in the Best First Mystery or Crime Novel category, which features some quite innovative works by Hayley Scrivenor, Jacqueline Bublitz, Sascha Rothchild and Nita Prose.
The lists are also a good guide to some of the best crime and thriller novels of 2022 and I encourage you to try some of the books that you are unfamiliar with.
Congratulations to all the nominees, it will be very interesting to see who the eventual winners are.
Personal Disclosure: I am on the Nominating Committees for the various categories.
Here is a link to George's post on the Awards at his Deadly Pleasures site: http://new.deadlypleasures.com/2023/03/01/barry-award-nominations-2023/
Here are links to my personal favourites of 2022:
https://murdermayhemandlongdogs.com/the-years-best-my-favourite-thrillers-and-crime-novels-of-2022/
https://murdermayhemandlongdogs.com/aussie-crime-2023-recent-australian-crime-novels-to-read-this-australia-day/
https://murdermayhemandlongdogs.com/best-debut-crime-novels-and-thrillers-of-2022/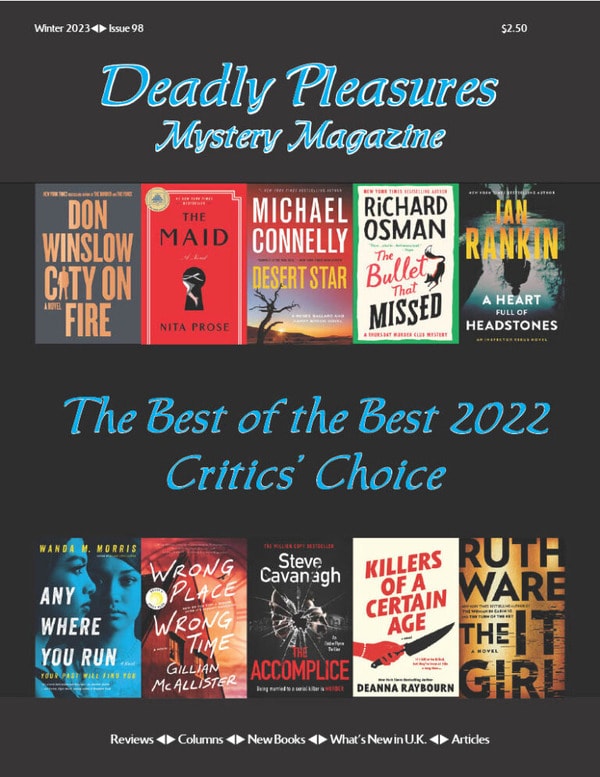 Speaking of the Best of 2022, the latest issue of George's Deadly Pleasures Mystery Magazine also has the most comprehensive listing of the best books from last year that you could find! George has collated 85 "Best Of" lists from newspapers, magazines, independent reviewers, websites and bloggers from around the world and included them in the magazine. He has also analysed the lists to find the most mentioned titles. Certainly well worth checking out.
In addition, there are the usual of wealth of reviews of current and forthcoming titles, including special sections on United Kingdom and Australian books. A must read for crime and thriller readers!
Here is a link to George's website where you can order the magazine: http://new.deadlypleasures.com/2023/02/10/dp-98-is-out-and-years-best-updated/
Happy reading everyone!