2023 HOLIDAY BOOK HAUL!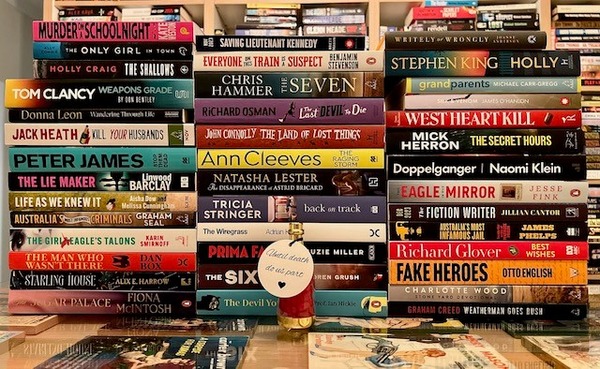 It is nice to come back from 5 weeks of holidays to find a large pile of review books waiting for you!
Although nearly 50 review books is probably a bit too much! Especially as I also have a growing pile of advanced Kindle titles and PDFs to read!
Fortunately my colleague at unseenlibrary.com dealt with some of the books while I was away and has already reviewed Stephen King's Holly, Richard Osman's The Last Devil To Die, Shelley Burr's Wake, and others, for the Canberra Weekly.
Of the crime novels on display I was particularly pleased to get Chris Hammer's The Seven (Cover The Bones in the UK),
John Connolly's The Land Of Lost Things, Benjamin Stevenson's Everyone On This Train Is A Suspect and Mick Herron's The Secret Hours for review on this blog and in the Canberra Weekly. I have already read electronic copies of the Herron and Stevenson books, and both are excellent.
Another three which look very interesting are Jack Heath's potentially appealingly titled Kill Your Husbands (and thanks to Allen & Unwin for the free jelly beans on display), Dann McDorman's intriguing looking West Heart Kill and a new Karen Pirie cold case mystery by Val McDermid Past Lying (not shown).
Fans of Donna Leon's will also be interested in her memoir Wandering Through Life.
Of the general fiction books by Australian authors, I think that Tricia Springer's Back On Track, Sally Hepworth's Darling Girls, and The Sugar Palace by the very prolific Fiona McIntosh will find their ways into reviews for the Canberra Weekly. There are also some very good non-fiction books coming out, including Jesse Fink's real life spy tale The Eagle In The Mirror, Brett Mason's Saving Lieutenant Kennedy, and Naomi Klein's scary Doppelganger.
So plenty of reading to do!
I will shortly be doing reviews of the Herron and the Stevenson books, and will also be listing my pick of the books due out before Christmas, and a quick overview of the books I read on holidays.
Happy reading!
Incidentally, Canberra fans of Chris Hammer's stellar crime can see him in conversation with Andrew Leigh at the ANU on Tuesday, 3 Oct 2023, at 6pm. It is sure to be a great night. More details here: https://www.anu.edu.au/events/meet-the-author-chris-hammer