A RUSH OF BLOOD By David Mark (Severn House, £20.99)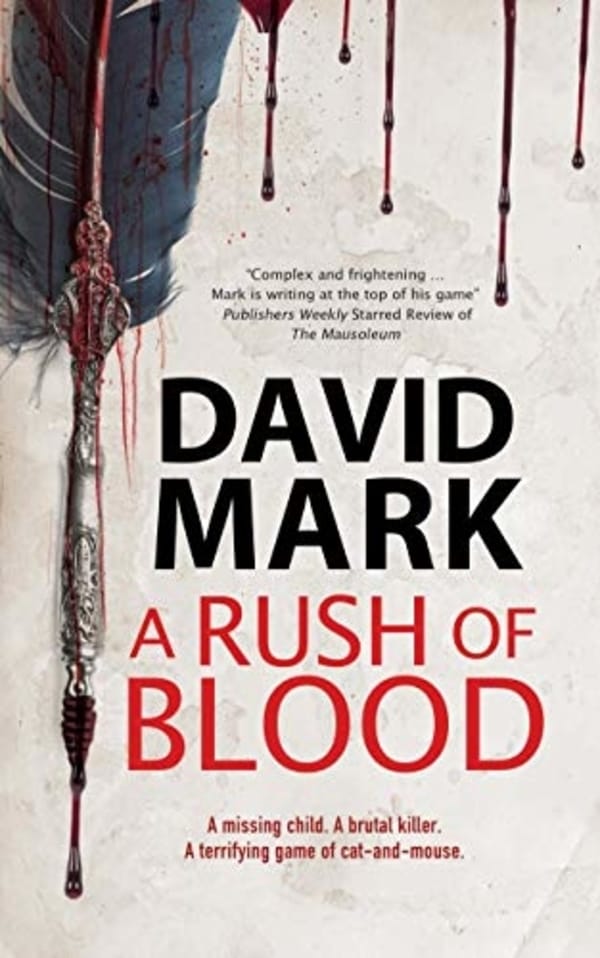 David Mark is best known for his DS McAvoy series of police novels, but he has also branched out over recent books and produced a couple of really good stand-alone novels. The Mausoleum from earlier this year (see my review from 8 April 2019), was an intriguing and unusual novel that gradually hooked you in with some strong characterisations and a well-structured plot. It remains one of my favourites of the year.
Now with A Rush Of Blood he again heads off in another new direction. Set in London's East End it is an unusual novel with a quirky cast of characters. Ten-year-old Hilda is concerned when her friend from dancing, the quiet uncoordinated Meda, goes missing. She pesters her mother, Molly, to do something about it and when they visit Meda's home, they set off a chain reaction of violence. Meda's Eastern European family assume that she has been kidnapped for money and will be returned, but Molly is not convinced and becomes caught up in something very nasty.
The story is told in alternating sections through the eyes of Hilda and Molly, with the occasional input by the creepy Mr Farkas and Molly's friend Lottie.  Molly runs a Jack the Ripper themed pub in London's East End, which also hosts a collection of old medical instruments, and Lottie is one of the regulars there.  By day Lottie is a respected pathologist, but at night she becomes a flamboyantly dressed vlogger who hosts a show about weird death related trivia and old medical practices.  Lottie is an amusing and complex character who steals the show whenever she is on the page.
Most of the story is narrated by Hilda who is looking back on events. She is a very engaging 10-year-old, but her voice seems a little too knowing and sophisticated for a young child. Molly is more convincing, and it is easy to sympathise with her as a fragile mother who is trying to do the best for her daughter in difficult circumstances.
The story takes a little while to set up, but once underway it moves at a good pace. Hilda's easy flowing telling gives momentum to the story and Lottie's amusing asides help to lighten the darkish tones. The introduction of a mysterious stranger, and potential love interest for Molly, adds some excitement and spice to the story.
The characters, the atmospheric East End settings and the Jack The Ripper information elevate A Rush Of Blood above the pack, and the storyline has enough wriggles to keep it interesting. The ending, while not unexpected, is quite dark and gripping and will stay in your mind.
In all, A Rush Of Blood is an off-beat and enjoyable crime story that provides some nice relief from the formulaic police tales that dominate much of British crime writing.
Four stars out of five!
A Rush of Blood is currently available in hardback from Britain and will be on the Kindle from 1 November 2019.
Thanks to NetGalley and Severn House for an advanced copy of the book.