A SONG FOR THE DARK TIMES by Ian Rankin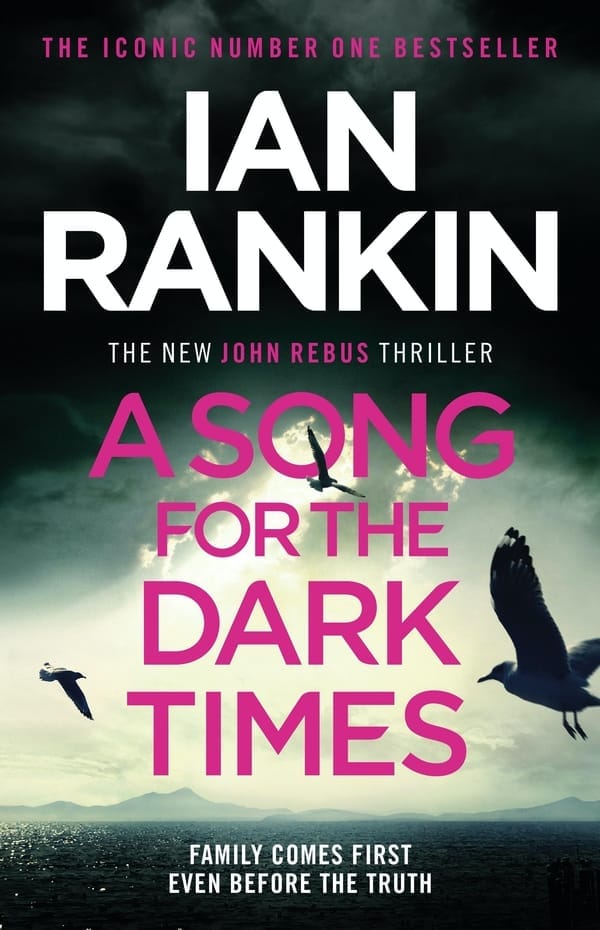 John Rebus is back, providing some brightness in these dark times!
A new Ian Rankin novel is always a delight and his latest is a great example of a crime writer at the peak of their ability. Rebus is shaken out of his retirement doldrums, and the forced move into a new apartment, when his daughter rings with the news that her husband is missing.  Fearing the worse, Rebus heads north to the windswept coastal Scottish town of Tongue to help. Meanwhile back in Edinburgh his former colleagues, Siobhan Clarke and Malcolm Fox, are struggling with the murder of a rich Arab student.  Is it a case of a mindless racist attack or are there more sinister forces at work? Of course, in the background revitalised Edinburgh underworld figure 'Big Ger' Cafferty is also using the opportunity to further his hold on the drug trade in Edinburgh and advance his influence.
This well-crafted mystery contains the usual Rankin trademarks of clever plotting, sharp social commentary, gritty characters and a wry sense of melancholy humour.  The pacing is a little slow to start with, but once underway it moves at a good speed as it heads in some very unexpected directions. Rankin introduces some interesting historical detail, with a former POW camp established in northern Scotland during World War II featuring prominently in the story, and he also delivers some good swipes at corporate greed. As well, there is his usual musical references, with Siobhan getting to deliver one of the best lines in the book:
"'Never a dull moment, eh?' a voice piped up.
Clarke looked down at the seated figure who had spoken. A young man cradling his injured shoulder.
'Know what an ex-colleague of mine would say to that?'
'What?' he asked.
'One of Rod Stewart's finest …'"
Regular crime fiction readers will also appreciate Rankin's name checking of fellow writers Lee Child and Karin Slaughter and his referencing of a crime fiction event in Edinburgh.
As usual, the plotting is superb and Rankin skillfully links the various strands of his story in an interesting way that does not over strain credibility. All the characters are fully fleshed and interesting, but Rebus and Cafferty steal the limelight every time they are on the page. Even though Rebus is continuing to age, he still shows plenty of spark and a crusty intolerance of fakeness:
"Rebus silenced him with a pointed finger. 'Any more pish about living and loving, I swear I'm going to smack you in the mouth.'"
Rankin also continues to nicely develop the supporting cast of Siobhan Clarke and Malcolm Fox in an engaging manner and Siobhan is growing into a character of real substance, who seems more than capable of carrying a book on her own. There are hints as to how the series might develop in the future and the book ends on a thudding note that will make fans of the series eagerly await the next instalment.
In all, A Song For The Dark Times, which is such an apt title for a 2020 novel, is a terrific read. It might start a little slowly, but the end result is one of the year's best books.
Four and a half stars out of five!
A Song For The Dark Times is released in Australia on 30 September 2020 and in the United Kingdom on 1 October. Thanks to Hachette Australia and the Canberra Weekly for an advanced copy of the book.