APRIL ACTION: GOING ZERO by Anthony McCarten and DYING TO KNOW by Rae Cairns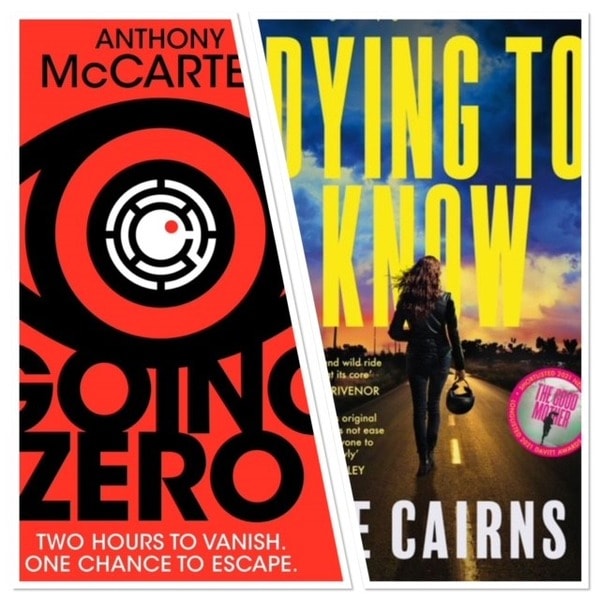 Two fast paced novels to get your April thriller reading off to a quick start!
There are strong Michael Crichton overtones to Going Zero, (Macmillan, 11 April 2023), by acclaimed New Zealand writer and filmmaker Anthony McCarten.
The story starts off simply with an intriguing premise. Set slightly in the future, ten people in America have been carefully selected to Beta test a ground-breaking piece of spyware. Pioneered by controversial tech-wizard Cy Baxter, FUSION can supposedly track anyone wherever they are on earth. Each participant is given two hours to 'Go Zero' – to go off-grid and disappear – and then thirty days to elude the highly sophisticated Capture Teams sent to find them. Any 'Zero' that beats FUSION will receive $3million in cash. If Cy's system prevails, he wins a $90 billion-dollar contract with the CIA to develop FUSION and revolutionize surveillance into the future.
Included among the contestants is Kaitlyn Day, who has her own reasons for entering and winning the challenge. For her the stakes are far higher than money, and she has developed a clever strategy for winning. As the clock counts down to zero and secrets are revealed, Kaitlyn and Baxter become caught up in a deadly battle of wits.
Going Zero is a superior piece of entertainment. The story flows at a very good pace, and McCarten's clever use of engaging vignettes of the various participants to kick the story off makes it interesting, and smoothly introduces the reader to the rules of the contest and the effectiveness of FUSION.
At around the book's mid-way point I was beginning to wonder when the more serious thriller elements would kick in and how McCarten would keep the story going, when he introduced a terrific twist that moved the book to a new level and upped the suspense. From that point on it becomes a twisty, clever race to the finish line.
Like Crichton, McCarten is very adept at skilfully weaving in technical detail and making it interesting, as well as raising a raft of thought provoking issues around Government control, surveillance, social media and the like. Some of the characters are a little shallow, but more than serviceable, and there is a real depth to Kaitlyn and genuine emotion around her dilemma.
In all, is a terrific thriller that entertains and educates and will undoubtedly make a great movie at some time in the near future!
Going Zero is released in Australia and the United States on 11 April 2023 and in the United Kingdom on 13 April 2023.
Thanks to George Easter for introducing me to it, and to the publishers and the Canberra Weekly for a physical copy of the book for review.
Also featuring a rapid pace, but a lot more family drama and emotion, is Dying To Know, (Harper Collins, 5 April 2023), by Rae Cairns.
Rae's debut, The Good Mother (2020), was an engaging thriller that partly drew on her experiences in Northern Ireland during the final years of 'The Troubles'. In Dying To Know the story remains firmly in Australia and is set in a well described Sydney and its outer suburbs.
Twelve years ago budding journalist Geneva Leighton received a phone call that stopped her life in its tracks. Her terrified sister, Amber, was locked in the boot of a moving car and begging Geneva for help. Amber never heard from her again. Since that night, Geneva's days have revolved around caring for her traumatised niece and nephew, despite the unpredictable behaviour of their father, and keeping the search for her sister alive. However, the knowledge that it should have been her in the boot of the car haunts her waking hours.
When Sergeant Jesse Johns turns up with shocking new evidence about Amber, Geneva's world is thrown into chaos again. With the police investigation going nowhere, Geneva sets out on her own search for justice, but as she edges closer and closer to the truth, she uncovers dangerous secrets that have the power to destroy everyone she loves.
Dying To Know lives up to the promise shown in The Good Mother. After a gripping and jolting opening, the book proceeds at a good pace with plenty of twists. The characters and the settings are generally well described, and Rae derives plenty of emotional drama from Geneva's relationship with her niece and nephew and the tensions caused by their father's family. Some of the characters border on caricature, but I really liked Rae's descriptions of the outlaw motorcycle gang members that play a pivotal role in the story.
The mixture of family drama with thriller action and pace, make this an ideal read for fans of domestic suspense who like a bit of oomph with their reading!
In all, an enjoyable tale that will make for a good long weekend read this Easter.
Dying To Know is released in Australia on 5 April 2023. It is also released on Kindle in the United States and the United Kingdom on 5 April 2023. Thanks to the publisher and the Canberra Weekly for a copy of the book for review.