AUSSIE CRIME 2021:Ten Recent Australian Crime Fiction Books to Read this Australia Day.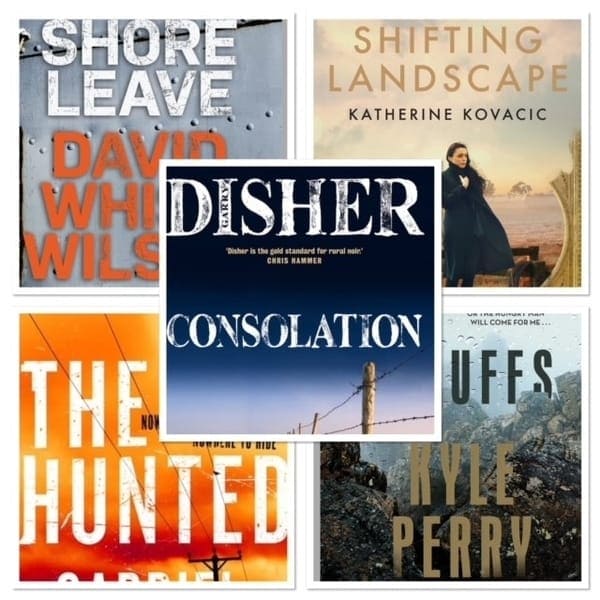 The rejuvenation of Australian crime fiction continued at a brisk pace in 2020 with a dazzling array of strong releases across the spectrum of the genre. Although COVID-19 slowed many aspects of life, it did not hamper the flow of good local crime novels and there were plenty of enjoyable books to read during shut-down.
The growth of rural crime or bush/outback noir, has been particularly noticeable over the past few years, and there were again some very good books set in the Australian outback, particularly Garry Disher's Consolation. Refreshingly, there was also an impressive trio of books by Kyle Perry, Jane Harper and Sarah Barrie set in the rarely used locations of rural and coastal Tasmania. Balancing these were some very good urban crime novels that were more indicative of the general Australian experience and which greatly entertained, while also tackling important social issues. Mental health, discrimination and the influence of the media were popular topics, while the intersection between politics and crime was convincing explored in Chris Hammer's Trust and in Michael Brissenden's excellent forthcoming 2021 release Dead Letters.
I think one of the most impressive aspects of Australian crime fiction in 2020 was the number of very good debuts, led by Kyle Perry and Gabriel Bergmoser, but also including Katherine Firkin and S R White. It bodes very well for the future of Australian crime writing.
The local crime fiction community has also been bolstered and supported by the presence of several successful international authors who set their novels overseas, such as Michael Robotham (who won the 2020 British Gold Dagger Award), Megan Goldin, Tony Park and Allie Reynolds, whose recent debut novel Shiver is a terrific read.
Set out below in a rough order of preference are ten outstanding crime fiction books with an Australian setting, which have appeared in the past twelve months or so, and an essential guide to Australian crime fiction by Craig Sisterson. I have also included links to my original reviews of the books.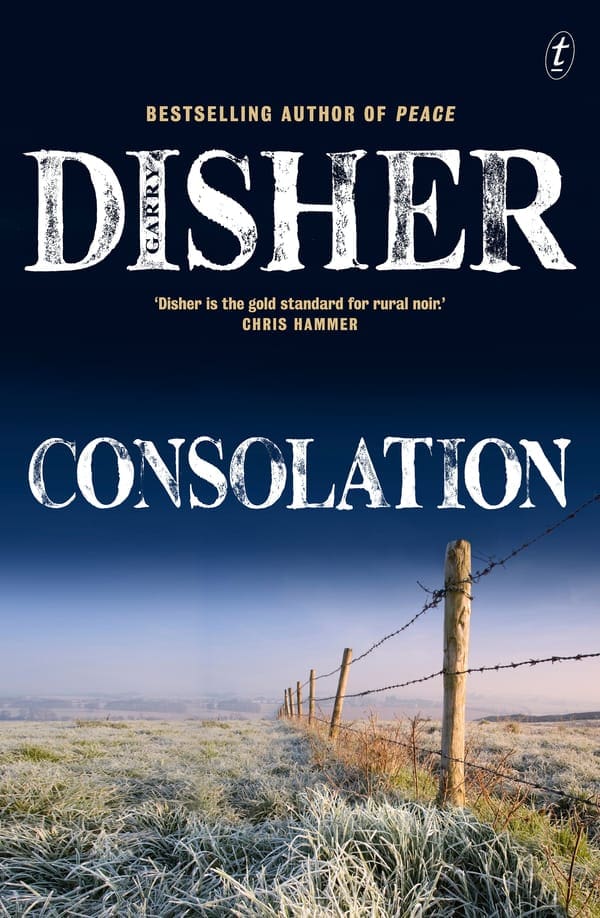 1. Consolation by Garry Disher. Disher has been a mainstay of the Australian crime fiction scene since the early 1990s with his hardboiled tales about the amoral crook known only as Wyatt and his police novels set on the Mornington Peninsula. Consolation is the third book in his series about rural South Australian cop Paul Hirschhausen and is an evocative, enjoyable novel that excels in its depiction of policing in outback Australia. https://murdermayhemandlongdogs.com/consolation-by-garry-disher-text-3-november-2020/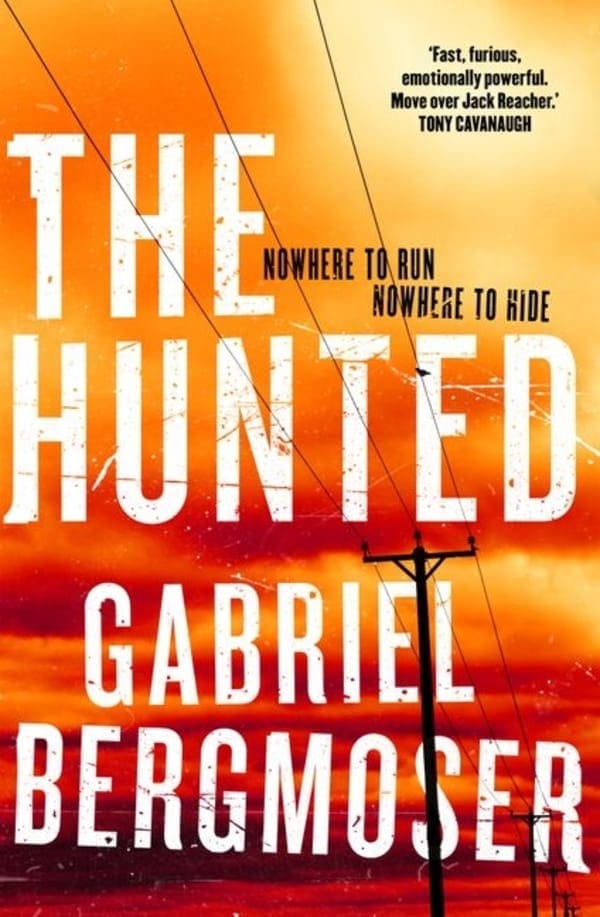 2. The Hunted by Gabriel Bergmoser. This debut novel by Gabriel Bergmoser is a wild ride of a novel that started at top speed and then just kept getting faster. Almost impossible to put down, it is a thrilling, visceral read. https://murdermayhemandlongdogs.com/the-hunted-by-gabriel-bergmoser-harper-collins-august-2020/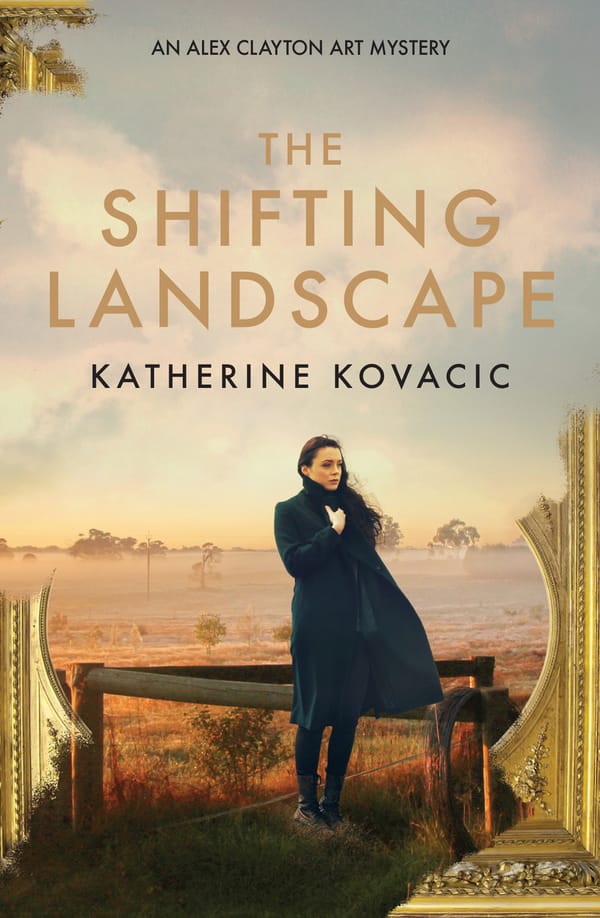 3. The Shifting Landscape by Katherine Kovacic. The third novel in Katherine's series about art dealer Alex Clayton is a nice mixture of murder mystery, art history and rural drama. It is a very enjoyable book that also raises some important issues about the historic and ongoing treatment of Indigenous Australians. https://murdermayhemandlongdogs.com/the-shifting-landscape-by-katherine-kovacic-echo/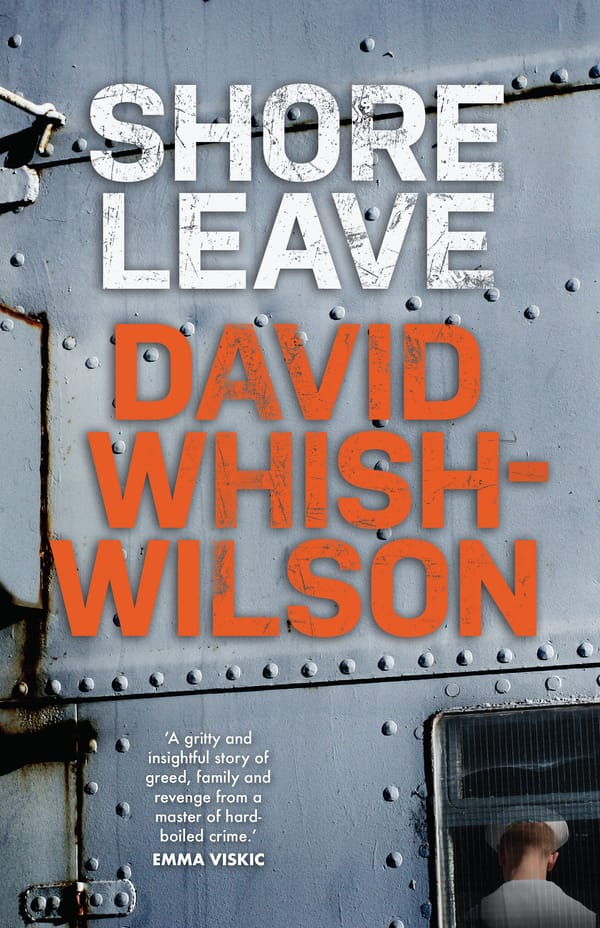 4. Shore Leave by David Whish-Wilson. Whish-Wilson has a fine eye for character and a good ability to capture the atmosphere of a location. This is the fourth novel in his gritty series of books about detective Frank Swann and marvelously captures the underbelly of Perth in the 1980's. A damn fine read. https://murdermayhemandlongdogs.com/shore-leave-by-david-whish-wilson-fremantle-november-2020/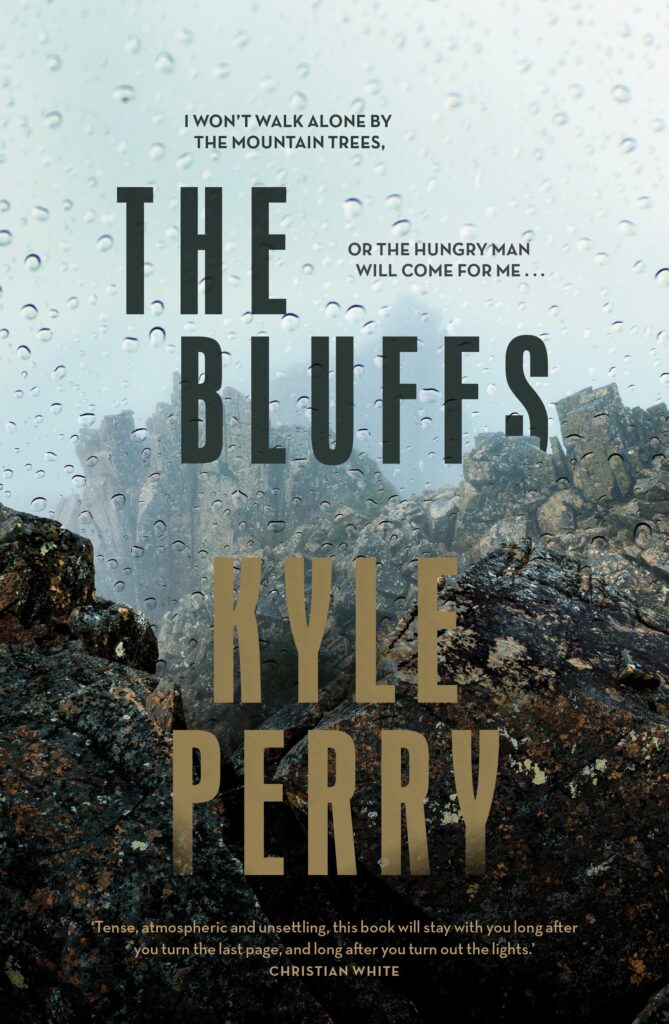 5. The Bluffs by Kyle Perry. This impressive novel marks the debut of a writer who I think is going to become a major figure in Australian crime fiction. Richly textured and well written, The Bluffs is set in the remote wilderness of Tasmania's Great Western Tiers and opens with the disappearance of a group of teenage girls whilst on a school camp. An outstanding read. https://murdermayhemandlongdogs.com/tasmanian-wilderness-noir-the-bluffs-by-kyle-perry-deadmans-track-by-sarah-barrie/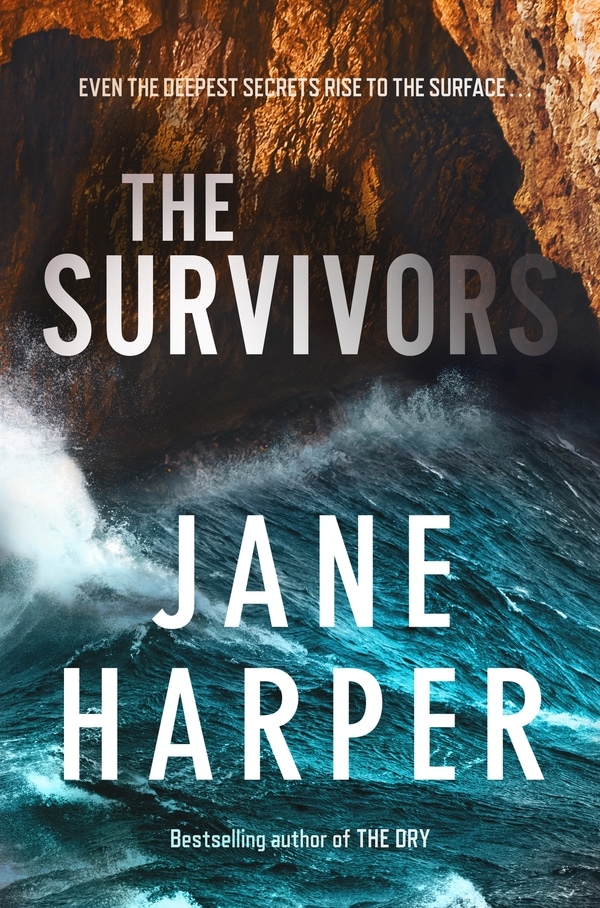 6. The Survivors by Jane Harper. In one of the most eagerly awaited Australian crime novels of 2020, Jane Harper, bestselling author of The Dry, shifted her focus away from Australia's sun-bleached interior to the rough, windswept coast of Tasmania. This evocative novel had a slightly slower pace than her previous books, but was still a thoroughly enjoyable read that held your attention all the way to the powerful, emotional ending. https://murdermayhemandlongdogs.com/the-survivors-by-jane-harper-macmillan-2020/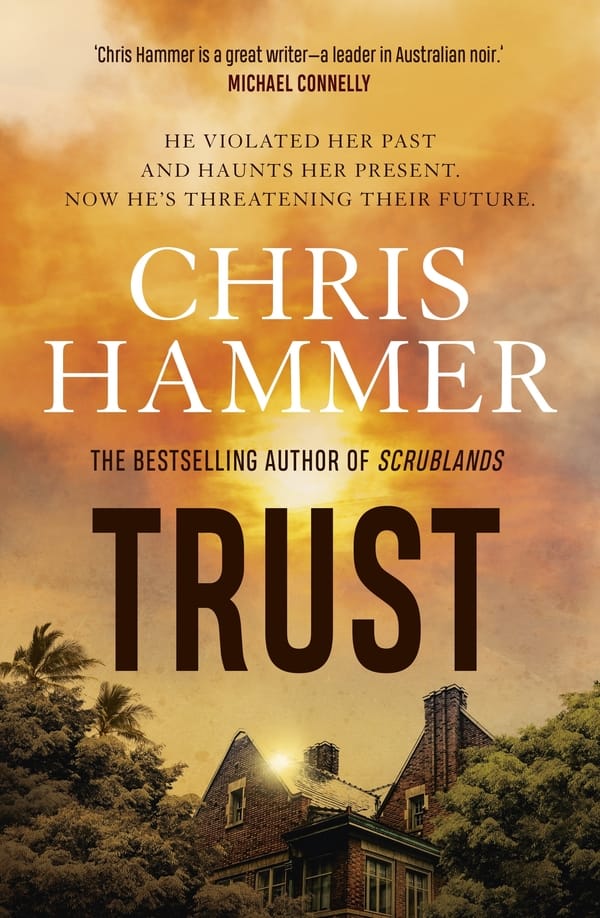 7. Trust by Chris Hammer. For his third novel, Hammer turned his attention away from rural and coastal Australia to the big city environs of Sydney. The result is an intricate and exciting tale that produces some good twists. I enjoyed the plotting and the rich, evocative descriptions of his Scrublands, but I think that Trust is a stronger, more compelling and ultimately more thrilling crime novel. https://murdermayhemandlongdogs.com/trust-by-chris-hammer-allen-unwin/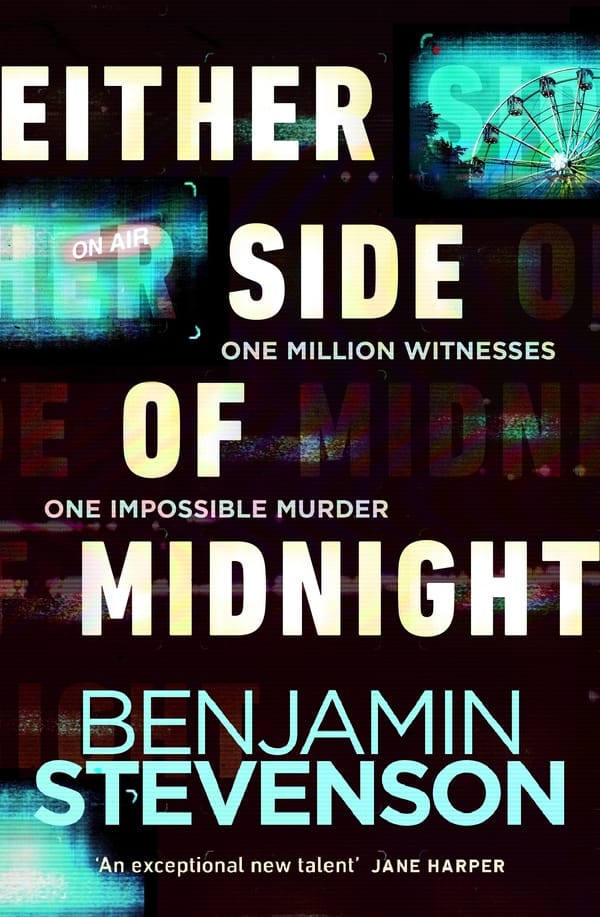 8. Either Side Of Midnight by Benjamin Stevenson. This follow up to Stevenson's excellent debut, Greenlight (also published as She Lies In The Vines), is a very entertaining and engrossing crime story that delivers some neat twists and a tense, surprising climax. It also seamlessly deals with some very topical issues around mental health and the effects of guilt. https://murdermayhemandlongdogs.com/either-side-of-midnight-by-benjamin-stevenson-michael-joseph-1-september-2020/
9. Tell Me Lies by J. P. Pomare. Arriving at the tail end of 2020, Tell Me Lies by New Zealand author Pomare, is an engrossing psychological thriller set in Melbourne. Nicely paced with a good rhythm and a steadily increasing sense of unease, this short novel produces some unexpected twists along the way to the dark and thoughtful conclusion. https://murdermayhemandlongdogs.com/tell-me-lies-by-j-p-pomare-hachette-29-december-2020/
10. Dead Man's Tracks by Sarah Barrie. Sarah is probably one of those authors who gets a little overlooked, which is unfortunate as she is a talented author who knows how to deliver an entertaining novel that appeals to her growing fan base. Dead Man's Tracks is another of her enjoyable romantic suspense novels set in the Tasmanian wilderness and features a good plot and a suspenseful conclusion. https://murdermayhemandlongdogs.com/tasmanian-wilderness-noir-the-bluffs-by-kyle-perry-deadmans-track-by-sarah-barrie/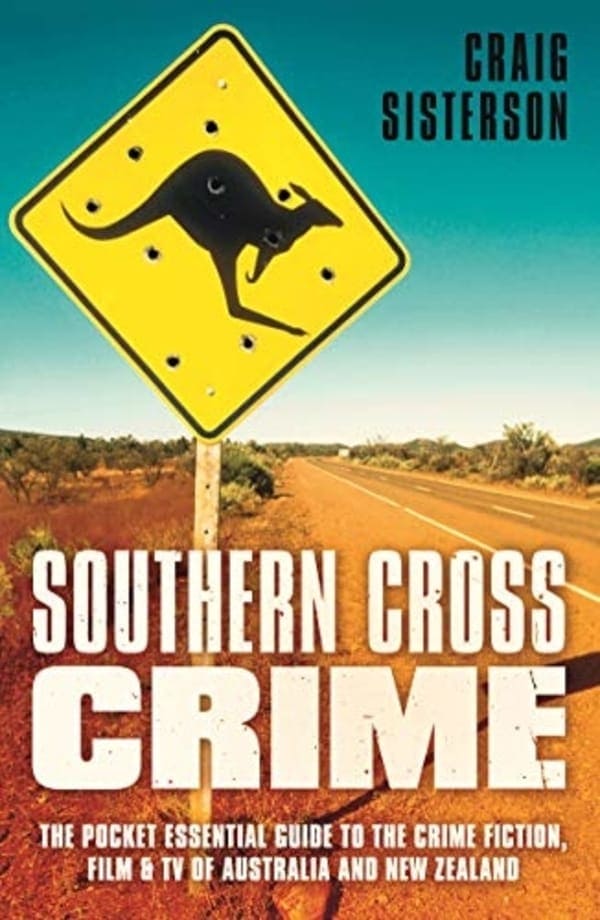 Providing the perfect accompaniment to the above books is Craig Sisterson's Southern Cross Crime. This guide to modern Australian and New Zealand crime and thriller writing is a fascinating and comprehensive summary of the local genre. Enhanced by Sisterson's easy flowing and engaging style, and his generous assessments, this book provides a locational and thematic analysis of modern crime writing 'down under'.
Craig covers an impressive range of books and authors, some of which I had forgotten about, and provides fascinating insights into the writing process through his interviews with key authors.
The book takes as its starting point the first Ned Kelly Awards in 1996, which I had the pleasure of attending and which featured an entertaining performance by the "Demon Dog' himself, James Ellroy, and then covers authors up to the present day.
I really enjoyed this book, which highlights all the well known authors and rightly lifts up some forgotten writers, such as Caroline Shaw and Carolyn Morwood. As far as I could tell, the gaps are minor. I thought that it was a shame that good, influential thriller writers such as Tony Park, Sandy McCutcheon and Jon Weaving did not get a mention and was surprised that Robert Wallace (Robin Wallace-Crabbe), who was a key figure in the original Australian crime fiction revival in the 1980s/90s and the crime fiction reviewer for the Australian for many years, was also overlooked. But these are minor quibbles and this is a 'must' read for anyone interested in local crime fiction.
The good news is that there is still plenty of good Australian crime writing to come in 2021, with new novels by Michael Brissenden and Iain Ryan already impressing this year!
Here is a link to the 2020 edition of this article: https://murdermayhemandlongdogs.com/aussie-crime-ten-recent-australian-crime-fiction-books-to-read-this-australia-day/
And to the 2022 edition of this article: https://murdermayhemandlongdogs.com/aussie-crime-2022-recent-australian-crime-novels-to-read-this-australia-day/