BARRY AWARD NOMINEES 2021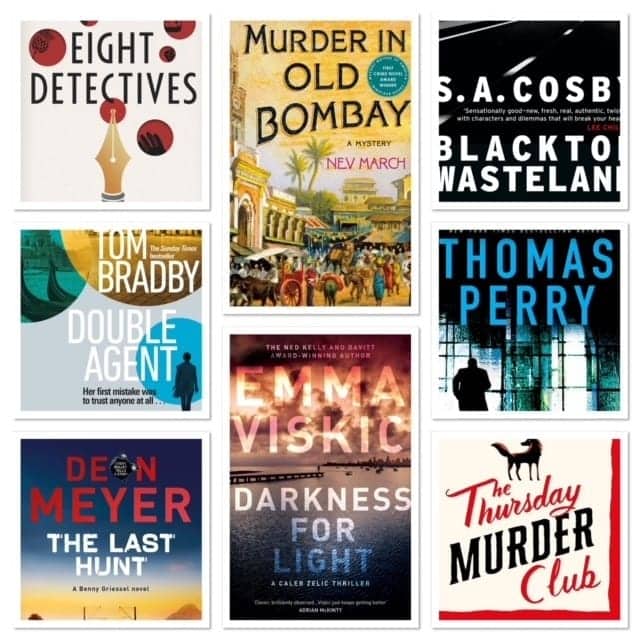 The Editor of Deadly Pleasures Mystery Magazine, George Easter, has announced the Barry Award Nominees for 2021. The winners of these awards will be announced at the Opening Ceremonies at the New Orleans Bouchercon on August 26, 2021.
The nominees were chosen by panels of experts in mystery/crime fiction.  The readers/subscribers of Deadly Pleasures Mystery Magazine will determine by vote who wins each category.
The Awards are in four categories: Best Novel, Best First Novel, Best Paperback Original and Best Thriller. Eligibility for the Awards are based on release dates and format in the United States.
The nominees in the various categories are:
BEST NOVEL
THE BOY FROM THE WOODS, Harlan Coben
THE LAW OF INNOCENCE, Michael Connelly
BLACKTOP WASTELAND, S. A. Cosby
AND NOW SHE'S GONE, Rachel Howzell Hall
MOONFLOWER MURDERS, Anthony Horowitz
ALL THE DEVILS ARE HERE, Louise Penny
BEST FIRST NOVEL
DEEP STATE, Chris Hauty
MURDER IN OLD BOMBAY by Nev March
THE THURSDAY MURDER CLUB, Richard Osman
THE EIGHTH DETECTIVE (EIGHT DETECTIVES in Australia and the UK), Alex Pavesi
WINTER COUNTS, David Heska Wanbli Weiden
DARLING ROSE GOLD, Stephanie Wrobel
BEST PAPERBACK ORIGINAL
WHEN NO ONE IS WATCHING, Alyssa Cole  
MONGKOK STATION, Jake Needham
HIDE AWAY, Jason Pinter
BAD NEWS TRAVELS FAST, James Swain
DARKNESS FOR LIGHT, Emma Viskic
TURN TO STONE, James W. Ziskin
BEST THRILLER
DOUBLE AGENT, Tom Bradby
BLIND VIGIL, Matt Coyle
ONE MINUTE OUT, Mark Greaney
THE LAST HUNT, Deon Meyer
EDDIE'S BOY, Thomas Perry
THE WILD ONE, Nick Petrie

I think that the lists are very strong. The nominees are selected by a broad panel of experts from the United States, Canada, the United Kingdom and Australia, and will be voted on by crime fiction fans. I think that this makes the awards more representative of what readers think, than some other awards which are decided by a small handful of authors and experts.
I was particularly pleased to see Australian author Emma Viskic on the list for Darkness For Light, which was released last year in America as a Paperback Original. It is a great novel and hopefully will do well in the voting.
All the categories look strong, especially The Best Thriller category which features some of my favourite books of last year, including Tom Bradby's Double Agent, Thomas Perry's Eddie's Boy and Deon Meyer's The Last Hunt (which I read and reviewed in 2019 before its release in America in 2020). Matt Coyle's Blind Vigil is also a strong entry. I suspect that voting will be very close in this category.
Some of my personal favourites from last year did not make it onto the lists, but overall I think it is a very good mix of nominees that represent the broad spectrum of the genre from traditional mysteries to police novels to hard action thrillers and domestic suspense.
The lists are also a good guide to some of the best crime and thriller novels of 2020 and I encourage you to try some of the books that you are unfamiliar with. Especially those on the Best First Novel and Best Paperback Original lists, which contain some authors that are probably less well known to a lot of readers. Along with Emma Viskic, Australian readers may also wish to try Jake Needham's Asian based thrillers.
Congratulations to all the nominees, it will be very interesting to see who the eventual winners are.
Here is a link to George's post on the Awards at his Deadly Pleasures site: http://new.deadlypleasures.com/2021/03/19/2021-barry-award-nominations/
Here are links to my reviews of some of the award nominees:
https://murdermayhemandlongdogs.com/blacktop-wasteland-by-s-a-cosby-flatiron/
https://murdermayhemandlongdogs.com/deep-state-by-chris-hauty/
https://murdermayhemandlongdogs.com/the-thursday-murder-club-by-richard-osman-viking-september-2020/
https://murdermayhemandlongdogs.com/darkness-for-light-by-emma-viskic-echo/
https://murdermayhemandlongdogs.com/double-agent-by-tom-bradby-bantam-may-2020/
https://murdermayhemandlongdogs.com/thriller-round-up-november-2020/
https://murdermayhemandlongdogs.com/the-last-hunt-by-deon-meyer-hodder-stoughton-a32-99/
https://murdermayhemandlongdogs.com/eddies-boy-by-thomas-perry-black-cat-december-2020/