BARRY AWARD NOMINEES 2022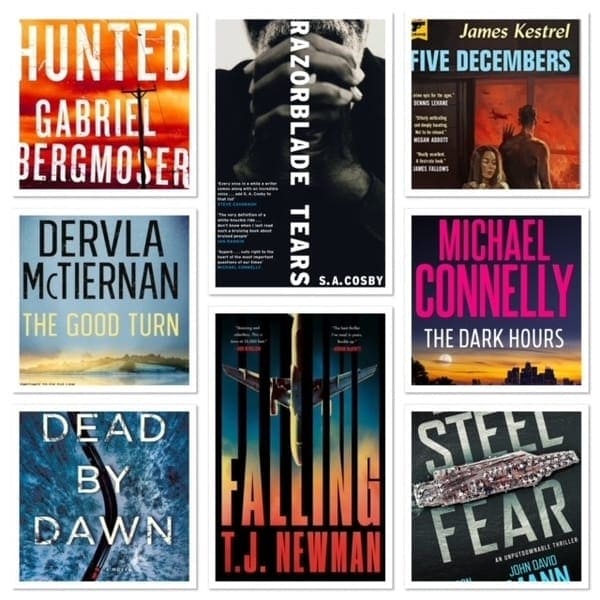 The Editor of Deadly Pleasures Mystery Magazine, George Easter, has revealed the Barry Award Nominees for 2022. The winners of these awards will be announced at the Opening Ceremonies at the Opening Ceremonies at the Minneapolis Bouchercon on September 8, 2022.
The nominees were chosen by panels of experts in mystery/crime fiction. The readers/subscribers of Deadly Pleasures Mystery Magazine will determine by vote who wins each category.
The Awards are in four categories: Best Novel, Best First Novel, Best Paperback Original and Best Thriller. Eligibility for the Awards are based on release dates and format in the United States.
The nominees, in alphabetical order, in the various categories are:
BEST NOVEL
THE DARK HOURS, Michael Connelly
RAZORBLADE TEARS, S. A. Cosby
LAST REDEMPTION, Matt Coyle
CLARK AND DIVISION, Naomi Hirahara
BILLY SUMMERS, Stephen King
WE BEGIN AT THE END, Chris Whitaker
BEST FIRST NOVEL
WHO IS MAUDE DIXON, Alexandra Andrews
GIRL A, by Abigail Dean
DOWN RANGE, Taylor Moore
FALLING, T. J. Newman
SLEEPING BEAR, Connor Sullivan
STEEL FEAR, Brandon Webb & John David Mann
BEST PAPERBACK ORIGINAL
THE HUNTED, Gabriel Bergmoser
ARSENIC AND ADOBO, Mia P. Manansala
BLACK CORAL, Andrew Mayne
THE GOOD TURN, Dervla McTiernan
SEARCH FOR HER, Rick Mofina
BOUND, Vanda Symon
BEST THRILLER
THE DEVIL'S HAND, Jack Carr
THE NAMELESS ONES, John Connolly
DEAD BY DAWN, Paul Doiron
RELENTLESS, Mark Greaney
SLOUGH HOUSE, Mick Herron
FIVE DECEMBERS, James Kestrel
I think that the lists are very strong. The nominees are selected by a broad panel of experts from the United States, Canada, the United Kingdom and Australia, and will be voted on by crime fiction fans. I think that this makes the awards more representative of what readers think, rather than some other awards which are decided by a small handful of authors and experts.
I was particularly pleased to see Australian authors Gabriel Bergmoser and Dervla McTiernan on the list for their books The Hunted and The Good Turn, both of which were released last year in America as Paperback Originals. Likewise it is nice to see Kiwi author Vanda Symon there for her book Bound, which was finally released in America in 2021, several years after its original publication in New Zealand.
All the categories look strong, especially The Best Thriller category which features some of my favourite books of last year, including John Connolly's The Nameless Ones, Paul Doiron's Dead By Dawn, Mick Herron's Slough House and James Kestrel's Five Decembers. I have difficulty in deciding between these four and I suspect that voting will be very close in this category. Likewise, the Best Novel Category is also very competitive and nicely reflects the diversity of today's crime fiction.
Some of my personal favourites from last year did not make it onto the lists, but overall I think it is a very good mix of nominees that represent the broad spectrum of the genre from a culinary cozy mystery to police and private eye novels to hard action thrillers and books of psychological suspense.
The lists are also a good guide to some of the best crime and thriller novels of 2021 and I encourage you to try some of the books that you are unfamiliar with. Especially those on the Best First Novel and Best Paperback Original lists, which contain some authors that are probably less well known to a lot of readers, particularly Gabriel Bergmoser and Brandon Webb & John David Mann.
Congratulations to all the nominees, it will be very interesting to see who the eventual winners are.
Personal Disclosure: I am on the Nominating Committees for the various categories.
Here is a link to George's post on the Awards at his Deadly Pleasures site: http://new.deadlypleasures.com/2022/01/28/2022-barry-award-nominations/
Here are links to my reviews of some of the award nominees:
https://murdermayhemandlongdogs.com/the-dark-hours-by-michael-connelly-allen-unwin/
https://murdermayhemandlongdogs.com/july-justice-new-tough-novels-by-s-a-cosby-steve-cavanagh-and-gabriel-bergmoser/
https://murdermayhemandlongdogs.com/late-september-reading-tough-action-thrillers/
https://murdermayhemandlongdogs.com/may-mayhem-recent-crime-and-thriller-reading/
https://murdermayhemandlongdogs.com/the-good-turn-by-dervla-mctiernan-harper-collins/
https://murdermayhemandlongdogs.com/the-nameless-ones-by-john-connolly-hodder-stoughton-july-2021/
https://murdermayhemandlongdogs.com/wilderness-thrillers-new-books-by-c-j-box-and-paul-doiron/
https://murdermayhemandlongdogs.com/spies-spies-spies-three-recent-espionage-novels-by-mick-herron-jack-beaumont-and-michael-kurland/
https://murdermayhemandlongdogs.com/tough-guys-and-crooked-cops-my-november-crime-reading/