BLUE MOON by Lee Child (Bantam, $A32.99)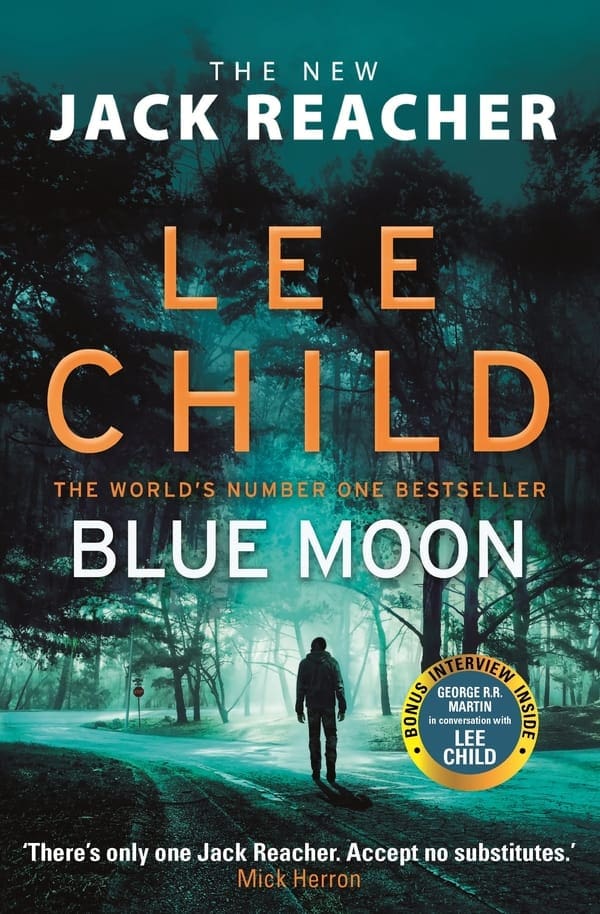 Jack Reacher, the modern day western hero and perpetual drifter, is back in another action packed adventure.
Blue Moon, the 24th novel in the series, finds Reacher on a Greyhound bus en route to a small, unnamed city in America. He notices that one of the passengers, a young guy with "greasy hair and a thin goatee beard", is paying too much attention to another passenger, an old man with an envelope potentially full of money. When the bus stops, Reacher intervenes and stops the robbery, but not before the old man is injured. The money is for a loan shark and when Reacher helps out the old man and his wife in making the payment, he inadvertently finds himself caught up in a bloody battle for supremacy between the city's two warring criminal gangs:
"The west of the city was run by the Ukrainians. The east was run by the Albanians. The demarcation line between them was gerrymandered as tight as a congressional district." It is a stable situation until one side gets too greedy and then a bloodbath erupts with Reacher in the middle.
The story follows a familiar pattern with Reacher reluctantly becoming caught up in something nasty and then gradually taking control of the situation and bringing justice to the villains. As is often the case, he is helped in his mission by an assorted group, including a waitress with a grudge of her own against the gangs and a couple of musicians, one of whom has military training.
The pace is brisk and violent and the bodies soon start to pile up, sometimes at an alarming, cartoonish rate. Child seems to have had good fun in creating the two competing gangs and setting out the characteristics of the various members and describing how the town operates. The greed and stupidity of the gang members creates some moments of dark humour, although it is always undercut by an acknowledgement that there is something very wrong with the level of criminality and corruption that exists in small American towns.
The dialogue is typically Child, flat and largely unemotional, with Reacher dispelling good advice and sharp observations about life in equal measure. There are some good exchanges, especially this one following Reacher using one of the musician's guitars to fatally injure an armed crook:
"'I apologize,' he said. 'I hope I didn't damage it.'
'Don't worry,' Barton said. 'It's a Fender Precision. It's a ten pound plank of wood. I got it from a pawn shop in Memphis, Tennessee, for thirty-four dollars. I'm sure worse things have happened in its life.'"
In all, Blue Moon is not top-drawer Child/Reacher, but it is still a very enjoyable read that will satisfy his horde of followers. As a bonus, at the back of the book (Australian edition) there is a transcript of an interesting conversation between Lee Child and George R. R. Martin, which is well worth reading.
Four stars out of five.
Blue Moon is released in Australia and elsewhere on 29 October 2019. Thanks to the Canberra Weekly and Penguin Random House for an advanced copy of the book.