BRITISH SUSPENSE: THE FAMILY REMAINS By Lisa Jewell and FATAL WITNESS by Robert Bryndza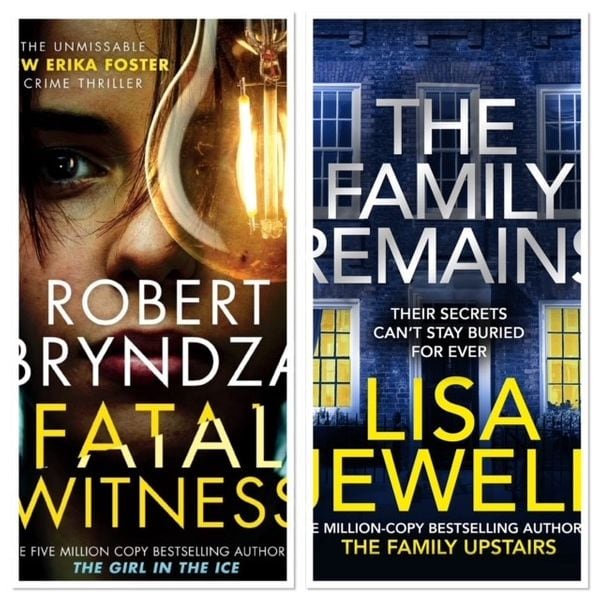 Welcome to July and new releases by two of Britain's leading suspense writers.
Robert Bryndza first gained attention with his series of books about London detective Erika Foster, before shifting his attention in recent years to a new lead character in the form of former police detective Kate Marshall who is eking out an existence as a PI and lecturer at a small coastal English university. His most recent book in the Kate Marshall series, Darkness Falls (2021) was a terrific read and was one of my favourite detective novels from 2021.
Now, after a four year break, Bryndza returns to London detective Erika Foster. Fatal Witness (Raven Street, 7 July 2022) opens with Erika stumbling across the brutal murder of a young woman while on a late night walk near her new home in Blackheath. The victim appears to be Vicky Clarke, a struggling true-crime podcaster. Erika is assigned to the case and discovers that Vicky had been working on a new podcast episode about a sexual predator who preys on young female students around South London, staking out his victims in their halls of residence before breaking in at the dead of night. When Erika discovers that Vicky's notes and sound recordings were stolen from her flat at the time of her murder, it leads her to suspect that Vicky may have been close to unmasking the attacker. The case takes a disturbing twist, however, and Erika finds herself desperately trying to prevent another killing.
This is a well plotted and very enjoyable detective novel. The pacing is good and Erika is a very engaging character who ably guides the reader through the various twists and turns. With the exception of one false note, the other characters are also well crafted and credible, and add good depth to the story. Red herrings and false leads are adroitly woven into the plot, and the book builds to a surprising conclusion. After a good build-up, the tension wanes a little in the end, but not enough to undermine what is a very good crime thriller.
A strong four out of five stars!
Fatal Witness is released in Australia and the United Kingdom on 7 July 2022. Thanks to the publishers and NetGalley for an advanced copy of the book.
Popular British author Lisa Jewell once more skirts around the edges of domestic suspense and murder mystery in her latest book, The Family Remains (Century, 5 July 2022).
The Family Remains continues the story from Lisa's very popular The Family Upstairs from a few years back. Told across multiple timelines, the story opens in June 2019 with the discovery of a bag of human bones that are related to a decades old murder, before shifting back to July 2018 and another murder, this time in Paris. Linking the various storylines are the families of 18 Cheyne Walk London, particularly the Lamb family. To go into more detail would ruin the marvellous surprises in this book and also potentially reveal too much about the events in The Family Upstairs. Suffice to say that Lisa does a good job weaving together a fresh new mystery with incidents from the earlier book and creating a compelling new story.
This is a tightly structured novel with dual timelines and shifting point of views, that steadily draws the reader in and keeps them interested in the various going-ons. The opening chapters are a little slow, but the tension steadily increases as the various timelines come together and Lisa once more reveals herself as being a deft hand at laying misleading clues and playing on our expectations.
Overall, the story unfolds smoothly and, although some patience is required, it builds to a clever conclusion. The characters are well drawn, and interesting, and fans of the earlier book will enjoy being re-acquainted with Henry, Lucy and Libby and finding out what happened to them.
A solid mystery that will particularly appeal to those that like a heavy dose of family drama with their mystery reading.
Four stars out of five for domestic suspense fans!
The Family Remains will be released in Australia on 5 July 2022 and in the United Kingdom on 21 July 2022.