CANBERRA WEEKLY COLUMN: 17 DECEMBER 2020 – SUMMER NOVELS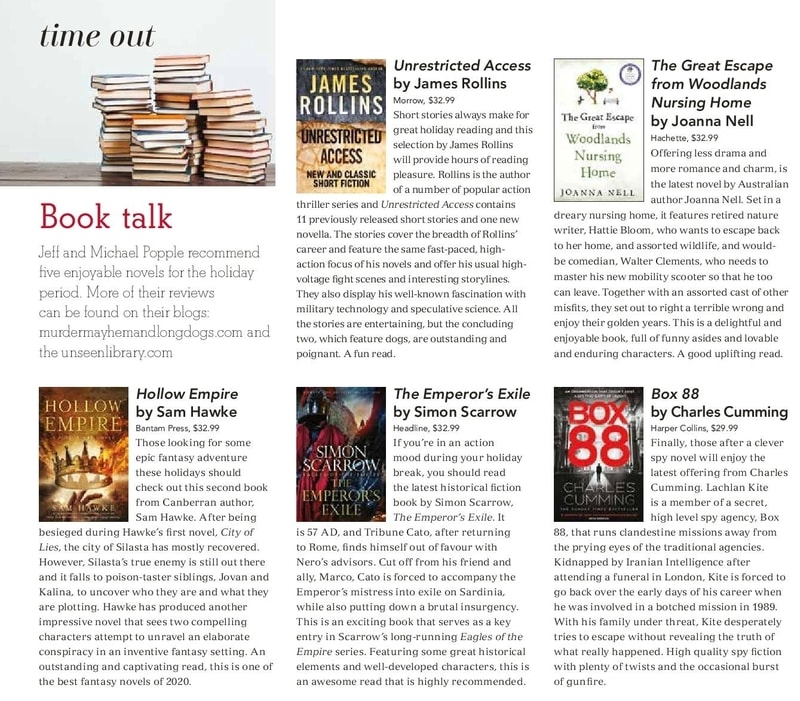 Last week in the Canberra Weekly my colleague Michael Popple (https://unseenlibrary.com/) and I recommended five novels to read over the holiday period.
I recommended three books. First up was Unrestricted Access (Morrow) by James Rollins. Of it I said:
"Short stories always make for great holiday reading and this selection by James Rollins will provide hours of reading pleasure.  Rollins is the author of a number of popular action thriller series and Unrestricted Access contains eleven previously released short stories and one new novella.  The stories cover the breadth of Rollins' career and feature the same fast pace, high action focus of his novels and offer his usual high voltage fight scenes and interesting storylines. They also display his well-known fascination with military technology and speculative science. All the stories are entertaining, but the concluding two, which feature dogs, are outstanding and poignant. A fun read."
I also did a longer review of James' book at: https://murdermayhemandlongdogs.com/short-thrills-unrestricted-access-by-james-rollins-and-nothing-good-happens-after-midnight-edited-by-jeffery-deaver/
Joanna Nell's The Great Escape From Woodlands Nursing Home (Hachette) was a delightful fun read about making the most of your life, no matter how old you are. Funny and poignant in parts, it was also a sharply observed reflection on society's treatment of older people. I described it as:
"Offering less drama and more romance and charm, is the latest novel by Australian author Joanna Nell.  Set in a dreary nursing home, it features retired nature writer Hattie Bloom who wants to escape back to her home, and assorted wildlife, and would-be comedian Walter Clements, who needs to master his new mobility scooter so that he too can leave. Together with an assorted cast of other misfits, they set out to right a terrible wrong and enjoy their golden years.  This is a delightful and enjoyable book, full of funny asides and lovable and enduring characters. A good uplifting read."
Charles Cumming is one of my favourite contemporary spy novelists and his latest novel, Box 88 (Harper Collins), is a tense tale about deep secrets and old betrayals. Not quite in the same class as his excellent earlier novels, A Colder War and The Trinity Six, but still a very good spy novel to while away the summer break with. I described it as:
"Those after a clever spy novel will enjoy the latest offering from Charles Cumming.  Lachlan Kite is a member of a secret, high level spy agency, Box 88, that runs clandestine missions away from the prying eyes of the traditional agencies. Kidnapped by Iranian Intelligence after attending a funeral in London, Kite is forced to go back over the early days of his career when he was involved in a botched mission in 1989. With his family under threat, Kite desperately tries to escape without revealing the truth of what really happened.  High quality spy fiction with plenty of twists and the occasional burst of gunfire."
Michael reviewed a great fantasy novel by local Canberra writer Sam Hawke, Hollow Empire, and the latest Roman adventure novel by the king of historical military fiction Simon Scarrow, The Emperor's Exile.
In all, some good reading to keep you entertained over the holiday period.
Reviews of the books can also be found on the great Canberra Weekly website: https://canberraweekly.com.au/book-talk-5-great-summer-reads/. The site also has all the recent reviews that Michael and I have done for the Canberra Weekly.