CANBERRA WEEKLY COLUMN: 25 FEBRUARY 2021 – 3 NEW CRIME NOVELS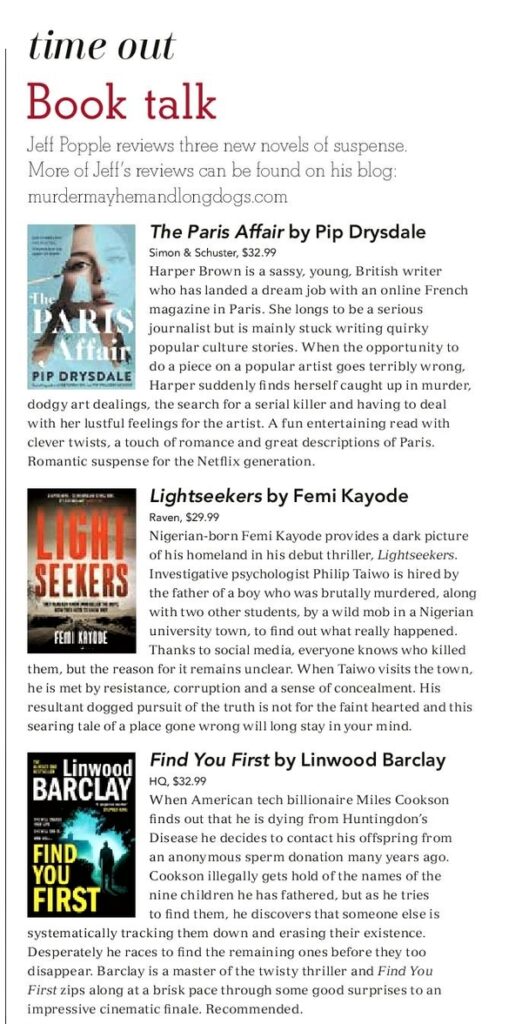 This week in the Canberra Weekly I reviewed three new crime novels from around the world.
First up is The Paris Affair (Simon & Schuster) by Australian author Pip Drysdale. This stylish, energetic novel combines a feisty, young narration with witty humour and dashes of suspense and mystery. In the Canberra Weekly I described it as:
Harper Brown is a sassy, young, British writer who has landed a dream job with an online French magazine in Paris. She longs to be a serious journalist, but is mainly stuck writing quirky popular culture stories. When the opportunity to do a piece on a popular artist goes terribly wrong, Harper suddenly finds herself caught up in murder, dodgy art dealings, the search for a serial killer and having to deal with her lustful feelings for the artist.  A fun entertaining read with clever twists, a touch of romance and great descriptions of Paris.  Romantic suspense for the Netflix generation.
The Paris Affair is an enjoyable read that will appeal to fans of You and other Netflix shows. I previously did a longer review here: https://murdermayhemandlongdogs.com/the-paris-affair-by-pip-drysdale-simon-schuster-2021/
Femi Kayode's Lightseekers (Raven) is a powerful debut novel set in Nigeria. The book opens with a confronting scene of mob violence and concludes with more mob violence in a gripping finale. In between it is a revealing story of modern Nigeria set within the framework of a thriller. It is a fascinating, well written and moving read. Some trimming would have helped with the suspense and pace, but overall it is a compelling read. There has been a slight surge in southern African crime novels in recent years and it is hoped that Lightseekers and Kayode can help generate more Nigerian crime books. In the Canberra Weekly I described it as:
Nigerian born Femi Kayode provides a dark picture of his homeland in his debut thriller Lightseekers.  Investigative psychologist Philip Taiwo is hired by the father of a boy who was brutally murdered, along with two other students, by a wild mob in a Nigerian university town, to find out what really happened. Thanks to social media, everyone knows who killed them, but the reason for it remains unclear. When Taiwo visits the town he is met by resistance, corruption and a sense of concealment. His resultant dogged pursuit of the truth is not for the faint hearted and this searing tale of a place gone wrong will long stay in your mind.
Finally with Find You First (HQ), veteran author Linwood Barclay turns in another briskly paced and engaging crime novel that twists its way to a terrific conclusion. Some suspension of disbelief is needed, but it is easy to ignore this and just keep on reading. In the Canberra Weekly I described it as:
When American tech billionaire Miles Cookson finds out that he is dying from Huntingdon's Disease he decides to contact his offspring from an anonymous sperm donation many years ago. Cookson illegally gets hold of the names of the nine children he has fathered, but as he tries to find them, he discovers that someone else is systematically tracking them down and erasing their existence. Desperately he races to find the remaining ones before they too disappear. Barclay is a master of the twisty thriller and Find You First zips along at a brisk pace through some good surprises to an impressive cinematic finale.  Recommended.
I also did a longer review of Find You First here: https://murdermayhemandlongdogs.com/thriller-round-up-february-2021-adrian-magson-linwood-barclay-and-david-fennell/
So a good and varied selection of crime writing to keep you entertained well into March
Thanks to the publishers and the Canberra Weekly for copies of the books. The reviews, along with others by myself and Michael Popple, can also be found on the Canberra Weekly website: https://canberraweekly.com.au/category/entertainment/books/