CANBERRA WEEKLY COLUMN – 4 FEBRUARY 2012 – THREE NEW AUSTRALIAN CRIME NOVELS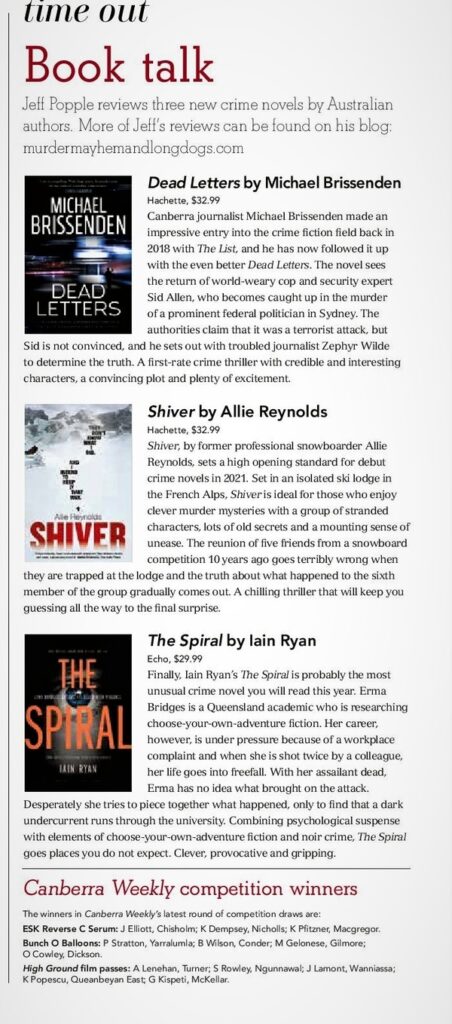 This week in the Canberra Weekly I review three very good, but very different, new Australian crime novels.
First up is Michael Brissenden's Dead Letters. This first-rate thriller mixes elements of the political thriller with the steady investigative plot of a police procedural. The story moves along at a good pace and the action is nicely accompanied by razor shape observations on society and the changing nature of Sydney. I particularly liked Michael's reflections on the media in Sydney and his insider grasp of Australian politics and crime. A thoroughly enjoyable read.
See my longer review at: https://murdermayhemandlongdogs.com/dead-letters-by-michael-brissenden-hachette-27-january-2021/
Former professional snowboarder Allie Reynolds makes a sparkling entry into the world of crime fiction with the well plotted and confidently executed Shiver. Set at an isolated ski lodge in the French Alps, Allie breathes new life into the old plot device of a group of former friends with dark secrets, being trapped in a remote location with a killer on the loose. It is an extremely accomplished debut that kept me happily turning the pages all the way to the final twist.
See my longer review at: https://murdermayhemandlongdogs.com/shiver-by-allie-reynolds-hachette-27-january-2021/
Finally, Iain Ryan's The Spiral is probably one of the most unusual crime novels I have read in some time.
The story opens with Queensland academic Erma Bridges rushing back to Brisbane to face a disciplinary hearing at the university. The complaint is being brought by one of her assistants, Jenny, but before Erma can get to the bottom of it she is shot twice by her accuser, who then turns the gun on herself. With her would-be-murderer dead, no one can give Erma the answers she needs to move on from her trauma and after a period of convalescence she sets out to discover what drove Jenny to shoot her.
Erma is researching choose-your-own-adventure fiction and she begins to suspect that Jenny's attack is somehow linked to an aspect of the research. But as she searches, it seems that there are far darker elements at work.
The Spiral starts out as a well written and quite dark psychological suspense novel, but Ryan soon introduces elements of
choose-your-own- adventure writing into the story. I do not want to ruin the many surprises in the book, but suffice to say the plot goes down some very unexpected paths, before being cleverly wrapped up by Ryan at the end. I suspect that some of the passages will try the patience of traditional crime fiction readers, but it is worth continuing on, as the book builds to an exciting conclusion.
The characterisations are well constructed and credible, especially Erma, who is very believable, although not particularly nice. She does, however, become more engaging as the book progresses and is a very interesting character. There is a strong noir feeling to the writing throughout and Ryan also includes some darkly funny scenes and comments.
The Spiral is not going to be to everyone's taste, but I thought it was a very clever novel that, apart from some repetition towards the end, held my interest throughout.
The Spiral was released in Australia on 2 February 2021 and has been available in the United Kingdom since January 2021. Thanks to the publisher and the Canberra Weekly for an advanced copy of the book.
Here is a link to the review on the Canberra Weekly website, which also has an archive of other book review by me and my colleague Michael Popple https://unseenlibrary.com/ at:
https://canberraweekly.com.au/book-talk-3-new-crime-novels/