COLD ECHO by C J Carver (Blood Hound Books, $A3.99 on Kindle)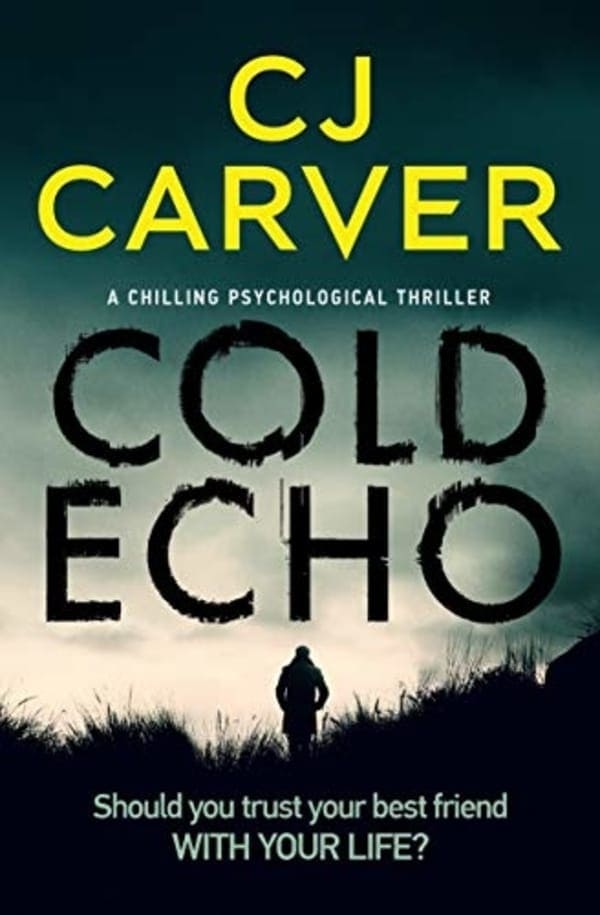 C J Carver has already produced one terrific book this year, Over Your Shoulder, and has now followed it up with the very enjoyable Cold Echo, which was selling on Amazon Kindle for the ridiculous price of $0.99, or £1.99, a little while back.
The story opens with three teenage boys, Harry, Guy and Lucas, breaking into a farm with disastrous consequences.  Thirty years later and one of the boys, Harry, is now a psychologist with a troubled personal life and some difficult clients.  Harry occasionally helps the local police with profiling and is shocked when he is asked to consult on a murder case, following the discovery of the skinned severed head of a man, to find that the victim is his old school friend Guy Bowman, who is now the local MP for the constituency of Bath.  As Harry begins to look into the murder, he realises that a potential witness to the crime is one of his clients, a troubled boy called Nick, who has now gone missing.  Harry joins the search for Nick, but when his other estranged school friend from that traumatic episode in the barn, Lucas, reappears, Harry realises that some old secrets won't stay buried. 
This is a crisply paced tale that readily draws you into its thrall and keeps you entertained until the final page. The plot is clever and takes you down some unexpected paths as Harry tries to find Nick before the killer does. The secondary characters are well fleshed out and interesting, and Harry is an engaging, interesting narrator who struggles to balance the conflicting demands of his professional and private lives.
There are some good exciting scenes along the way to the explosive and bloody conclusion and the book certainly keeps you entertained. Some of the twists strain credibility towards the end, but not enough to stop you from keenly turning the pages to find out what is happening.
Cold Echo is not as flat-out entertaining as Over Your Shoulder, which is one of my favourite books of the year, but it is still a damn good read!
Cold Echo is currently available for $3.99 on Kindle (it was on special for $0.99 when I got it), or £1.99 in the UK, and $A18.69 (£8.27) for the paperback.
Four stars out of five!