COLD KILL by Rennie Airth (Severn House)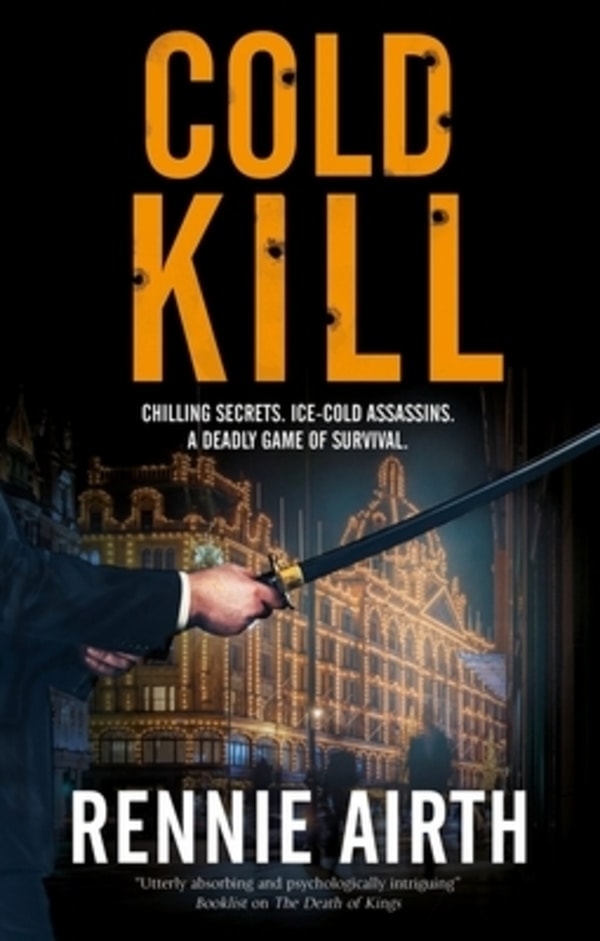 Cold Kill is a dramatic shift in style and tone for Rennie Airth, who is best known as the author of the highly acclaimed Inspector John Madden series set in England during the inter-War years and into the 1940s. The first Madden book, River of Darkness, appeared in 1999 and another four books have slowly followed, with a sixth due out this year.
In comparison to the beautifully detailed and carefully crafted Inspector Madden series, Cold Kill seems a much lighter novel, although it does contain more than its share of murder and mayhem.
The story opens with Adelaide "Addy" Banks, a young American actress, travelling to London to spend Christmas with her much loved, widowed Aunt Rose. Rose had sent an invite to Addy saying she was in Paris, but that she would be home by the time Addy arrived from New York. But on her arrival at Rose's fashionable mews home in Knightsbridge, her aunt isn't there. As she settles down to wait, Addy receives two unexpected callers. The first is a creepy Russian, the second is a man, disguised as an Arab woman, who attacks her and drags her through the house seemingly searching for something that Addy knows nothing about. Fortunately, she is rescued by her neighbours and her aunt's well-off friend, Molly. The police are baffled, but their concern grows when Addy's attacker is linked to the murder of an Arab woman in a department store. Suddenly, it seems that everyone wants to find out where Rose is.
Meanwhile the reader is given some insight into what is going on, as we are introduced to a Japanese assassin out for revenge, the London head of a world-wide security network and some nasty ex-KGB types who are after Rose and something in her possession.
This easy flowing story opens well with an exciting episode in Paris before slipping into the engaging narration by the pleasant Addy, who over the course of the book proves to be more capable than she first appears. The pacing is a little uneven, with moments of quick violence buffeted by lengthy periods of exposition, as a bewitched young police detective spends pages explaining to Addy what is happening. These periods of explanation are useful, but they slow the pace and it would have been more effective if Addy had found out what was happening by herself, rather than being told at length. It seems lazy plotting.
On the positive side, the descriptions of London in December are typically dark and gloomy and add to the story, with the frequent flurries of snow giving a surreal touch at times. The underlying plot is interesting and there are some surprising acts of violence. The novel takes some time to settle into a rhythm, but the final third of the book is quite exciting and builds to a good climax. Some of the revelations and twists are easy to predict, but others come as a surprise.
In all, it is a solid thriller with some decent twists and a very engaging central character. It is quite enjoyable, although it lacks the depth of Airth's Inspector Madden series.
Four stars out of five.
Cold Kill is available in the United Kingdom in hardcover and on Kindle. It is also available in Australia, but presently at a much higher cost (around $30 on Kindle).
Thanks to NetGalley and Severn House for a copy of the book for review.