CONSOLATION by Garry Disher (Text, 3 November 2020)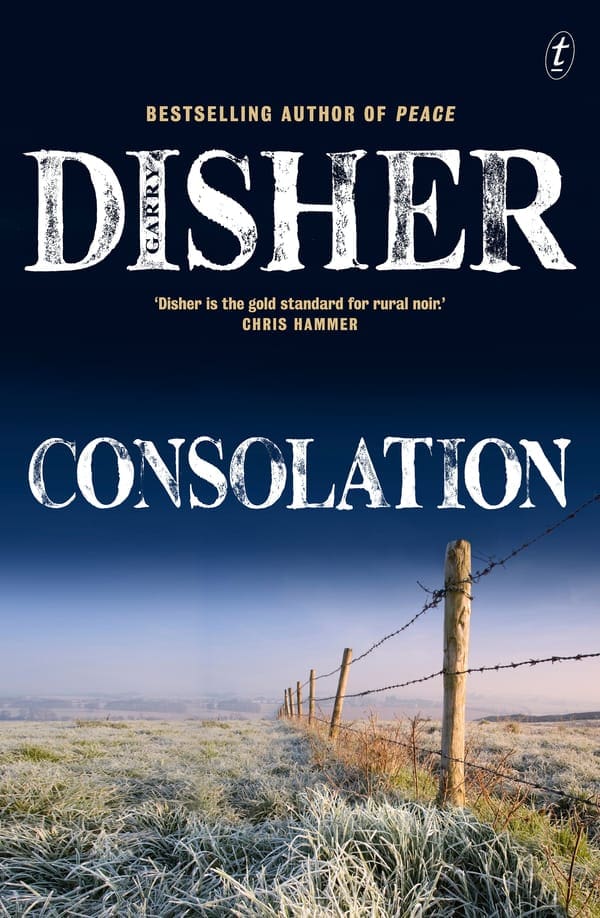 Few, if any, do outback crime consistently as well as Garry Disher.
His Bitter Wash Road from 2013 is one of my all time favourite Australian crime novels and the follow-up book about struggling South Australian rural policeman Constable Paul Hirschhausen (Hirsch), Peace (2019), was almost as good.
Now in Consolation Disher has returned to Hirsch and the remote country town of Tiverton.   Hirsch is still trying to live down his past and his involvement in a corruption inquiry, but he has settled into a pleasant routine with his lover, the local teacher Wendy, and her daughter. He has also worked hard as the town's only copper to be accepted by the local people and is gradually gaining their trust.
Consolation opens with Hirsch managing a range of minor crimes from someone stealing women's underwear to a father angry about how his daughter is being treated at the local school to a report about a possible case of child abuse. Hirsch knows that all of these cases have the potential to escalate into something more serious and when an attempt to serve an environmental protection order on a stressed farmer goes terribly wrong things begin to get out of hand. Added to Hirsch's problems are a roving band of crooked Irish roof repairers trying to rip-off the unwary, a persistent stalker and an emerging business scam that has left several locals badly out of pocket. As the various crimes escalate, the danger and the bloodshed rises and Hirsch finds himself caught up in an increasingly tragic set of events.
This is a well-crafted crime novel that excels in its characterisations and the subtlety of it plotting.  Disher takes a little time to put the different strands of his story in place, but once underway the various sub-plots move along at a good pace, often heading in unexpected directions. He keeps a good grip on the assorted storylines, and skillfully builds the tension as the various elements come together in a tense conclusion.
The depiction of Tiverton and its surrounds rings true and Disher shares Ian Rankin's ability to capture the mood of a location through his vivid descriptions of the setting, especially the sense of despair accompanying failed farms:
"[he] came to a natural hollow in this land of stones and struggling grass. Nestled down there was someone's mouldering empire of dirt: a sad old house with sightless windows and a rusted roof; falling down sheds; pine trees and a garden gone wild."
He also convincingly captures the mood and detail of community policing in a remote rural area:
"another cup of tea and a chat about sheep missing, believed stolen, or mysterious headlights in the night, or a grown son not taking his meds."
The characterisations are also very good and multi-faceted. The local town folk are portrayed in a honest, non patronising manner and Disher skillfully captures the complexity of relationships. There are good brisk descriptions of even minor characters: a farmer overseeing the slow parade of his sheep is described as "One of those slow-talking men, sitting quietly in his ute in the middle of the road, listening to the ABC news, a third kelpie curled up on the passenger seat"; and he nicely skewers the tensions between Hirsch and the big city cops who are too quick to dismiss him.
Hirsch is a very well rounded character. Astute and cleverer than he looks, he is also capable of making stupid mistakes and is no super hero. He is a very convincing portrait of a good man trying to do his best in a difficult situation and environment.
In all, Consolation is a very impressive piece of crime fiction. It holds attention, impresses with its depth and raises important issues, while being very entertaining. It once more confirms Disher's place as the master of outback noir.
Four and a half stars out of five!
The paperback edition of Consolation has a great cover and is released in Australia on 3 November 2020. It is not due to be released in the United Kingdom until the middle of 2021, but can be purchased from Australian booksellers. It is available in the United States on Kindle. Thanks to Text Publishing and the Canberra Weekly for an advanced copy of the book.