DARK TRUTHS by A. J. Cross (Severn House)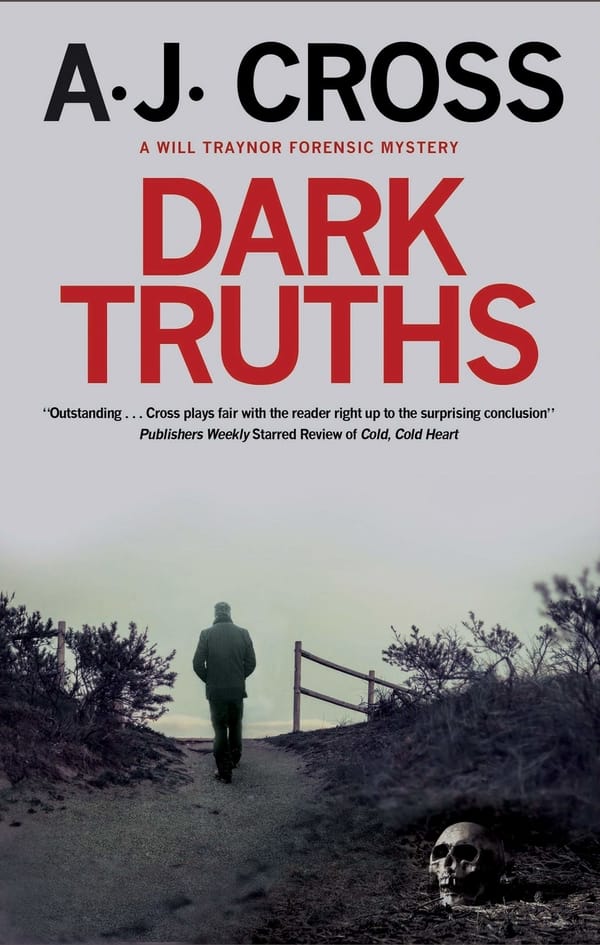 A J Cross's latest novel, Dark Truths, is a good mixture of police procedural and forensic investigation.
It opens with the discovery of the headless body of a young woman jogger. She had been stabbed to death and her head removed post-mortem. It is a horrific crime, however, the senior investigative officer, Detective Inspector Watts of the West Midlands Police Force, quickly finds that other shocks are just around the corner when his officers examine the adjacent site. Soon there are whispers of a serial killer and Watts and his team are under pressure to quickly solve it.
This is a nicely plotted police novel that smoothly moves through its paces under the guidance of experienced author A. J. Cross.  Watts is an engaging, old styled copper who has been out of the spotlight of current police operations for five years while running a Cold Case Unit and is now under pressure to re-establish his reputation as an investigative officer.  Much to his disgust, he is given a young Police Constable, Chloe Judd, to help him run the investigation.  Inexperienced and temperamental she makes a good foil to Watt's steady-as-it-goes approach.
They are also joined on the case by Will Traynor, a criminal psychologist who is still obsessed with the unsolved murder of his wife 10 years ago, and the cheerfully capable pathologist Connie Chong. It is a good mixture of characters and Cross steadily drags out aspects of their personalities and their various driving forces. Although billed as a "Will Traynor" novel, the viewpoint is largely from Watts' and Judd's perspectives and Traynor is very much a secondary player.
This is a very ably plotted mystery novel that unfolds at a good pace and keeps the reader happily engaged until the surprising outcome.  The suspects are nicely sketched and interesting, and Cross does a good job of keeping the reader guessing as to who the killer is.  It is also refreshing to read a serial killer thriller for a change that focuses solely on the actions of the police and does not slow the plot with the killer's deranged thoughts.  I also liked how on the final page the story loops back to something which happened in the opening section and which I had forgotten about.
There are some unlikely elements, but all in all, it is a good British police story with solid characters and an interesting plot.  There is also some fascinating forensic detail, courtesy of A. J. Cross who is herself a forensic psychologist and frequent court-appointed expert witness.
Three and a half stars out of five!
Dark Truths was released in September in the United Kingdom. Thank you NetGalley and Severn House for a copy of this book in return for my review.