DEADLY PLEASURES MAGAZINE: NEW ISSUE!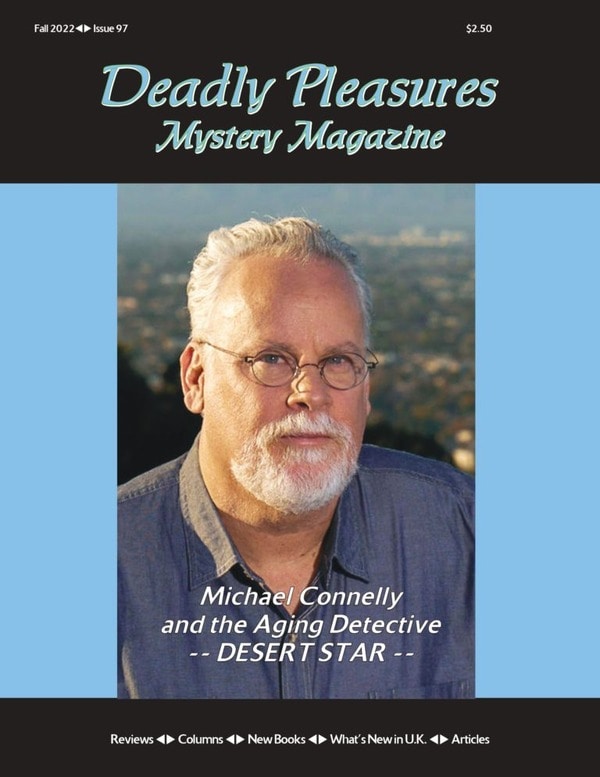 George Easter has just sent out the latest issue of his Deadly Pleasures Mystery Magazine (No. 97) and it is another stellar issue packed full of reviews and interesting information.
The issue's main article is on the Aging Detective, and features a close look at Michael Connelly's Harry Bosch and his terrific new book Desert Star. George also highlights other authors who have protagonists in their 'Golden Years', including Deanna Raybourn and Rosalind Stopps and there is an interview with Richard Osman on his latest Thursday Murder Club book, The Bullet That Missed.
George also provides an interesting article on the recent Bouchercon convention and reports on the winners of the Barry Awards, including Australian Dervla McTiernan for Best Paperback Original for The Good Turn. Another highlight is Steele Curry's report on his annual Greek Reading Feast while holidaying in Skiathos, as usual it is an insightful summary of a great selection of books.
A big focus of the issue is the foreshadowing of the annual Best Books of the Year lists, and George has provided an extended listing of the year's best books so far, based on their ratings in Deadly Pleasures Magazine, Amazon's monthly highlights and four library journals. It is a good list from which to select your next read! There is also a listing of books to look out for in the coming months.
In addition, there is the usual sweeping collection of book reviews that cover all aspects of crime fiction from cozy mysteries to historical crime to action thrillers. There are also articles on new Australian crime fiction, including from Dave Warner, Garry Disher and Kerry Greenwood, and the best new releases from the United Kingdom.
As well, George and Assistant Editor Larry Gandle provide their usual interesting thoughts on the current state of the genre. I particularly liked Larry's reflections on the negative stereotyping of Mexicans in some recent crime releases. It is a good piece, that raises some important issues.
As always, Deadly Pleasures Mystery Magazine is a terrific read that will inspire your criminal reading and alert you to those books, which may fall a little short of expectations.
It really is a must read for anyone interested in crime novels, mysteries and thrillers.
Here is a link to George's website where you can more information and details on how to subscribe: http://new.deadlypleasures.com