DEADLY PLEASURES MAGAZINE – NOW ELECTRONIC AND NEW WEBSITE!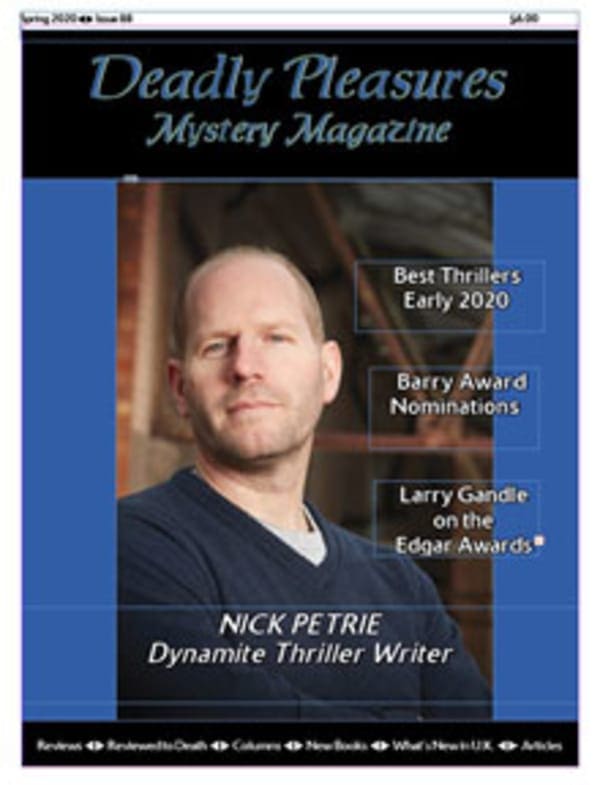 George Easter and his magazine Deadly Pleasures have been a mainstay of the international crime fiction scene for nearly thirty years. The well regarded quarterly magazine contains a wealth of reviews and information about current and forthcoming books, as well as interesting articles on the evolution of the genre. George has a real passion for crime writing in all of its forms, and each issue usually focuses on a specific theme, such as the growth of Australian Crime Fiction in Issue 86, while also covering the full spread of recent book releases.
Since 1997 Deadly Pleasures Magazine has also conducted the annual Barry Awards, which recognise the best in crime writing from a fan's perspective. In my view these awards give a better 'reader's view' of what is good in crime writing than the more prestigious Edgar and British Crime Writing Association Awards. George has also been an active promoter of Australian Crime Writing and Western Australian writer Dervla McTiernan was a winner at last year's awards.
The current issue of Deadly Pleasures, No. 88, has just been released, in electronic and hard copy form. It is the last one available in printed form and from the next issue, No. 89, Deadly Pleasures will only be produced electronically. This will save George, as editor of the magazine, considerable effort, but will also mean that it can be produced quicker and in glorious colour.
With the move to a fully electronic format, George has also updated his online presence with a new website that is well worth looking up: http://new.deadlypleasures.com/ It has details about the magazine and the Barry Awards and current news from the world of crime fiction.
For anyone interested in crime fiction Deadly Pleasures is a 'must read'. If you want to have a look at Deadly Pleasures, you can download a free copy of Number 86, which has a great article on Australian crime fiction, at this address: http://new.deadlypleasures.com/?s=free+sample
I have to admit to having a conflict of interest as I have been reviewing for Deadly Pleasures for a very long time, but I honestly believe that it is the most informative magazine on crime fiction currently around and is well worth the small amount that George charges. Go out and subscribe!