DEADLY PODCASTS: THE SUICIDE HOUSE by Charlie Donlea/THE NIGHT SWIM by Megan Goldin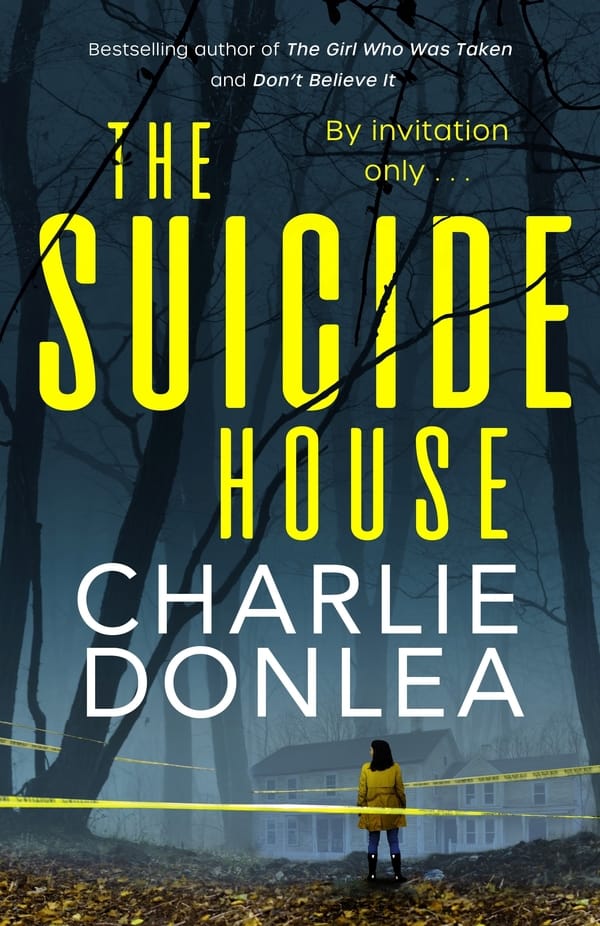 True crime podcasts are an incredibly popular modern phenomenon, with many podcasts boasting audiences that traditional entertainment media outlets would be jealous of. It seems that people are increasingly switching off traditional television and radio and instead downloading podcasts, especially true crime podcasts.
It is a trend that crime fiction writers have been quick to pick up on and several recent books have successfully woven podcasts, and true crime documentaries, into their stories. It is a clever device that usually allows the writer to smoothly and quickly introduce background information into the story without the slowing pace. It is much easier, more entertaining and quicker to use a free flowing extract from a podcast to introduce the background to a crime, than it is to have the main character track down old newspaper articles or dry police reports.
It is a device that Charlie Donlea used very well in an earlier novel, Don't Believe It, and he does so again in The Suicide House:
"During this podcast we will explore the details of that fateful night. We will learn about the victims and about the reckless game that took place in the woods on the edge of campus. We will go inside the abandoned house where the murders took place. We will meet those who survived the attack and take a closer look at life inside the walls of this elite boarding school."
It is a good jumping off point and from there Donlea involves the reader in a cold case investigation of the murder, one year previously, of two students by a teacher in an abandoned boarding house at an elite Indiana boarding school. Criminal profiler Dr Lane Phillips and his partner, forensic reconstructionist Rory Moore, are asked to advise on a popular podcast about the notorious 'Westmont Preparatory Massacre' and the string of suicides which occurred in its wake. It seems a straight forward assignment, but when further deaths occur questions are raised about the original investigation and the identity of the killer.
Donlea excels in this sort of multiple viewpoint investigation of an old crime and he quickly catches the reader up in his story and keeps them happily engaged as the book moves through some unexpected twists, and one jolting surprise, to a neat final climax. Phillips and Rory Moore appeared in his last book, The Woman In Darkness (Some Chose Darkness in the US), and this time around he fleshes them out a bit more and develops them as characters. Rory in particular continues to grow and is well on her way to becoming one of the most interesting detectives operating in American crime fiction.
I have enjoyed all of Donlea's novels and this one is no exception. It is an engaging, well plotted and interesting mystery, and regular readers of his novels will also enjoy the unexpected return, late in the book, of a character from his best novel, Don't Believe It.
A first class detective novel, four stars out of five!
The Suicide House is released in Australia on 4 August and in the United Kingdom on 28 July 2020.
Here are links to my reviews of Charlie Donlea's previous novels: https://murdermayhemandlongdogs.com/charlie-donlea-dont-believe-it-2018-the-suicide-house-2020/; https://murdermayhemandlongdogs.com/the-woman-in-darkness-by-charlie-donlea-bantam-a32-99/
Australian author Megan Goldin also uses podcast elements very effectively in her latest novel, The Night Swim.
Set in the small North Carolina coastal town of Neapolis, it follows popular podcast host Rachel Krall as she covers a controversial rape trial involving a popular, wealthy student, and Olympic swim team hopeful, who is accused of raping a younger girl after a party. It has divided the small town, and the nation, and Rachel is planning on putting her listeners in the 'jury box' by broadcasting daily on the trial and letting them decide whether the accused is guilty or not. Whilst in Neapolis, Rachel is also approached, initially through notes on her windscreen, by a young woman, Hannah Stills, who wants her to re-investigate the death of her sister, Jenny, twenty-five years ago. Rachel is initially reluctant, but something about the letters grabs her interest and once she asks some questions about the supposed accidental drowning of Jenny, she comes to realise that there is more to the case than the police at the time let on. Very soon Rachel is conducting two parallel investigations into the present day rape and the drowning of Jenny Stills in the late 1990s.
Megan Goldin grabbed attention in America last year with her fast paced thriller The Escape Room, and she has now followed it up with an equally entertaining novel. The Night Swim is probably a richer more substantial novel, but it still has the pace and emotional charge of The Escape Room. It quickly draws the reader in and Goldin's smooth writing style makes it easy to keeping turning the pages. The story alternates between Hannah's recollections of the events leading up to Jenny's death, Rachel's attempts to find out what really happened twenty five years ago and extracts from her podcast about the rape trial. It all combines very well and the two investigations gradually come together in unexpected ways.
The descriptions of the fictional town of Neapolis are convincing and the characterisations have real depth to them. The plot is carefully constructed and Goldin unfolds it in an engaging and suspenseful manner. She also uses her story to explore important issues about sexual abuse, small town mentality and sexual stereotyping, without slowing the story or lecturing too much:
"rape, for a reason that I can't understand, is divisive.
Murder is a piece of cake by comparison. Everyone agrees that murder is heinous. There is no argument about that. There's no difference of opinion. The Bible says it straight out: 'Thou shalt not kill'
When it comes to rape, the Bible is more ambivalent. Much like rape laws have been for millennia."
Goldin's depiction of what happened to Jenny Stills is very powerful and highly emotional and provides a good mirror through which to view the present day rape trial being covered by Rachel. The two stories build to a strong conclusion, with a couple of a good surprises along the way. Attentive readers will guess some of the twists, but the final reveal is very unexpected.
The Night Swim is a high quality crime novel that will linger in the mind after it is finished.
Four and a half stars out of five.
The Night Swim is released in Australia on 4 August and in the United Kingdom on 4 August 2020.