DEEP STATE By Chris Hauty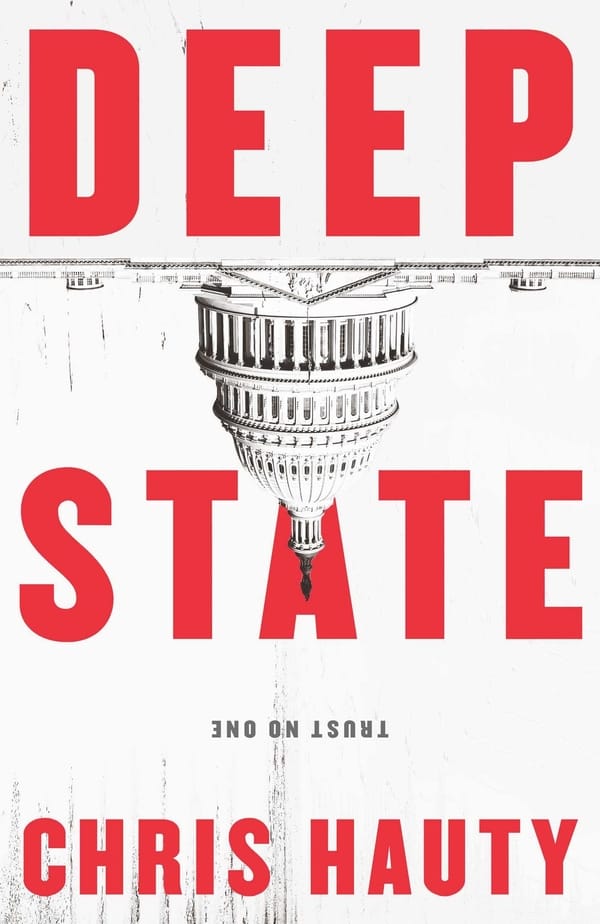 Chris Hauty gets the 2020 thriller year off to a solid start with his fast paced Washington thriller Deep State.
Twenty-five-year-old Hayley Chill quits the army, and a promising career as an amateur boxer, and heads to Washington to become a West Wing intern. Once there she struggles to settle in with her more prestigious colleagues, but some chance events draw her to the attention of the White House Chief of Staff and the recently elected, and very divisive, populist President, Richard Monroe. When Hayley discovers the dead body of the Chief of Staff on his kitchen floor she is the only one to suspect foul play. Not knowing who to trust, Hayley conducts her own investigation and finds herself caught up in a deadly conspiracy. It seems that the Deep State may really exist and it is up to Hayley to save the President.
Hauty is an experienced Hollywood screenwriter and he brings a strong cinematic feel to his first novel. Deep State opens with a well described boxing scene and then moves through a series of brisk episodes to the very surprising conclusion. The pace is good throughout and is interspersed with interesting nuggets of information about Washington and the American political process. Hayley is a very engaging central character, who steals the novel with her common sense and homespun charm. The other characters tend to caricature and mainly seem to be there to reflect Hauty's views about the real life Washingtondramatis personae.
Everyone will have their own views on the politics of Hauty's novel, but the surprising twist at the end and the lengthy exposition does make you reconsider what has gone before. The exposition also makes Hayley a more credible character.
Politics aside, Deep State is a solid thriller. My main complaint, is Hauty's frequent tendency to step outside the story and make comments about the later lives of several of the characters:

"In seven years's time, she will be the founder of a rapidly expanding, quasi-religious 'commune' located in Vermont. Within the decade, Becca Byran will begin an eight-year stretch at FCI Danbury for bank fraud, money laundering, and tax evasion."

It has the effect of pulling the reader out of the moment of the story and the brief synopses also reinforce the sense of caricature that Hauty brings to the secondary characters.
In all, I quite enjoyed Deep State. The pacing is good, the action is frequent and the twist at the end took me totally by surprise!
Three and a half to four stars out of five!


Deep State is released in Australia on 14 January, in the United States on 7 January and in the United Kingdom on 23 January.
Thanks to Simon & Schuster and the Canberra Weekly for an advanced copy of the book.