FIFTY FIFTY by Steve Cavanagh (Orion)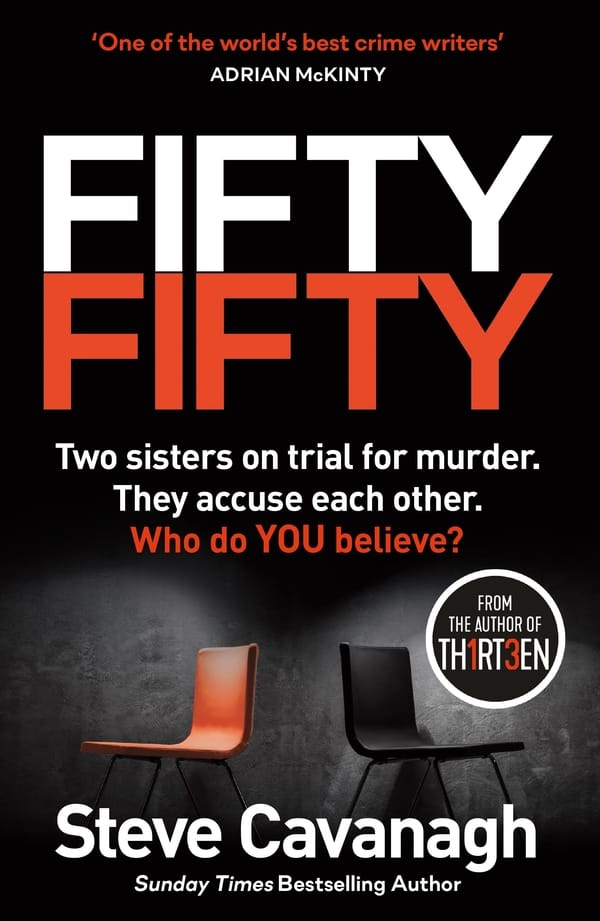 Irish writer Steve Cavanagh has made an impressive entry into the crime fiction arena over the past few years with a string of popular novels, most of which have been award winners or nominees.
Most of his books centre on Eddie Flynn, a charismatic, ex-con artist turned defence lawyer, who enjoys winning. Set in New York, the books feature fast paced, twisty plots that build to taut, unexpected climaxes. There is always clever courtroom antics, and plenty of entertaining wit and attitude from Flynn.
Fifty Fifty is the fifth book in the Eddie Flynn series and can be read as a stand-alone novel, although regular readers of the series will better appreciate some of the events that impact on Flynn.
As with the other books in the series, the plot of Fifty Fifty hinges on a fascinating premise. Two sisters, frantically and separately, ring 911 claiming that the other one has brutally killed their father, wealthy former New York Mayor Frank Avellino. Who is telling the truth? Eddie Flynn thinks it is his client, Sofia, but he may be wrong. As the joint trial of the two sisters unfolds, the truth gradually comes out.
This is a very well-constructed crime novel. The view point frequently shifts between Flynn, the other defence attorney and the guilty sister, who is only identified as 'She'. Cavanagh skillfully uses the shifting view point to maximise the tension and to keep the reader guessing as to which sister is guilty.
It is not easy to maintain a guessing game when there is only two suspects, but Cavanagh does a good job of it and there are enough shocks along the way to distract the reader from working out who the guilty sister is.
Fifty Fifty is a highly entertaining read, but there are a couple of quibbles. Cavanagh does stretch credibility at times, and there is probably a coincidence, or two, too many, but most readers will be too busy rapidly turning the pages to notice or care. On the positive side, Cavanagh does add a bit more depth to Flynn this time around, and the defence attorney for other sister, Kate Brooks, is a well-fleshed out and engaging addition to the series. There is also an amusing nod to his last novel, the non-Eddie Flynn thriller, Twisted.
Overall, Fifty Fifty is likely to be one of the most popular thrillers of the year and is a strong 4 out of 5 stars!
Fifty Fifty will be released in Australia on 25 February by Hachette. Release dates for the United Kingdom and the United States seem to be later in the year.
Thanks to the Canberra Weekly and Hachette Australia for an advanced copy of the book.