FORECAST FRIDAY: State Of Fear by Tim Ayliffe (Simon & Schuster, $A29.99). Due out 1 August 2019 in Australia.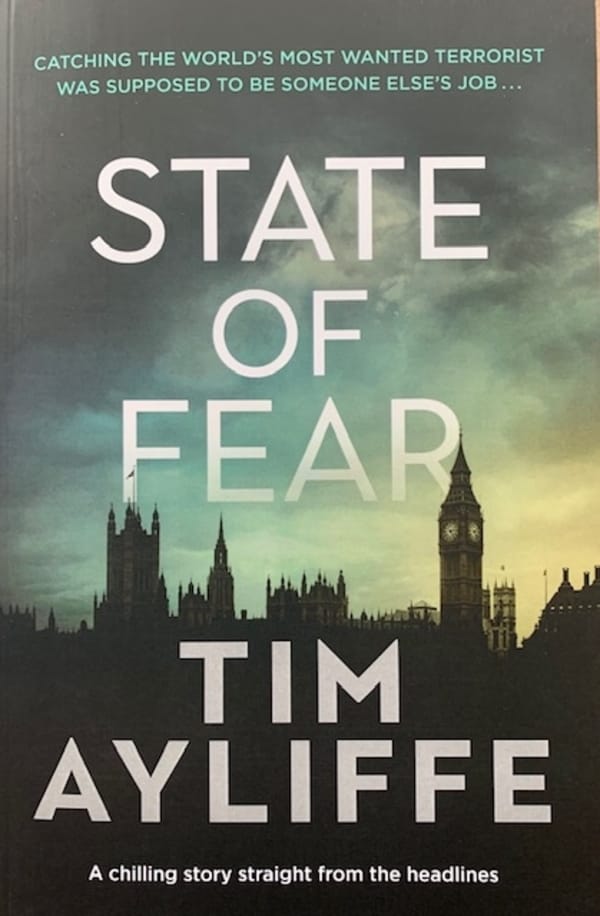 Each Friday I forecast a book that I am looking forward to reading and reviewing.
This week it is State of Fear by Sydney journalist Tim Ayliffe.
State of Fear is the second book in his trilogy about John Bailey, a veteran war reporter who has a history of being in the wrong place at the wrong time. Traumatised by his experience of being kidnapped and tortured in Iraq by terrorists, as well as his more recent experiences in Australia, Bailey is in London giving a speech and trying to live a normal life. A horrific terrorist attack changes all that and plunges Bailey back into a nightmare world of violence and revenge. Back in Sydney he finds that his loved ones are also being targeted and he must turn to his friend, ruthless CIA veteran Ronnie Johnson, for help.
Aycliffe's first novel about John Bailey, The Greater Good, was a very enjoyable read that delivered thrills, interesting social commentary and an insider's look at the new world order in equal measure. When I reviewed it in May 2018, I described it as: "a well-paced and exciting thriller peopled with credible characters and told with real aplomb by Aycliffe." The story revolved around battered war correspondent John Bailey who is back in Sydney trying to get his life together, when he is sent to investigate the murder of a beautiful prostitute in her luxury apartment. It quickly becomes clear that the killing has political connections and suddenly the roguish Bailey finds himself caught up in a web of intrigue involving old friends and enemies, Chinese spies, the NSW Police Force and a ruthless CIA fixer.
It was a highly entertaining read and it will be interesting to see where Aycliffe takes his battered war correspondent in this new book!