FORECAST FRIDAY: THE GOOD TURN by Dervla McTiernan (Harper Collins, March 2020)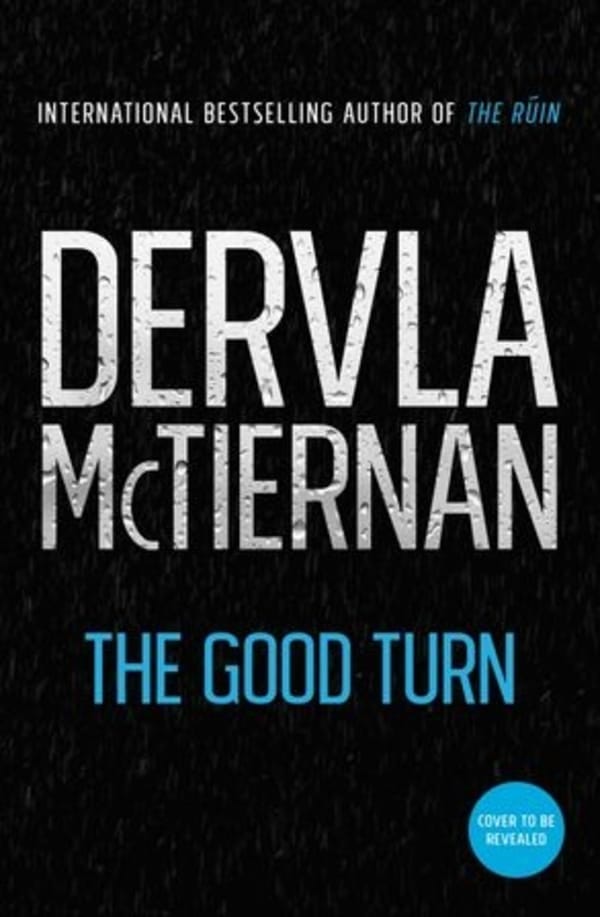 Dervla McTiernan's first two novels, The Ruin and The Scholar, shot her to the top of the international crime writing tree with a host of awards, including the Barry Award for Best Paperback Original at the recent Bouchercon, and strong sales.
The books feature Detective Cormac Reilly, a former rising star in the Dublin-based Special Detective Unit, who has returned to his home town of Galway, much to the displeasure of some of his colleagues.
The third book in the series, The Good Turn, is scheduled for release in March 2020. It is likely to be one of the major releases of 2020 and I thought I would give an early indication of what to expect, with a fuller review coming out closer to its release.
The Good Turn opens with Anna and her young daughter Tilly fleeing Dublin for a quieter and safer life in a small coastal town. Meanwhile Cormac, still fighting with his slimy boss for more resources, and his small team are desperately trying to find a young school girl who was snatched off the streets of the Galway. In the heat of the moment, the case goes tragically wrong, leaving Cormac's second-in-command, Peter Fisher, under threat of prosecution and exiled to the seaside town of Roundstone to work with the local Garda under the command of his difficult father. As Cormac tries to work out what really happened with the abduction case, he finds himself side-lined and caught up in a web of corruption.
The Good Turn is a very good book. It seems to be more pacier than the first two novels, but still features the same exquisite attention to plotting. The various strands of the plot are well worked out and Dervla interweaves an interesting murder mystery into the over-arching framework about drugs and corruption. Although Cormac features prominently in the book, much of the story is seen through the eyes of the exiled Peter Fisher, which adds an extra dimension to the plot. All of the characters are well developed and credible and Dervla sensitively explores some interesting themes around the value of community policing and question of where corruption starts.
I will provide more thoughts closer to the release date, but suffice to say this is definitely one to look out for and pre-order!
Four and a half stars out of five!
The Good Turn will be released in March 2020 by Harper Collins.