FORGOTTEN THRILLERS: CZECHMATE By David Brierley (1984)
In recent discussions with the doyen of classic British spy novels and thrillers, Mike Ripley, I discovered that David Brierley, at the esteemed age of 87, has returned to writing spy thrillers. His latest book, Dead Man Telling Tales, has recently been released in the United Kingdom and is the first of a proposed trilogy.
I greatly enjoyed David's spy novels from the 1980 and 1990s, particularly Big Bear, Little Bear and his other Eastern European thrillers. I was less enthused by his books about freelance, female, spy Cody, but remembered being very impressed by Czechmate, which came out in 1984.
Before tracking down a copy of Dead Man Telling Tales, I thought I would go back and read or re-read some of his earlier books. I also unearthed a copy of my original review of Czechmate, which appeared in the Canberra Times on 16 December 1984 along with my review of Geoffrey Jenkins' Fireprint.
I have reproduced a copy of the original review below: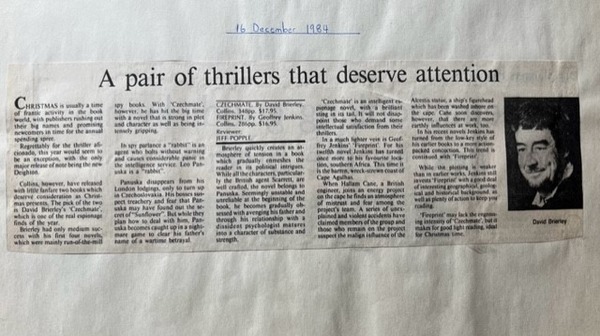 "The pick of the two is David Brierley's 'Czechmate', which is one of the real espionage finds of the year.
Brierley had only medium success with his four novels, including the mainly run-of-the-mill Cody spy books. With 'Czechmate', however, he has hit the big time with a novel that is strong in plot and character as well as being intensely gripping.
In spy parlance a "rabbit" is an agent who bolts without warning and causes considerable panic in the intelligence service. Leo Panuska is a "rabbit".
Panuska disappears from his London lodgings, only to turn up in Czechoslovakia. His bosses suspect treachery and fear that Panuska may have found out the secret of "Sunflower". But while they plan how to deal with him, Panuska becomes caught up in a nightmare game to clear his father's name of a wartime betrayal.
Brierley quickly creates an atmosphere of tension in a book which gradually enmeshes the reader in its political intrigues. While all the characters, particularly the British agent Scarrett, are well crafted, the novel belongs to Panuska. Seemingly unstable and unreliable at the beginning of the book, he becomes gradually obsessed with avenging his father and, through his relationship with a dissident psychologist, matures into a character of substance and strength.
'Czechmate' is an intelligent espionage novel, with a brilliant sting in its tail. It will not disappoint those who demand some intellectual satisfaction from their thrillers."
I am looking forward to going back and having a fresh look at Brierley's novels, including reading a couple of the Cody books I missed.
For the record, my review of Geoffrey Jenkins' Fireprint was less favourable. By 1984 Jenkins was past his peak and Fireprint was not his best: "the plotting is weaker than in earlier works … good light reading".
I am planning on doing a monthly series in 2023 on forgotten British thrillers, mainly drawing on reviews I did for the Canberra Times in the 1980s and 90s. Hopefully, it will be of some interest.