INSTAGRAM THRILLER: PEOPLE LIKE HER By Ellery Lloyd (Mantle, 2021)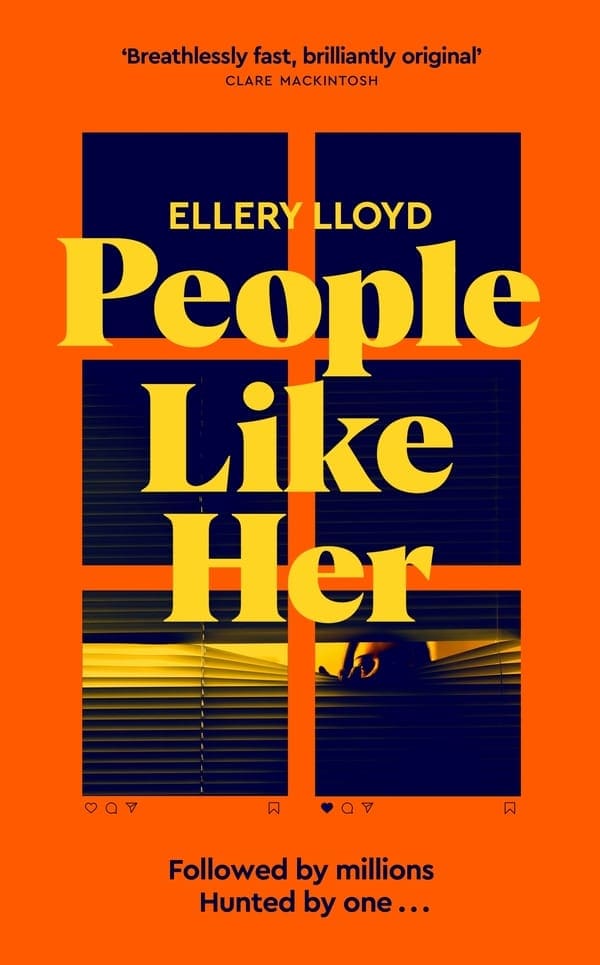 The darker side of social media seems to be a popular thriller theme of late and this debut novel by Ellery Lloyd casts a very jaundiced eye over the whole Instagram influencer phenomena.
People Like Her features Emmy Jackson, better known as the Instagram sensation Mamabare, the "honest" British mum of two young children, who always tells it like it is on Instagram. However, she is not as honest as she makes out, and every post and photo is carefully manufactured to polish her image and gain her an even greater following. Her husband, Dan, is a washed-up novelist who goes along with the image that Emmy has carefully created because she is now the main breadwinner, thanks to all of her endorsement deals and merchandise spin-offs. He is happy to support her Instagram business, but privately is growing increasingly bitter about Emmy's lies and their fake life. While in the background, a revenge obsessed stalker is planning how to bring Emmy down, as pay back for her ruining someone's life.
Lloyd, really husband and wife writing team Collette Lyons and Paul Vlitos, alternates the telling between Emmy and Dan, with the occasional input from the unidentified stalker. After a good tension inducing prologue, the book proceeds a little slowly as Lloyd carefully reveals the shallowness of the Instagram influencer scene and the manipulative nature of Emmy's posts. As Emmy notes:
"I've cultivated my prime position in the pod – my inner circle of five Instramums who play the algorithm by liking and commenting on each other's every post immediately, sending them to the top of our follower's feeds – with the same care as a CEO would chart the company's position in the FTSE 100."
Dan also lambasts the fakeness of the Instagram world by describing an Instagram birthday party:
"Every time you see a picture of a child having what appears to be a good time at a party on Instagram, just bear in mind how many shots it probably took to get that one perfect picture… How many times they had to pretend to be jumping with glee through a hoop, or zooming with joy down a slide. How all the time they spent pretending to do kid stuff could have been spent doing actual kid stuff."
As the threats become more serious the pace picks up and the concluding chapters are quite tense, although the authors pull back from what promised to be a strong finale.
What I liked about this book:
– the authors have a nice breezy style and the book flows well;
– the writing is witty and clever and occasionally amusing ("what's the collective noun for influencers? An endorsement?"); and
– the insights into the world of Instagram are captivating and seemingly accurate.
What I did not like:
– none of the characters are likeable and it is hard to care what happens to any of them, apart from Emmy's poor put-down friend Polly;
– the thriller elements are very under-done and anyone expecting a gripping, page turning suspense novel will be disappointed; and
– the stalker sub-plot never really rings true.
In all, I thought that People Like Her was an engaging social drama that casts a fascinating light on the Instagram influencer business, but that it falls short of being a gripping thriller. Nevertheless, it is a very enjoyable read that is ideal for a lazy weekend.
People Like Her was released in Australia on 12 January 2021 by Pan Macmillan at the recommended price of $32.99. It will be released in the United Kingdom, on Kindle and in Hardcover, on 21 January 2021. Thanks to the publishers and the Canberra Weekly for an early copy of the book.