ISOLATION, SNOWSTORMS AND MURDER: NEW NOVELS BY ADELE PARKS AND EMMA DARCY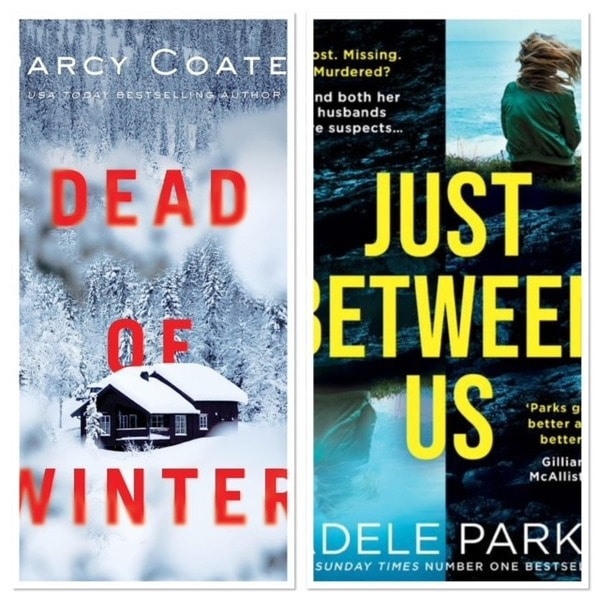 COVID quarantining and a raging snowstorm! These two novels take a very different approach to the dangers of isolation!
Darcy Coates' Dead Of Winter, (Poisoned Pen Press, 25 July 2023), traverses familiar thriller territory, but does so in an assured and very entertaining way.
When Christa and her boyfriend, Kiernan, join a tour group heading deep into the snowy expanse of the Rocky Mountains, she is hopeful that this will be her chance to put the ghosts of her past to rest. But when a bitterly cold snowstorm sweeps the region, the tour bus is forced off the road by a fallen tree. After becoming separated from the group, Christa rejoins them in an abandoned hunting cabin. The plan is to wait out the storm and then go for help.
Deep in the night, however, their tour guide goes missing, only to be discovered the following morning, his severed head impaled on a tree outside the cabin. Terrified, and completely isolated by the storm, Christa finds herself trapped with eight total strangers. As the storm grows more dangerous and the number of survivors dwindles one by one, Christa must decide who she can trust before this frozen mountain becomes her tomb.
This is a first rate thriller. Darcy wastes no time in setting the scene and the pace never falters from the tense 'lost in the blizzard' beginning to the final twisty outcome. There is nothing startlingly new about the set-up, but Darcy does it very well. The claustrophobia of being stuck in the cabin with a possible killer is well conveyed and believable, and the cast of characters are nicely diverse and credibly flawed. The descriptions of the snow and are also evocative and Darcy really makes you feel the cold. Christa is also a good central narrator, who grows with the story.
Experienced thriller readers will probably be expecting the ending, but it is very well done and I could not put it down.
Dead Of Winter seems to be released world-wide on Kindle on 11 July 2023 and is very reasonably priced. It is also available in paperback from Poisoned Pen Press from 25 July 2023 in most locations.
I was pleasantly surprised to learn that Darcy Coates is an Australian who lives on our East Coast, a long way from the snow of the Rocky Mountains! Thanks to the publisher and NetGalley for an advanced copy of the book.
Adele Parks is one of Britain's leading writers of domestic suspense and she has built up a strong following around the world. Her latest novel, Just Between Us (HQ, 5 July 2023), is another twisty tale about complex relationships and old secrets.
As the COVID pandemic sweeps Britain, Kylie Gillingham's disappearance grips the nation. Outed as a bigamist, Kylie is now missing, presumed dead, and both her husbands are suspected of potentially murdering her. DCI Clements is trying to keep an open mind, but as time slips by she begins to suspect the worse. Through bitter experience, Clements knows the dark side of human nature and that you cannot presume anything when it comes to crimes of the heart. Hampered by the pandemic and the quarantine rules, Clements is determined to find out what really happened to Kylie.
Meanwhile, Stacie Jones lives a quiet life in a small village, shielded by her father from any upsetting news as she recovers from illness during the strictures of the pandemic. Her memory is weakened by her brain operation, but gradually she begins to remember things and finds herself caught up in the search for Kylie.
Just Between Us is a sequel to Adele's popular bestseller Both Of You, but can be read as a stand alone novel. Newcomers to the series will appreciate the book's early twists, while fans of the earlier novel will enjoy being re-united with the various versions of Kylie, her two husbands and the tenacious Clements. There are not a lot of surprises in the book, but it is interesting watching the characters evolve and change, and there is plenty of tension in the watery conclusion.
Probably more of a domestic thriller and family drama, than a crime novel, Just Between Us will appeal to fans of Lisa Jewell and B. A. Paris.
Just Between Us was released in Australia on 5 July 2023. It is not due for release in the United Kingdom until 17 August 2023 for some reason.