KNIFE by Jo Nesbo (Harvill Secker, $A32.99). Due out 11 July 2019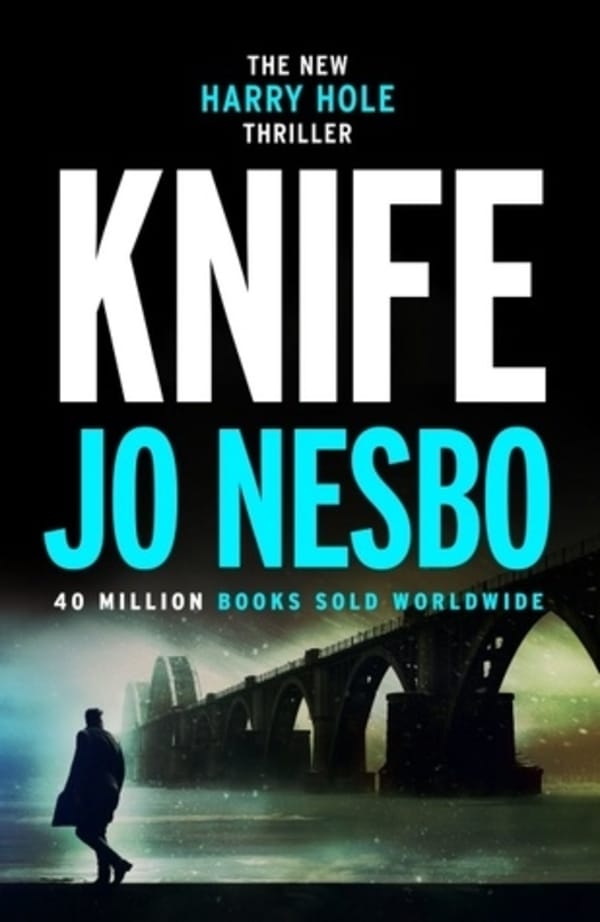 Knife is the chilling twelfth entry in Norwegian author Jo Nesbo's bestselling series about Oslo detective Harry Hole.
Nesbo claims about Knife, that he has been "brutal to Harry before but never this brutal", and not surprisingly the first glimpse we get of Hole he is badly hung-over and covered in blood, with no recollection of the night before. Still recovering from the traumatic conclusion to the previous book, The Thirst, Hole is in a bad way and barely functioning. His world suddenly becomes much darker, however, when someone near to him is murdered. Although warned off the murder investigation by his superiors, and assigned some cold cases to keep him busy, in typical fashion Hole launches his own investigation into the murder, with initially disastrous results. The reappearance of an old nemesis who is setting about terrorising young women and seeking revenge on Hole for putting him in jail and killing his son, also keeps Harry busy and distracted.
The shocking opening propels the story through its initial stages and will keep readers eagerly turning the pages as they try to come to terms with the death of a beloved character. After a while, however, the book slips into the familiar pattern of Hole being side-lined on the investigation, drinking too much, harassing his friends into helping him with his own investigation and leaping from one suspect to the next, as he tries to work out who the real murderer is. There is lots and lots of drinking, sad reflections and detailed side stories, which may have a bearing on the main plot. There is also some gripping and scary scenes of violence and some neat twists. When Hole is not drinking himself into oblivion, he shows flashes of being a good detective, but these moments are probably too few. After 500 pages, the book moves to a well-choreographed and suitably dark conclusion.
Knife is a well-written and epic crime tale that impresses with the depth of its characterisations and its depiction of Oslo and its surrounds. There is also some interesting asides on the Norwegian Military and Intelligence Services. The plotting is not as strong as in the earlier books, and at over 500 pages some trimming of the numerous back stories that accompany even the most minor characters would have helped the pace.  Although obviously traumatised in the book, Hole's drinking and rudeness becomes tiresome after a while and this also distracts from the book's strengths. 
Knife is not Nesbo's best book, but it is still a damn fine crime novel.
Four stars out of five!
Knife is released in Australia on 16 July and in the United Kingdom on 11 July. It is available as an EBook from 11 July.
Thanks to Penguin Random House Australia and the Canberra Weekly for an early copy of the book to review.