LATER by Stephen King (Hard Case Crime, March 2021)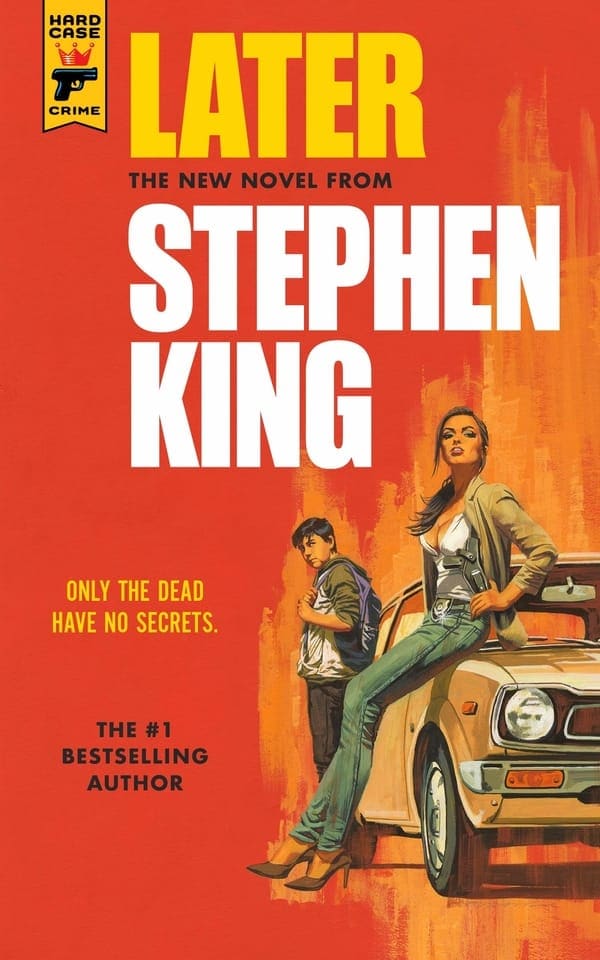 This one is more horror than crime, but there is still a good criminal sub-plot running through it and there are some neat revelations at the end.
Later is the third book that Stephen King has written for niche publishers Hard Case Crime, which specialise in hardboiled crime fiction, including lost noir masterpieces of yesterday and new novels by contemporary authors.
Later is narrated by Jamie Conklin, the son of a struggling New York single mother who has the unnatural ability of being able to talk to the dead. His mother is accepting of his ability, but urges him to keep quiet about it. It remains a secret between them until a desperate request from his mother leads to an unreliable NYPD detective finding out about it, with devastating results.
This is a powerful and exciting coming of age story.  King, through Jamie, warns the reader upfront that Later is a horror story and even though there is a pleasant, engaging flow to the narration the pending darkness is always there.
King is an outstanding writer and although the theme of a young boy who can talk to the dead is not new, early on Jamie acknowledges that his ability is "not like in that movie with Bruce Willis', King brings a new freshness and polish to it. The story zips along and the criminal elements are smoothly and cleverly woven into it.
Jamie is a credible and engaging narrator and this helps to ground the story and make it more believable. There are the usual sharp descriptions and pop culture references by King and Jamie's mother's role as a literary agent allows the bestselling writer to have some fun with popular authors and the state of publishing in America.
This a terrific read and, as with King's other paperback original novels for Hard Case Crime, it is half the size of his usual blockbusters and only half the price. It also comes with a terrific 'hardboiled styled cover' by artist Paul Mann.
One of the most fun reads of 2021 so far, four and a half stars out of five!
Later is released in Australia through NewSouth Books for the ridiculously low price of $19.99
Thanks to the Canberra Weekly and NewSouth Books for an advanced copy of the book.