LOCKDOWN by Peter May (Riverrun)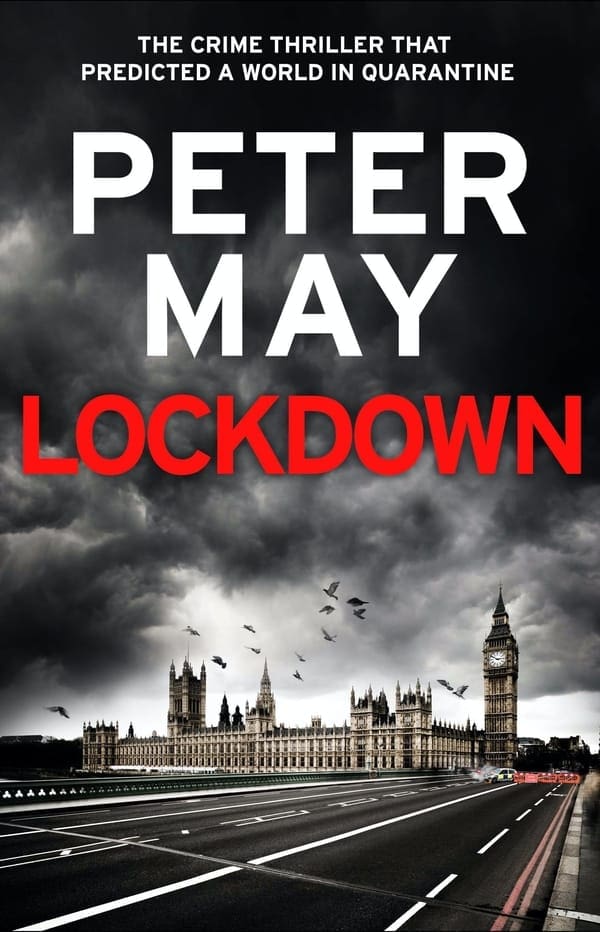 Peter May's Lockdown, like Richard Hugo's The Hitler Diaries from several years ago, is one of those rare cases of fiction predicting reality.
May wrote Lockdown back in 2005 at the height of concern about the H5N1 Bird Flu. Publishers at the time rejected it on the basis that his portrayal of "London under siege by the invisible enemy of H5N1 was unrealistic and could never happen." Fast forward to 2020 and all of the sudden it is all too real, prompting May to dust off his manuscript and resubmit it to now eager publishers.
The story opens in a London at the epicenter of a global pandemic, which has already claimed tens of thousands of lives, including that of the British Prime Minister. Martial law has been imposed and the city is in compete lockdown.
At the building site for a temporary hospital, construction workers find a bag containing the bones of a murdered child. DI Jack MacNeil, reeling from his own personal tragedies, is going through the motions of his final day with the Met when he is assigned the case. It is a horrific crime and there are few clues, but as MacNeil perseveres he finds himself closing in on a brutal killer and his own actions being tracked by sinister forces who do not want the secret behind the girl's death coming out.
Set over a 24 hour period, this is a fast moving and quite convincing thriller. May captures well the sense of a city in lockdown, albeit at a higher level than that currently prevailing, and the horror of a virus on the loose. The fear and the desperation are well conveyed and the descriptions of London have an appropriate griminess to them. Much of the action happens at night, which also adds to the book's noir feel.
The plotting requires some suspension of disbelief, as it powers its way through a series of good twists to a dark climax on the London Eye which, as in real life, is closed because of the virus. The action is frequent and bloody, and there is a strong horror feel to the ending.
A strength of Lockdown is the strong array of characters from MacNeil to his wheelchair bound girlfriend, Amy, to the psychotic killer, Pinkie. There is also a feisty virus investigator, Sara Castelli, who deserves her own book.
In all, Lockdown is a very good thriller, albeit a very dark one at times. It readily held my interest from the beginning to the unexpected conclusion. Four stars out of five!
Lockdown was released in Australia as an oversized paperback on 28 April 2020 for $22.99. It is also available as an ebook. It was released in the United Kingdom on 30 April.