MARKED MEN by Chris Simms (Severn House, $A39.99 or Kindle $A25)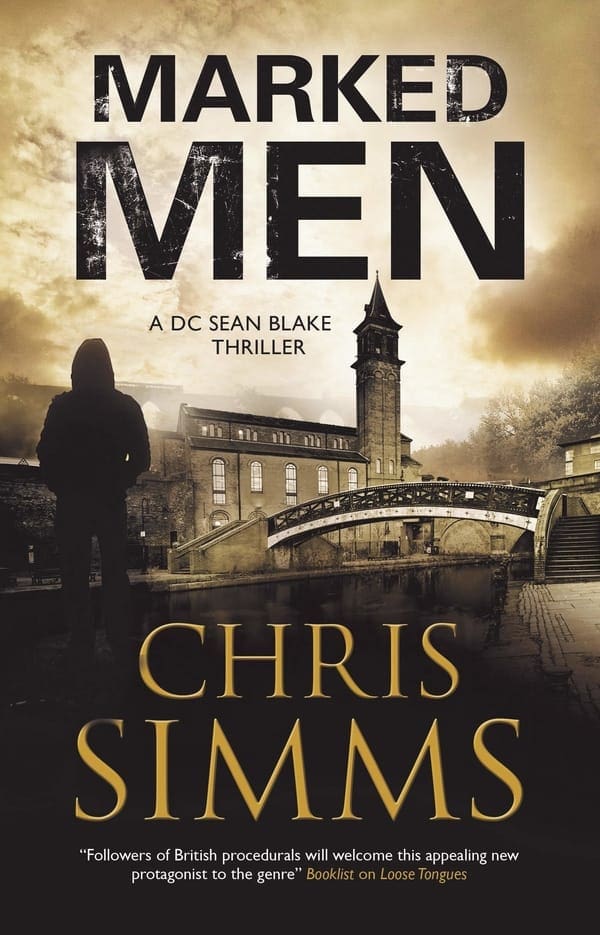 Chris Simms is probably best known for his solid series of novels about Manchester detective, DI Jon Spicer. Always reliable, and in the case of Cut Adrift exceptional, the eight DI Spicer books feature well developed, credible characters, interesting plots and vivid descriptions of Manchester and its surrounds. In recent years Simms has moved on from the Spicer novels, and Marked Men is the second in his new series about DC Sean Blake.
After a brief Prologue in Majorca, the story moves to a filthy canal in Manchester and the discovery of the body of a vagrant encased in a sleeping bag and weighed down by bricks. DC Sean Blake and his boss, Detective Sergeant Magda Dragomir, are assigned the case and soon have their work cut out for them when a second body is found, killed in identical circumstances. As Blake delves into the shady pasts of those killed, he finds childhood connections between the two victims and a group of men still living in Manchester, including a local crime lord and a recently released prisoner.
Simms is a good, fluid writer and Marked Men moves along at a steady, engaging pace, without resorting to gunfire or implausible car chases. There are moments of tension and action, but most of the enjoyment comes from watching Blake and Dragomir unravelling the details of the case. We also follow the actions of the obvious suspect, as he sets about seeking revenge on those who framed him years ago.
The central characters of Blake and the Romanian born Dragomir are well-developed and their relationship feels real and is leavened by nice touches of humour. Simms is also adept at creating interesting secondary characters, especially the down-and-outs who squat by the canal. The descriptions of Manchester have a sharp, gritty edge to them, and Simms makes good use of the return of the recently released prisoner to highlight the changes whilst he has been away:
"This wasn't change. This was like something entirely new had been laid over the old. All these tall buildings competing for the light. Some with coloured cladding. Some with sail-like embellishments on the roofs."
Despite the new looks, some parts remain the same:
"The paving slabs outside the row of shops weren't flat. Like there'd been a minor earthquake and the council couldn't be arsed with straightening things out. Dog crap and crumpled cans."
I really enjoyed Marked Men. The plotting and characters are interesting and the book builds to a neat twist. You don't need to have read the first book in the series to enjoy this one, although those who have read Loose Tongues will relish watching Blake's development as he copes with the emotional pangs of leaving his deceased mother's house and moving into a new flat. He and Magda are good characters and I hope that they are around for some time yet.
Four stars!
Thanks to NetGalley and Severn House for an advanced copy of the book.