NEW 2023 BRITISH CRIME FICTION: Peter James and Adrian Magson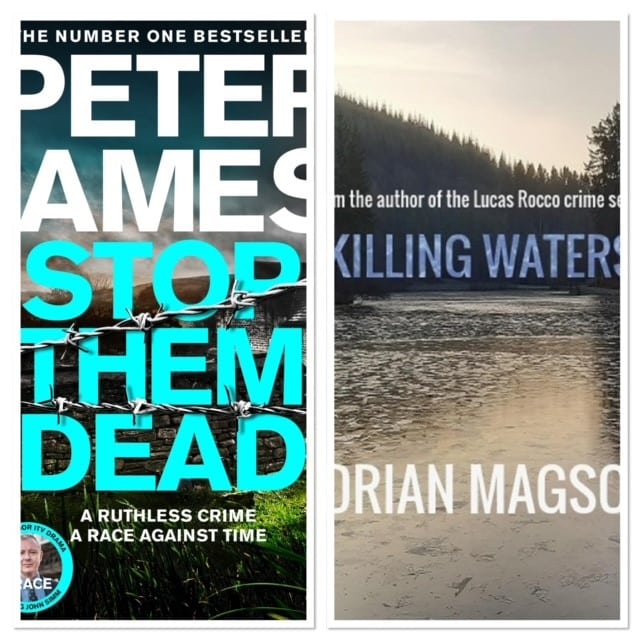 Two good new British releases to see September out!
Peter James' series about Brighton police detective Roy Grace has become a mainstay of the British crime scene, both in books and on television, over the past decade or so, and the latest entry in the series, Stop Them Dead (Macmillan, 26 September 2023), is another smoothly written tale of murder, greed and mayhem.
Stop Them Dead opens in horrific fashion with a farmer being murdered by intruders, who have come to steal his dogs and a new litter of puppies. The crime leads Grace and the team into the murky depths of the world of puppy farms, illegal dog trading and the theft of dogs from their owners, plus much more. The crooks involved are a nasty lot and will stop at nothing to get rich.
James is a skilled practitioner of the crime writer's dark arts, and he quickly puts the various elements of the tale in place, and steadily ratchets up the emotional tension as the plot unfolds. The details of the investigation are credible and absorbing, and James smoothly weaves them into the story. As usual, he also skillfully moves the viewpoint between a variety of characters, and this frequent shifting of perspective heightens the interest and builds the suspense. There are some slow patches, and probably too much personal detail, but the book builds to a good, tough and bloody climax that will have readers eagerly turning the pages. Be warned though, there are scenes that dog owners will find disturbing. James never exploits the treatment of the dogs, but it is hard not to feel anger and sadness at how people use animals, especially during the COVID period.
In all, this is another finely structured tale that will appeal to James' many fans.
Stop Them Dead was released in Australia on 26 September 2023 and the UK on 28 September 2023. Thanks to the publishers and the Canberra Weekly for a copy of the book for review.
I always enjoy Adrian Magson's novels, especially those that move between spy and thriller fiction.
For his latest novel, Killing Waters (Kindle, 12 August 2023), Magson leaves behind his two popular series featuring MI5 agent Harry Tate and personal protection agent Marc Portman, for a new hero in the form of ex-soldier and former undercover HM Customs investigator Isaac Jackson.
After being pushed out of his job as an undercover agent by political pressure, Jackson is looking for a change of direction. As a temporary measure, he agrees to look after a gym and canal boat owned by an army buddy. He is enjoying the change of pace teaching fitness and self-defence, but when a friend in the tight-knit boating community is murdered he is pushed into investigating. He soon finds himself caught in a web of people trafficking, corruption, forced labour and possible security concerns.
This is a good, straight forward crime thriller with a well sketched cast of characters and a briskly moving plot that quickly draws you in. The action is frequent enough to keep it interesting, and there is a good sense of mystery around what is happening. Some of the villains are easy spot, but others are well disguised. As with James' novel, there is also a strong contemporary feel to the plot and the story unfolds in a credible way.
Magson's depiction of life on the English canals is interesting and he creates a clear sense of place around the waterways and the local community. Adding to the pleasure is Jackson, who is an engaging, low-key character, and would be good to see him in future books.
There are probably too many coincidences and close escapes, but overall it is a very enjoyable read that pleasantly filled in a few hours while I was travelling.
Killing Waters has been out since August 2023. It appears to be only available on Kindle, but is very reasonably priced.