NOT TRASHY TUESDAY! 3 DIFFERENT COVER VERSIONS OF A PERRY MASON NOVEL!
The Perry Mason novels by Erle Stanley Gardner enjoyed great success around the world for many decades. The longevity of the books often meant that when they were re-printed the paperback covers were re-done to reflect contemporary styles. The covers also varied from country to country.
Here are three different versions of the same Perry Mason novel, The Case of the Caretaker's Cat, which was first published in 1935. Each of the three covers have a different style and a different cat!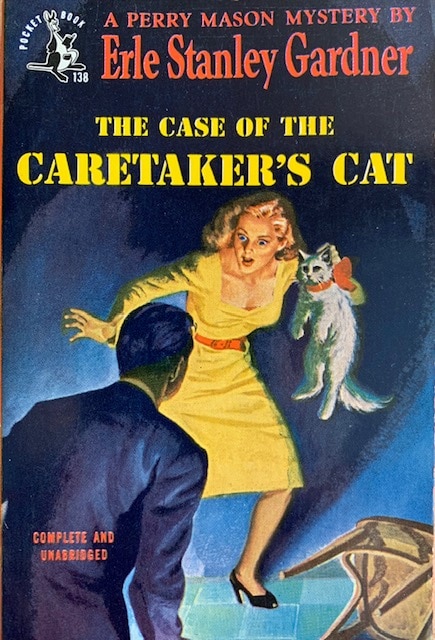 This 1948 Pocket edition has a classic Pocket style cover from the period. It is a simple bright cover suggesting danger to a nicely dressed, pretty young woman. She is rather demurely dressed (compared to later versions) in a dress and high heels and there is no explicit violence on the cover. The rather limp looking cat dangles from her hand with a red ribbon around its neck. Although tame by later standards, it does a nice job of attracting the reader. The cover illustration is by William Wirtz who did a number of covers for Pocket and other publishers in this period.
By 1962 The Caretaker's Cat was receiving the attention of the legendary Robert McGinnis, who provided one of his typical sexy girls for the cover. McGinnis did a number of Gardner covers in the early sixties in an attempt, I suspect, to spice the appeal of the books up. Although the book was written in the 1930s, the cover suggests a very 1960s girl! Interestingly McGinnis is one of the few artists to opt for a black cat (with striking green eyes) on the cover, even though in the book it is a large Persian cat.
This Australian Horwitz copy of the book dates from 1962 when the television show Perry Mason was proving very popular and not surprisingly the drawing of Mason on the cover has a strong resemblance to Raymond Burr (there was series of Horwitz Perry Mason books from this period and they all featured the same Raymond Burr image). The cover is less sexier than the McGinnis one, but again the girl looks more modern than the 1930s. The cat is poorly drawn, although it does look more like the large Persian one in the book. I don't know who did the cover.
Versions of The Caretaker's Cat appeared well into 1970s, but none of them had the appeal of these earlier copies.