OLD COLD WAR SPIES: NEW BOOKS BY TOM BRADBY AND PATRICK WORRALL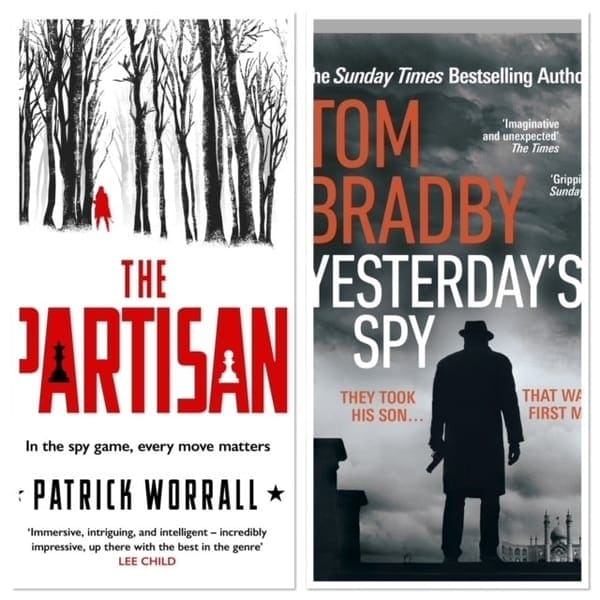 The Second World War casts a dark shadow over these two new spy novels set in the early days of the Cold War.
Tom Bradby's recently completed trilogy about MI6 operative Kate Henderson was a stand-out series that compared favourably to the latest novels by fellow British spymasters Mick Herron, Henry Porter and Charles Cumming.
Bradby's new novel, Yesterday's Spy (Bantam, June 2022), heads back to 1953 and the Allied involvement in Iranian politics. The Allies are unhappy with recent political developments in Iran and are determined to prop up the Shah who is sympathetic to the West, and generous in his handling of Iran's oil reserves. His presence is also a way of keeping Russian influence out of Iran. By August 1953, tensions were coming to a head in Iran, with protests and talk of a coup, and into this volatile mix comes Harry Tower, a long serving MI5 operative whose estranged reporter son, Sean, has gone missing in Tehran. Harry secretly travels to Iran and becomes caught up in the various plots as he tries to find his son, along with Sean's girlfriend Shahnaz. Harry discovers, however, that enemies from his past are also willing to use the current developments to settle old scores.
This is a very well crafted spy novel that moves smoothly between flashbacks to Nazi Germany and contemporary events in Iran in 1953. The story unfolds at a brisk pace, and there is plenty of action and credible violence, as Harry and Shahnaz's search for Sean becomes more desperate. There also the obligatory twists and turns and betrayals, and the book builds to a powerful climax.
The highlights of the book are the evocative descriptions of Tehran in 1953, which ring true to an outsider like me, and Bradby's well developed characters, especially his moving portrayal of Harry as a man trying to come to terms with his life and failings. The book also interestingly brings to life long forgotten episodes of international political duplicity that still resonate today.
In all, an outstanding spy novel. Four and a half stars out of five!
Yesterday's Spy was released in the United Kingdom in late May and has just become available in Australia. Thanks to the publishers and NetGalley for a copy of the book to review.
Patrick Worrall makes a terrific entry into the spy fiction world with his debut novel, The Partisan (Transworld, 16 June 2022).
The story is mainly set in the early 1960s, but there are also frequent flashbacks to the Second World War, particularly to the role played by partisans in the forests of Lithuania, and flash forwards to 2004, when one of the partisans, 'Greta', is relating the story of her time as a partisan to a member of the Lithuanian ministry responsible for memorials. Also central to the story, is the relationship between Yulia Forsheva, daughter of a powerful Soviet couple, and Michael Fitzgerald, son of the British Director of Naval Intelligence. The pair meet at a chess competition in London in 1961 and subsequently become pawns in a complex game of espionage and power politics.
The story is very complex, and some patience is needed in the early stages, but Worrall steadily and skilfully knits his various strands into a compelling whole that comes together in a series of stunning finales in Spain, London and Sweden. The second half of the book is particularly suspenseful, as the twin storylines in 1961 and 1944 reach their violent conclusions and Worrall offers some unexpected final twists.
As with Bradby's Yesterday's Spy, The Partisan impresses with the breadth of its scope and its seemingly accurate depiction of the various historical events that it covers. There is also a great deal of poignancy and sadness in Worrall's portrayal of the horrors of war and the brutality of the Soviet Union in the early 1960s. The characters are fulsome and credible, and very engaging.
At times there seemed to be too much background story, including flashbacks to the Spanish Civil War, but the need for this comes clearer in the final chapters. I also thought that the romance between Yulia and Michael was a little clumsy at first, but this is only a small quibble.
Overall, The Partisan is a very impressive debut that bodes well for Worrall future career as a spy novelist: four to four and a half stars out of five!
The Partisan was released in the United Kingdom on 16 June 2022. It is not due for release in Australia until 5 July 2022.
Thanks to the publishers and NetGalley for a copy of the book to review.