PEACE by Garry Disher (Text, $29.99)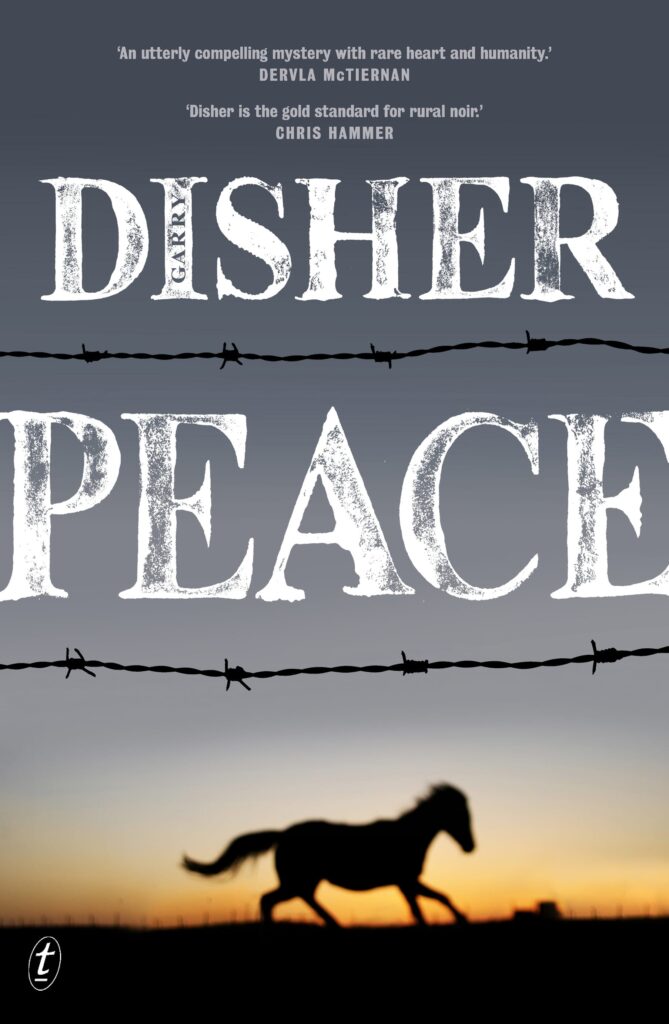 Garry Disher's Bitter Wash Road (2013) is one of my all time favourite Australian crime novels. Set in a remote rural town in South Australia it is a very tense and well written crime story featuring a struggling policeman, Constable Paul Hirschhausen (Hirsch), who has been sent to the town following a corruption inquiry.
For a long time, it seemed that Bitter Wash Road was going to be a one-off novel by Disher, but now after a six year wait we have the sequel, Peace.
Peace is set about twelve months after the events of Bitter Wash Road, which uncovered murder and corruption in the remote rural setting. Hirsch, the town's sole cop, has worked hard since then at gaining the town's support by applying a positive community policing approach and participating in local working bees and the like. He is gradually being accepted by the local people and has settled into a pleasant routine with his lover, the local teacher Wendy, and her daughter.
With Christmas almost upon him, things are looking peaceful in the small town of Tiverton with just the usual country crimes: some copper wire theft, two boys stealing an unregistered ute and Brenda Flann smashing her car into the front of the local pub. Minor stuff until a horrible act of violence and a strange altercation with a woman on the main street leads to more unpleasantness. When Hirsch is asked to a do a welfare check on a family living outside of town he is suddenly he is caught up in a murder and more bloodshed.
This is a well-crafted crime novel that excels in its characterisations and the subtlety of it plotting. The story starts a little slowly, but the pace soon picks up and Disher constantly keeps the reader off balance as the story twists and turns its way to a tense and unexpected conclusion. Overseas readers will also enjoy the realistic involvement of the local fauna in the bloody conclusion.
The depiction of Tiverton and its surrounds rings true and Disher shares Ian Rankin's ability to capture the mood of a location through his vivid descriptions of the setting:
"the sun low behind him, flaring on the hills ahead. His sense of travelling back into the past was stronger than usual – roads that had barely evolved from bullock-wagon routes, old buildings, drooping telephone lines, ancient Austin trucks listing on perished tyres."
He also convincingly captures the mood of community policing in the remote rural area:
"Hundreds of kilometres a week, checking in. An elderly grazier here, a widow with a schizophrenic son there. A police presence – meaning a cup of tea, a chat, a follow-up. …. Some of the people he called on were lonely, others vulnerable. Some got into trouble through a lack of foresight; a handful were actively dodgy."
The characterisations are also very good and multi-faceted, especially Disher's portrayal of the local town folk and their reactions to Hirsch. The clash between the local police and the big city cops from Adelaide and Sydney later in the book also rings true. Hirsch is a very well rounded character. Capable and more cleverer than he looks, he is also capable of making mistakes and is no super hero. He is a very convincing portrait of a good man trying to do his best in a difficult situation and environment.
In all, Peace is a very impressive piece of crime fiction. There has been a lot of fuss about Australian rural or outback noir in recent years, but few, if any, do it better than Disher. A must read for all crime fiction fans.
Four and a half stars out of five!
Peace is released in Australia on 5 November. Thanks to Text and the Canberra Weekly for an advanced copy of the book.