SEVEN LIES by Elizabeth Kay (Sphere)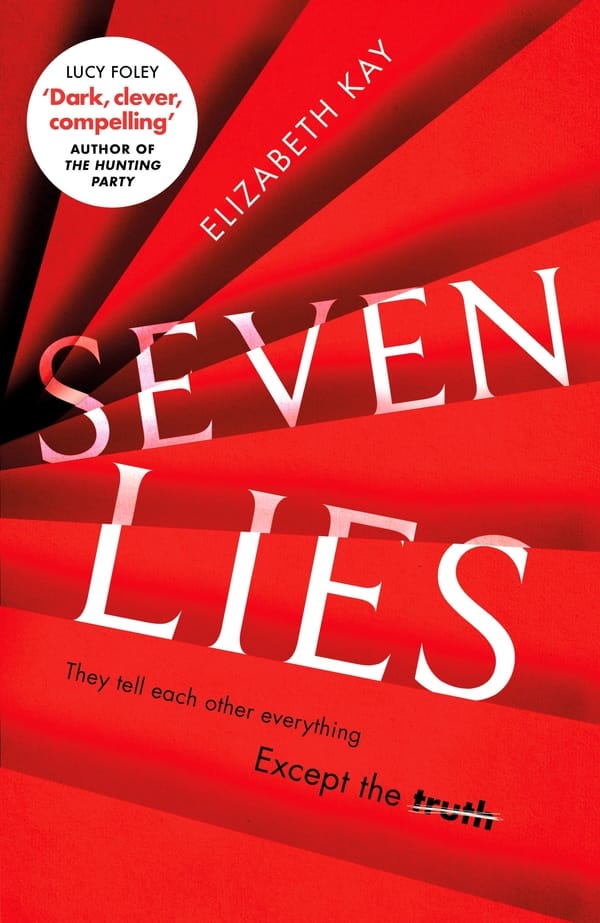 Elizabeth Kay's Seven Lies has arrived amidst a whirl of publicity and claims of being one of the year's biggest debut thrillers.
The story is cleverly structured around seven lies told by the book's narrator, Jane. Jane and Marnie have been inseparable since they first met at school when they were eleven. They even maintained that strong bond during their twenties as they married handsome young men and started on new phases of their lives. But as Jane confesses in the opening examination of the first lie, she never liked Marnie's husband, the loud and obnoxious Charles. She could never bring herself, however, to tell Marnie of her view and it was this first lie which led to more lies and tragedy: "If I had been honest … then Charles would almost certainly still be alive."
Jane then takes the reader through the other six lies and in the process tells the story of her relationship with Marnie, her acrimonious connection with her mother and her fraught relationship with her sister, Emma. There is also the matter of her marriage to the lovely Jonathan. The focus of her story, however, is her obsessive relationship with Marnie: "She is light where I am dark."
The book is structured as if Jane is telling the story directly to the reader, as a personal confession almost. This gives a feeling of intimacy to the story and also allows for a lot of foreshadowing. You know that bad things are going to happen, but you are not sure what and there is also the question of who is Jane really talking to.
Elizabeth Kay has a very easy flowing style and for the most part Seven Lies moves along at a steady pace and provides an interesting examination of an obsessive and potentially toxic relationship. Jane is not the most reliable narrator, but her story is interesting over the first half of the book.
Seven Lies is works well as an examination of an intricate relationship between two female friends and a reflection on modern society, but as a psychological thriller it fails to thrill. You basically know where it is heading from the opening chapter and Elizabeth does not veer greatly from the expected outcome. Readers expecting seismic twists will be disappointed and there is very little suspense. The introduction of a nosy journalist adds some tension, but this peters out and never seems really credible. The book builds to an interesting finale, but it does not grip and seems unlikely.
I suspect that others will enjoy Seven Lies much more than me. I could appreciate Elizabeth's clever structure, engaging narration and occasionally wry observations, but as a thriller it did not work for me.
Three and a half stars out of five.
Seven Lies was released in Australia on 14 April 2020. Thanks to Hachette and the Canberra Weekly for an early copy of the book.