SILVER by Chris Hammer (Allen & Unwin, $32.99)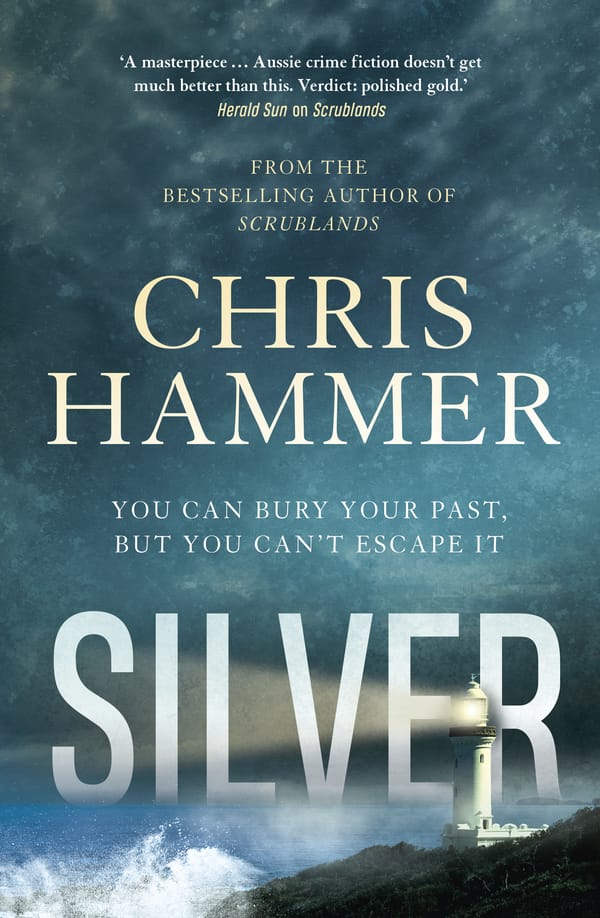 Canberra author, and respected former journalist, Chris Hammer burst onto the Australian crime writing scene last year with the highly popular Scrublands set in a small, drought ravished town in the Riverina area.
Scrublands was a big, generously plotted novel with several strands and an abundance of characters and ideas. Chris continues that format with Silver which, as one character notes, deals with "murder and mystery, drugs and sex, celebrity and religion, all unfolding against a background of real estate speculation, small-town ambitions and big-time money."
Silver opens with journalist Martin Scarsden, the central character in Scrublands, returning to his hometown of Port Silver on the north coast of New South Wales. He has been in Sydney writing a true crime account of the events in Scrublands and is now heading to Port Silver to join his new partner, Mandy (Mandalay) Blonde, and her young child. Mandy has just moved there following a recent inheritance and Scarsden is keen to see her, despite his reservations about coming back to a place which holds so many bad memories for him. When he arrives, however, he finds his best friend from his schooldays bleeding to death on the floor of the apartment that Mandy is renting and her standing over the body. Mandy becomes the main suspect in the murder and Scarsden is forced into tracking down evidence to clear her name. As he investigates he finds a web of lies and corruption involving a proposed big development, a dodgy celebrity retreat that offers sex and drugs and the suspicious disappearance of a local businessman who went missing five years ago. He also has to confront his own tragic past.
Silver is a bit of a slow burn of a thriller, with Chris taking his time in establishing the backgrounds to the crime and Scarsden's own past. His creation of Port Silver is impressive in its detail, there is even a handy map at the front of the book, and in its descriptions of the setting and the people. Chris has a journalist eye for detail and his depiction of the process of gentrification of small towns along the New South Wales coast rings true: "Some fairy godmother has visited in his absence, sprinkling the silver pixie dust of family trusts, self-managed superannuation funds and negative gearing, but sprinkling it unevenly."
As with Scrublands, the plotting is complex with plenty of false leads, dead ends and unexpected twists and turns. The final outcome is surprising, and Chris manages to interweave parts of it in with Scarsden's own childhood in an unforeseen and poignant way. The characters are also complex and rich and Chris draws heavily on his own journalistic background to flesh Scarsden out and create a convincing cast of supporting characters.
There is a lot to admire in Silver, but there are also some quibbles. It is a long book, which could have been usefully trimmed with some
judicious editing of the plot and a reduction of the repetition about Scarsden's childhood and how pretty Mandy is. Some of the police procedural aspects do not ring true and the willingness of the police inspector and an ASIO officer to help Scarsden is not convincing. Elements of the plot also just seem to fall too easily into place at times and it is hard to believe that neither Scarsden or Mandy discussed with each other their connections to Port Silver before moving there.
These , however, are annoyances rather than major complaints. Overall Silver is an impressive novel that builds to a strong, emotional conclusion. It is probably not as good as Scrublands, but is still a damn fine read and will appeal to those who enjoy leisurely, complex crime tales with a lot of heart.
Four stars out of five!
Silver is available in Australia for $32.99 and on the Kindle in the United Kingdom for £7.99. It is being released in the United Kingdom in book form in January 2020.