STAKE by Kevin J. Anderson (Severn House, 30 April 2020)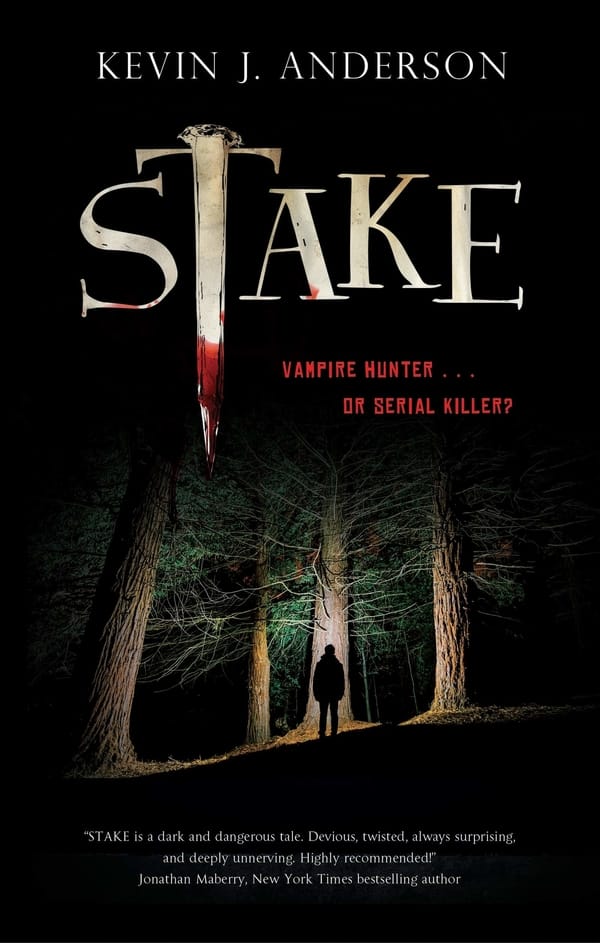 Famed science fiction and fantasy author Kevin J. Anderson makes an interesting diversion into the horror/crime arena with his latest novel, Stake.
Damaged war veteran 'Simon Helsing' thinks that he is waging a war against vampires. Colorado Springs detective Todd Carrow thinks that he has a serial killer on his hands who is targeting nighttime workers while they sleep during the day. Alexis Tarada runs a conspiracy theory website called HideTruth.com and thinks that both of them may be right. Meanwhile, a well organised group of survivalists are trying to keep below the radar in their hideaway camp in the forest and watching what is happening.
Kevin Anderson's Stake is an enjoyable crime thriller that combines elements of the horror genre with that of the police detective novel. The idea of a modern day vampire hunter who may be inadvertently killing real people is quite clever, and Anderson grounds it sufficiently in the real world to make it work. It takes a little while for Anderson to put the various elements of his story in place, but once underway it moves quite smoothly and the ending offers some good action and suspense, and a couple of neat, if predictable, twists.
The highlight of the book is the character of Alexis Tarada, who, because of a childhood incident, desperately wants to believe that there is 'something out there' and has devoted her life to investigating the unexplained. She is a well developed and very engaging character and her website posts add some nice humour to the story. She is surprisingly level-headed and her actions drive much of the story in a believable manner. Thankfully, Anderson avoids developing her relationship with Detective Carrow in a cliched manner and instead gives her the opportunity to develop as a character. In fact, all the characters are well fleshed out and credible.
Anderson is an experienced and accomplished author and he knows how to keep the reader interested and entertained. He has a good understanding of the mild horror milieu from his time doing X-Files novelisations, and he is not afraid to make fun of some of the conventions.
Overall, Stake is a very entertaining tale that kept me happily engaged for several hours. Hopefully, there will be more Alexis and Carrow novels in the future .
Three and a half to four stars out of five!
Stake was released in the United Kingdom by Severn House on 30 April 2020. It will be released in the United States on 4 August 2020.
Thanks to NetGalley and Severn House for an electronic copy of the book.