State Of Fear by Tim Ayliffe (Simon & Schuster, $29.99)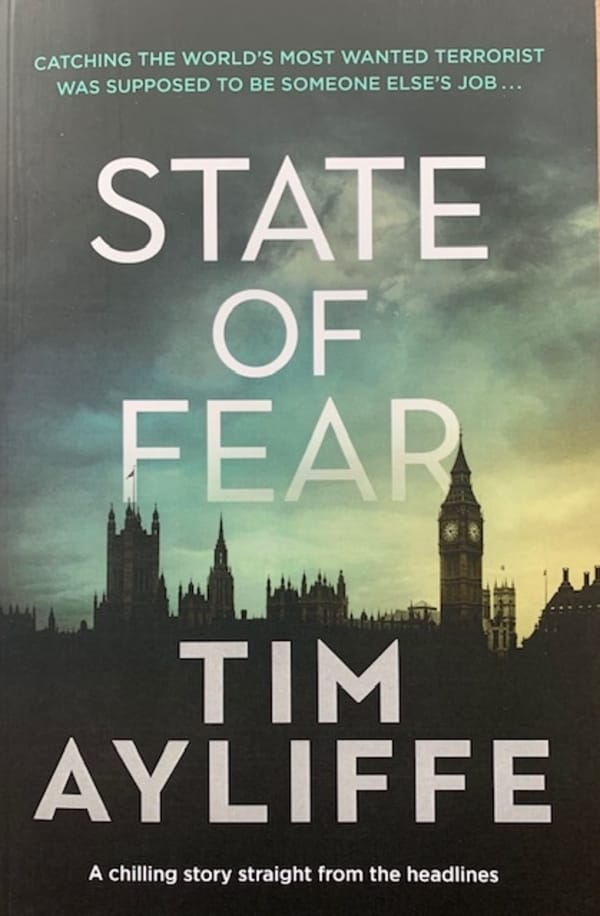 Veteran Sydney journalist Tim Aycliffe made a sparkling entry into the thriller ranks last year with his first novel about battered war reporter John Bailey, The Greater Good.
It was a very enjoyable read that delivered thrills, interesting social commentary and an insider's look at the new world order in equal measure. When I reviewed it in May 2018, I described it as: "a well-paced and exciting thriller peopled with credible characters and told with real aplomb by Aycliffe."
Ayliffe has now followed it up with a second John Bailey thriller, State Of Fear.
State of Fear opens with Bailey, still traumatised by his experience of being kidnapped and tortured in Iraq by terrorists, and his more recent experiences in Australia, giving a talk in London on Islamic terrorism. The talk goes well, but a horrific murder shortly afterwards flings Bailey back into world of terrorism and senseless violence. Shaken by the event he returns to Australia, but is soon caught up in more violence when his former driver and fixer from Iraq, Omar, asks him to help find his son who has gone missing. Omar is worried that his son has become radicalised and as Bailey investigates the Wylie Park student, he realises that those fears could be well founded. Soon the police and the security agencies are involved, and Bailey finds links back to Mustafa al-Baghdadi, the terrorist who was Bailey's kidnapper and torturer in Iraq many years ago. Mustafa is now a leading figure in Islamic terrorism and has a personal grudge with Bailey, one that he is willing to settle with the blood of others.
This fast-paced story rockets between acts of violence in Australia and overseas, and reaches a dramatic conclusion in London.  The action scenes are well-choreographed and shocking and Ayliffe generates a considerable amount of suspense as the stakes for Bailey are increasingly raised.  The characterisations are generally good, and even-handed in their portrayal of the different sides of the terrorism debate, and there are some nice vignettes involving minor characters. As with the first book, the roguish CIA agent Ronnie Johnson tends to steal show, but the other characters, such as Sharon Dexter, head of the Joint Counter Terrorism Team and Bailey's girlfriend, are also engaging.
As with The Greater Good, Ayliffe revels in taking aim at various sections of society, especially politicians and shock jock radio hosts.  His reflections on the terrorism debate and how it has been hijacked by conservative politicians for their own purposes rings true and he also casts a jaundiced eye across the over-development of Sydney.  Ayliffe, however, saves some of his harshest criticism for the state of journalism:
"Social media had poisoned the fourth estate. News wasn't news anymore. …It had to be sensational. Right or wrong, it didn't matter. Facts weren't being checked anymore. The news business was broken and no one seemed to know how to fix it."
State Of Fear is an exciting and fast paced tale, but it does require a significant suspension of disbelief. The complete involvement of Bailey in the chasing down of Mustafa does not ring true and some of the events towards the end do not withstand scrutiny. Bailey also seems less credible here, than he did in The Greater Good. Nevertheless, it is very enjoyable and makes for an entertaining weekend read. I look forward to seeing where Ayliffe takes Bailey from here.
Four Stars out of Five.
State Of Fear is released in Australia on 1 August 2019. It is available on Kindle in the United Kingdom now.