STICKS AND STONES by Katherine Firkin (Bantam, 2 June 2020)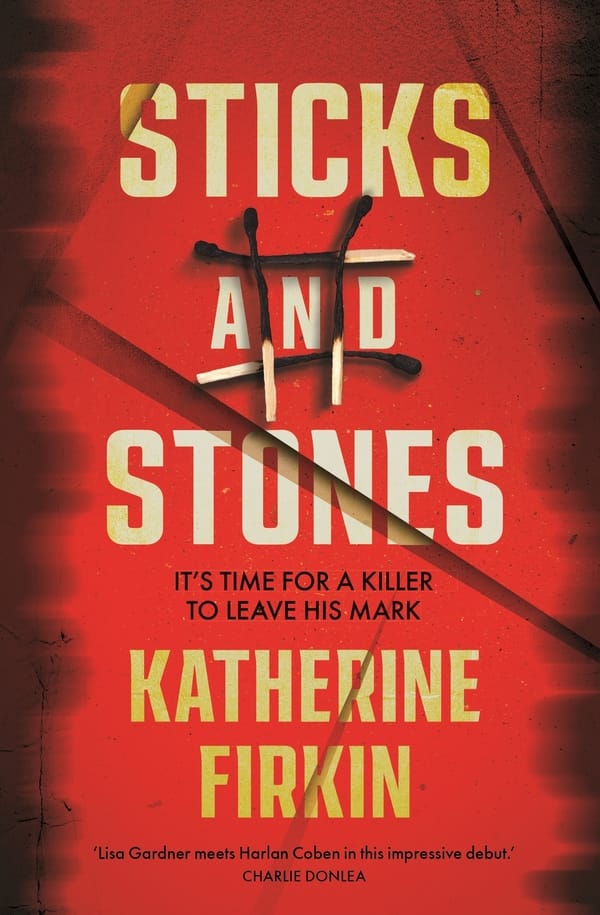 With Sticks And Stones, Katherine Firkin joins the growing band of Australian journalists, such as Chris Hammer, Michael Brissenden and Karina Kilmore, who have produced successful crime fiction debuts in recent years. 
Set in Melbourne, Sticks And Stones follows a rich array of characters caught up in the disappearance and potential murder of two young women.  When Daniel Norman reports his sister as missing, Melbourne Detective Emmett Corban is reluctant to investigate, suspecting that she has just taken a break from her family. He is more concerned about a missing mother who failed to pick up her children from the local sports club. However, when the body of a woman is found dumped on an embankment near a freeway overpass with markings etched into her skin he has to reassess the two cases. What was once a standard missing person case, quickly escalates into a hunt for a brutal serial killer.
Told from a variety of perspectives, Sticks And Stones is a solidly plotted crime novel that steadily moves through its paces to a surprising conclusion. Firkin skillfully uses her frequently shifting viewpoint, including childhood recollections by the killer, to build suspense and cast suspicion across several suspects. The various personal story lines gradually build into a cohesive whole and Firkin does a good job in keeping the reader guessing as to who the killer might be. 
The various characters are generally well-developed and avoid the simple caricatures that are often found in crime fiction. Detective Emmett Corban is a convincing central character, believably having to balance the demands of the investigation with internal work politics and the demands from home. He is a solid, hard working, caring detective who steadily works through the various leads without any startling flashes of inspiration. The other members of his team have an interesting collection of flaws and personalities, and I particularly liked Firkin's development of the seemingly lazy Senior Constable Morton Williams.
Firkin uses her experiences as a journalist to flesh out her story with interesting reflections on the growing wave of violence against women, the effects of neglect and abuse and the complexity of workplace relationships. Through flashbacks to the killer's school years she also offers insights into the development of a killer.
My reservations with the book are minor. I thought that there were probably too many shifting viewpoints and that some of the personal stories were unnecessary. The storyline involving Corban's wife was interesting, but probably unnecessary, although I suspect that Firkin was setting the groundwork for a future novel. It is also hard to understand why the police did not make the connection between the two missing women much earlier, especially as Firkin does a good job of hinting of it to the reader from a very early stage.
In all, I thought that Sticks And Stones was a strong debut by an author with considerable potential. She confidently joins the growing ranks of the very good crime writers currently working in Australia and is certainly an author to watch out for.
Four stars out of five!
Sticks And Stones is released in Australia by Bantam on 2 June 2020 for $32.99.
Thanks to Penguin Random House and the Canberra Weekly for an advanced copy of the book.