TALK WITH DERVLA McTIERNAN – 28 FEBRUARY 2020
On the evening of 28 February an enthusiastic crowd gathered at the Australian National University to hear Dervla McTiernan discuss her books about Galway detective Cormac Reilly and her views on the state of crime writing.
I have met Dervla previously, but this was the first time that I was lucky enough to interview her. We started off by discussing the evolution of the Detective Cormac Reilly series over the first three books and the changes in her latest book, The Good Turn, which had brisker pace and a greater focus on one of Reilly's team, Garda Peter Fisher. We also discussed her future plans for Reilly, and Dervla spoke generally about the influences on her work, especially some of the terrible real-life events which influenced her first book, The Ruin. We concluded with a general discussion about the state of crime writing, especially the very healthy condition of the genre in Australia.
Fans of the Cormac Reilly series will be slightly disappointed that Dervla is stepping away from the series for awhile, but will be pleased to know that she is well advanced on a new novel, which is set in the United States and has a very twisty plot! Dervla also shared news about early plans for a television show based on her novels.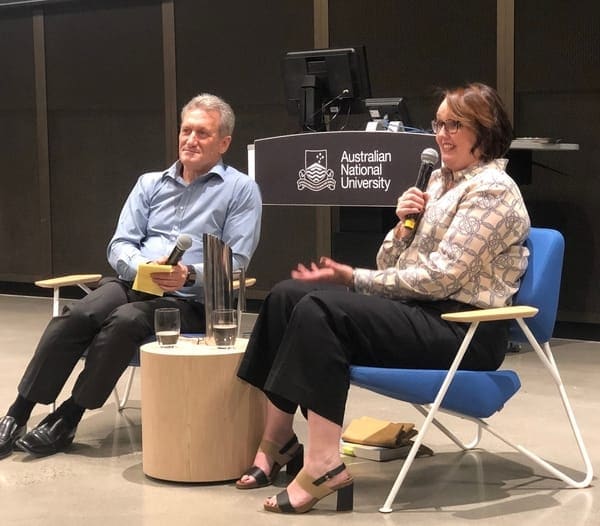 Dervla is a very engaging and amusing speaker and the hour passed quickly, with some good questions from the audience at the end of the time.
A audio of the talk with Dervla is available at:
Many thanks to Colin Steele at the Australian National University and Harper Collins Australia for organising the event. And to Dervla for such an interesting talk and a very enjoyable evening.
I reviewed The Good Turn back in early February. The link to the review is here: https://murdermayhemandlongdogs.com/the-good-turn-by-dervla-mctiernan-harper-collins/