TERMINAL BLACK by Adrian Magson (Severn House, £20.99 or £15.18 Kindle)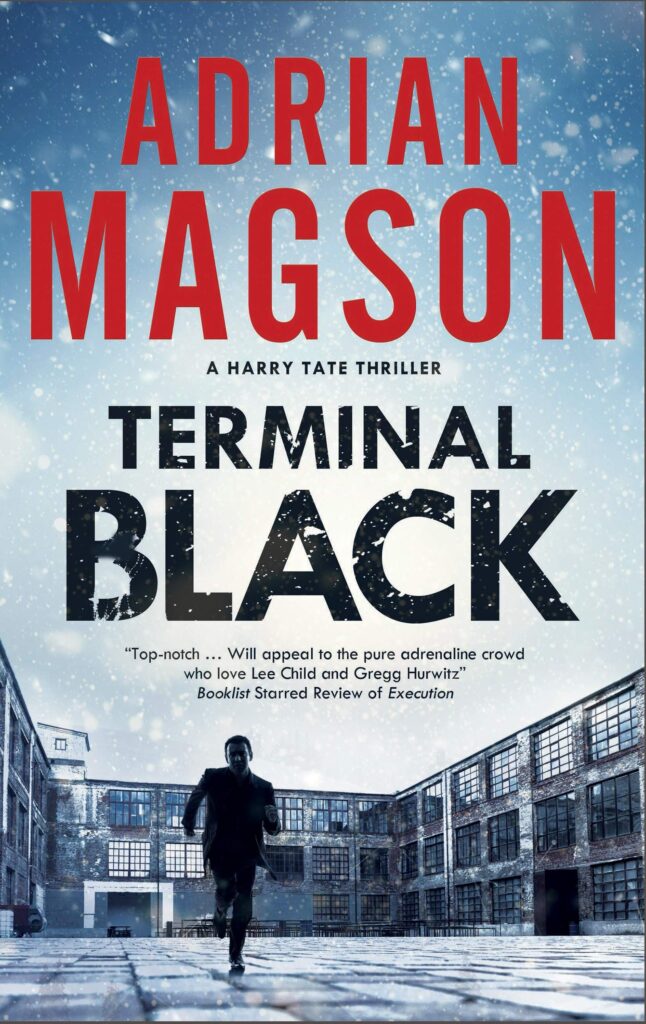 Adrian Magson is one of my favourite current writers of action spy novels.
His Red Station (2010), which introduced former MI5 agent Harry Tate, was a clever, more sinister version of Mick Herron's Slough House series, and the four books which followed it were good, old-styled spy novels with exciting shoot-outs and betrayals.
Now after a six-year break, he has returned with a new Harry Tate novel, Terminal Black.
Harry is now out of the Secret Service game doing odd jobs at the lower end of the private security market.  He is reasonably content in his life when he is approached by British Intelligence to help find his old friend Rik Ferris.  Tate and Ferris were fellow survivors of the Red Station fiasco and the subsequent clean-up which occurred, but they had recently drifted apart.  Ferris has now gone missing, with some highly sensitive secrets from MI6's archives in his possession. British Intelligence wants them and Ferris back, but there are others also after Ferris with more sinister intent.  Tate reluctantly agrees to help in the search for Ferris and soon finds himself re-acquainted with rogue assassin Clare Jardine and dodging bullets in Belarus.
This is a briskly paced and exciting spy thriller with various layers of duplicity and a modern, up-to-date plot about Soviet-American political dealings and cyber-attacks.  The shifting viewpoint between the various players, adds to the tension as we gradually become aware of the range of motives and the devious games being played.  The characters are quickly and effectively sketched and are quite adequate for the story, although some verge on caricature. Magson also introduces some interesting new characters, including a female British Army demolition expert, who I would like to see more of in future books.
Although there is a lot going on, Magson keeps the story clear and the plot unfurls at a rapid rate. Magson always has a firm grip on his material and he reminds me of Clive Egleton in his ability to write well-choreographed action scenes and shoot-outs, of which Terminal Black contains several, including a nicely staged, final explosion of violence in a deserted warehouse. The final pages also have a nice cynical tone to them.
Terminal Black may not have the depth or elegance of some of the very fine British spy novels produced so far this year by writers such as Henry Porter, Mick Herron and Tim Sebastian, but it is certainly up there in terms of excitement and sheer enjoyability. A very entertaining read.
Four and a half stars out of five.
The release date for Terminal Black is little unclear, with Amazon UK and the publishers saying 31 October 2019, while other sources indicate March 2020.  Regardless, it is certainly worthwhile tracking down. 
Thanks to Severn House and NetGalley for a copy of the book to review.