THE CHEMICAL DETECTIVE by Fiona Erskine (Point Blank, $A32.99)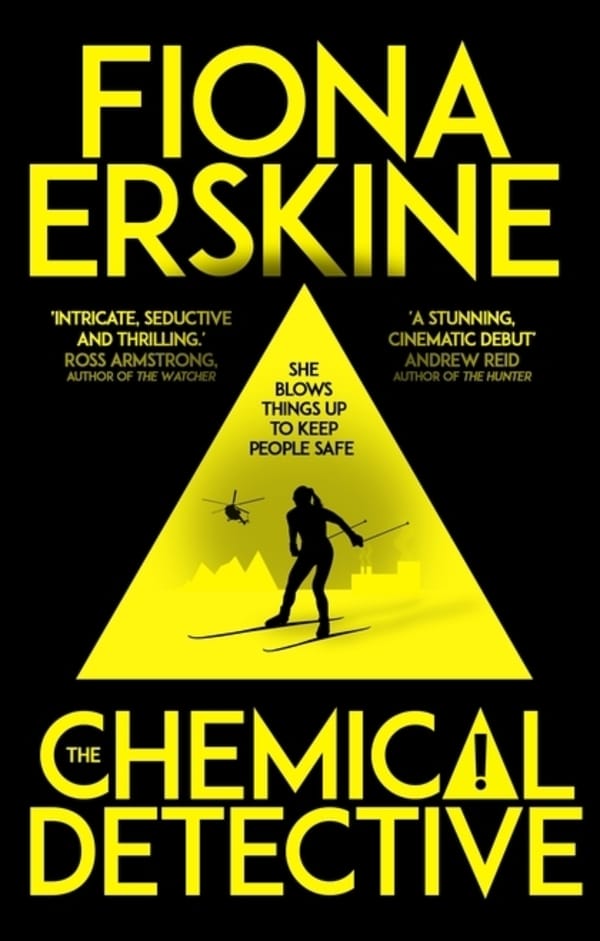 Fiona Erskine makes a sparkling entry unto the thriller scene with her first novel about Dr Jaq (Jacqueline) Silver, an explosives expert and accomplished skier.
After a tragic incident in her last job, Jaq is working at an avalanche control and research site in Slovenia. When she uncovers something suspicious about a consignment of explosives, she raises a complaint with the large multinational chemical company responsible for the shipment. Before she can confirm her suspicions, however, the evidence disappears, and Jaq is accused of professional incompetence. Things quickly worsen and she soon finds herself framed for murder and on the run from the police as she tries to uncover the secret at the core of the company's business.
The Chemical Detective is a steadily paced thriller that takes the reader on an exciting journey from the snowfields of Slovenia to the English countryside and onto the ghostly ruins of Chernobyl.  Jaq is an engaging and persistent protagonist and Erskine does a good job of keeping the reader guessing as to what is going on and who the real villains are.  She underpins her story with some gritty and credible violence, and Jaq suffers for her persistence, to point that most reasonable people would have given up.  The story is smoothly told, although Erskine does tend to dump a lot of information on explosives and chemicals, which slows the pace at times.  For me the highlight of the book was the scenes set in present-day Chernobyl.  Erskine paints a fascinating and chilling picture of how Chernobyl looks now and provides interesting background information on how the incident occurred and its lasting consequences. She also adds some good points of humour in describing the tourist group that accompanies Jaq on the visit to the devastated site.
On the negative side, Erskine relies too much on Jaq's ability to charm people into helping her to advance the plot, and there are too many coincidences towards the end. Overall, I enjoyed The Chemical Detective, but with tighter editing and some trimming of the book's length it would have been a much better thriller. These quibbles aside, it is an entertaining novel that harks back to the golden period of British international thriller writing, albeit with a female hero.
FOUR STARS OUT OF FIVE!