THE DIRTY SOUTH by John Connolly (Hodder & Stoughton, August 2020)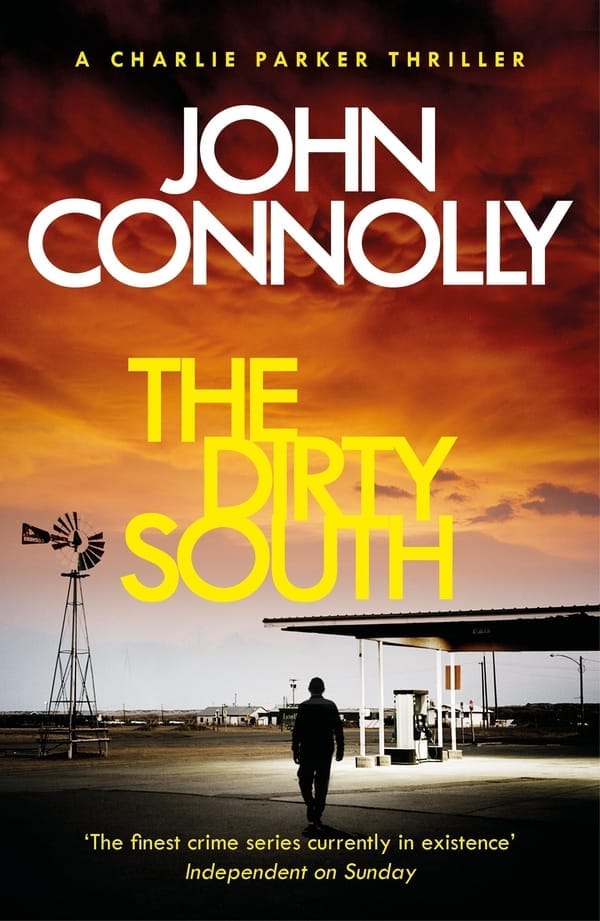 After several delays due to COVID-19, John Connolly's The Dirty South is finally being released in Australia.
Set back in 1997, it is a prequel to Connolly's highly successful series about private eye Charlie Parker and, unlike the other books in the series, it does not feature any supernatural overtones.
The Dirty South opens with the traumatised former New York police detective in the small, rundown town of Cargill in Burdon County, Arkansas hunting down a lead on the killer who recently brutally murdered his wife and child. Someone has been slaughtering young black women in Burdon County, although no one wants to admit that it is happening, and Parker thinks that there might be a link to the slaying of his family. He quickly realises that there is no connection and, after a night in the jail, he is happy to leave Cargill, until he is persuaded by the desperate police chief to stay and help with the investigation there. A decision which has violent repercussions for a lot of people.
This is a big, beautifully written novel that keenly held my attention from the beginning to the surprising conclusion. Connolly's mastery of language is only matched by a handful of other crime writers and he can vividly capture a scene and describe a setting with a few telling phases. From the early description of Cargill, named after the local lake of Karagol which has water so black "it seemed to consume light", to the following telling sketch of a local bar, Connolly readily captures the mood and tone of a town that seems to consume life and hope:
"The bar had a well-stocked jukebox, although light on soul and R&B, which meant none at all. It was currently playing something by the Eagles, because somewhere in town was always playing something by the Eagles, and it might as well be Boyd's as anyplace else."
As always, the breadth and intricacy of his plotting is superb, and the book moves through several good twists and turns before arriving at the suspenseful climax. Even without the usual supernatural elements, The Dirty South encapsulates the eternal battle between good and evil and there is no shortage of damaged souls. The characterisations are rich and fulsome, and regular readers of the series will enjoy the appearance of some key characters who become staple elements in the series. It is also interesting to visit this early version of Parker, younger and rawer, but still containing the seeds of the man becomes.
Typical for a Connolly novel, there is a rich tapestry of ideas and detail in The Dirty South, as well as a lot of local history. Racism, stereotyping, greed, corruption and the hint of political influence are all tackled by Connolly in a telling way, but without overly slowing the pace or lessening the excitement.
If there is any criticism, it is that it takes awhile for Parker to emerge in the story, with much of the early sections seen through the eyes of others. It is interesting to see how characters view Parker and learn the history of Cargill, but it would have been nice to have more of the tortured detective earlier in the book.
In all, The Dirty South is a terrific read and along with Michael Robotham's When She Good, is one of my favourite reads of 2020, so far. Its release may have been very delayed, but the wait has been worth it. Highly recommended.
Four and a half to five stars out of five!
The Dirty South is released in Australia on 13 August and the United Kingdom on 20 August 2020. It seems that it is not released in America until October 2020.
Here is a link to a "Conversation" I did with John late last year in which he discussed the background to The Dirty South: https://murdermayhemandlongdogs.com/talk-with-john-connolly-5-september-2019/