THE KOREAN WOMAN by John Altman (Blackstone, 2019)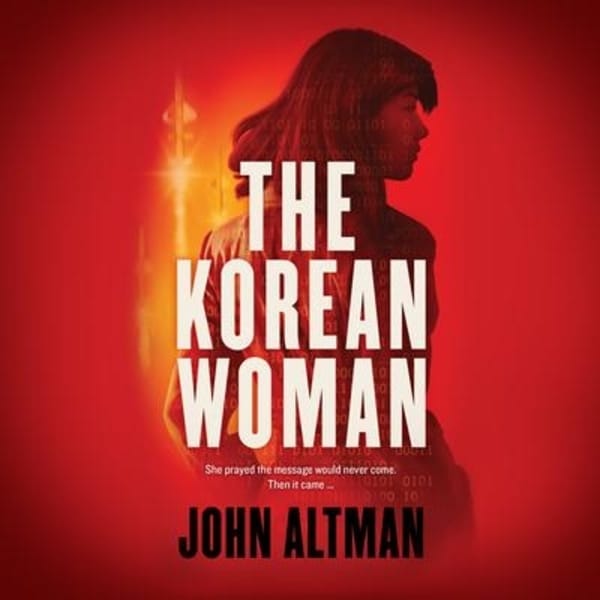 Sleeper agents called into action after years of quiet infiltration have long been a staple of spy fiction from Brian Garfield's Deep Cover (1971) through to Frank Ross' often overlooked Sleeping Dogs (1979) and the more recent television series of The Americans. Now John Altman gives this Cold War trope a modern face-lift with The Korean Woman.
Song Sun Young is a North Korean sleeper agent who quietly slipped into America seven years ago and is now living in New York City with an American husband and their two children. She loves her family and has become used to her affluent American lifestyle, and secretly hopes that the call from her handlers will never come. Unfortunately it does and she is forced to embark on her mission to infiltrate America's financial infrastructure during delicate talks between the White House and North Korea.
The Americans, however, are aware of Song Sun and when she is activated they set in place a team to track her and ascertain the true nature of her mission. Working with a "retired" Israeli operative Dalia Artzi, the CIA Taskforce is confident that they have everything under control until Song Sun breaks cover and sets off on a bloody rampage.
Dalia Artzi comes to suspect that everything is not as it seems and as the authorities desperately try to catch Song Sun, Dalia embarks on her own mission to work out the truth behind the Korean's activation.
The Korean Woman is a briskly paced spy novel, with the race to capture Song Sun providing plenty of violent action and excitement, while a subtler sub-plot unfolds in the background. As Song Sun flees across New York City and into the countryside, we are given flashbacks to her horrible childhood in North Korea and the reasons why she became an agent. We are also given interesting insights into Dalia's sad life and that of the CIA agent Benjamin Bach, whose father was killed in September 11.
The sections of the book involving Song Sun are very good and Altman skillfully engages sympathy for her and has the reader urging her on, even though she is quite unrelenting and brutal in her approach, killing armed agents and innocent bystanders in equal measure. The sections involving the bigger plot are interesting, but in the end they strain credibility and the ending is unlikely.
Nevertheless, The Korean Woman is a very enjoyable spy thriller. It is pacy and exciting and also has some interesting things to say about contemporary geopolitics and the state of the world. The characters are well developed and the storyline makes an interesting change from the plethora of terrorist themed spy novels that we have seen lately. Altman does not quite pull it off, but it is still well worth reading.
Altman is an interesting writer. His first couple of World War II spy novels, A Gathering Of Spies and a Game of Spies, were very good, but subsequent novels have been uneven. The Korean Woman is probably the pick of his more recent books.
Four stars out of five!
The Korean Woman is published by Blackstone Press and it may be difficult, and expensive, to track down the hardback edition of the book. It is, however, available in Kindle format for around $A13 or less in the United States and the United Kingdom.