THE LAST TIME I LIED by Riley Sager (Ebury, 2018)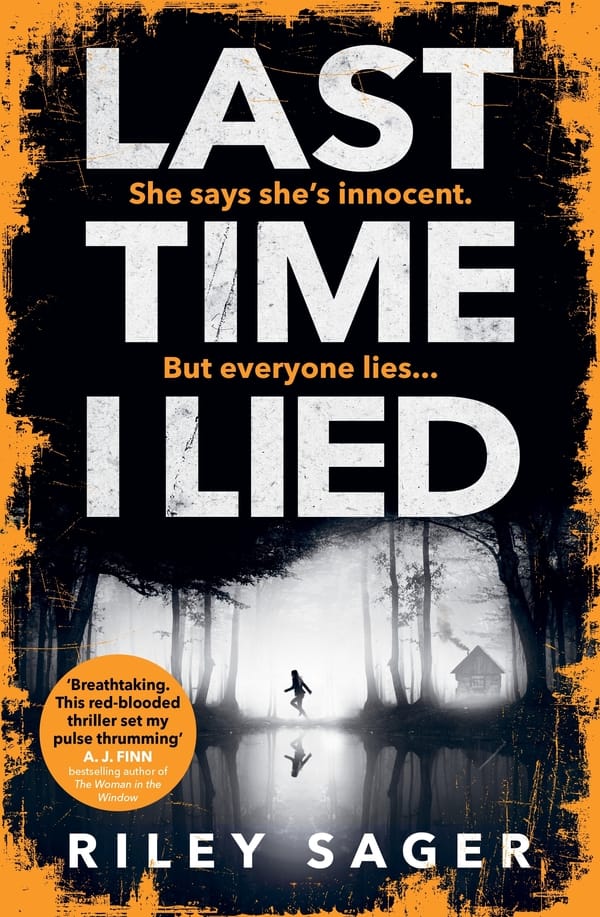 One of the books I finally caught up with whilst I was on holidays was Riley Sager's The Last Time I Lied.
I missed it when it first came out in 2018, but picked up a copy while I was away and thoroughly enjoyed it.
At first glance it seems to be a standard sort of domestic thriller, but on reading it offers much more. Fifteen years ago Emma was a young teenager spending her first summer holiday at Camp Nightingale. Put in with a trio of older girls, Emma was enjoying the experience until the fateful night when the three girls sneaked out, leaving Emma alone. Natalie, Allison and Vivian did not return that night and were never seen again, despite a massive search.
Emma, now a rising star of the New York art scene, is still traumatised by that night and her actions afterwards. When she is asked by the wealthy owner to return to newly re-opened Camp Nightingale, she agrees as a way to put some old ghosts to rest. She even stays in her old cabin and when she finds some cryptic clues left behind by the enigmatic Vivian, she launches her own investigation to find out what really happened fifteen years ago. As the past and the present collide, Emma finds that some ghosts should be left in peace.
Emma is the classic unreliable narrator, beset by mental health issues and a tendency to see ghost like images, who only gradually reveals her role in the events fifteen years. But despite her doubts, she has more backbone than the typical domestic thriller character, and is quite engaging. Her reflections are sharp-eyed and some of her observations are quite amusing.
Although there is not a lot of action, Sager keeps the pace ticking over at a good rate and manages to generate a nice sense of foreboding and mystery. Plenty of red-herrings are laid and the book weaves it way to a good climax and a clever final twist.
It is a very enjoyable read. The descriptions of the girls at the teenage camp, both now and in the past, ring true and their interactions in the present day are also credible. The mystery aspects are well handled and Sager readily establishes a number of believable motives. The low-key romantic elements are also maturely managed and the narrative style is very clean and easy-flowing, making the pages fly by.
Sager is the pseudonym for Todd Ritter, and some readers have been critical of his attempt to cash in on the female domestic suspense market by using an ambiguously gendered name and telling his story through a female narrator. These complaints seem trite to me. The use of gender neutral pseudonyms is not new, by either gender, and as far as I can tell, Emma comes across as a credible young woman narrator.
I may have been suffering from 'holiday glow', but I give it four and a half stars out of five!
Riley Sager's new novel, Lock Every Door, has just been released and I will certainly be adding it to my 'to be read quickly' list!