The Most Difficult Thing by Charlotte Philby (Borough Press, $A29.99, £12.99)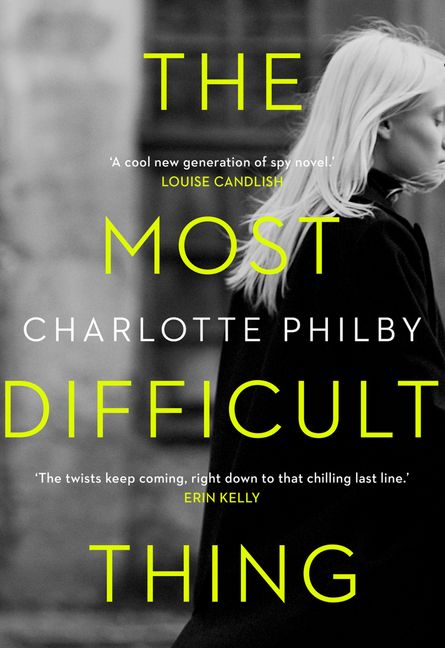 The Most Difficult Thing is an engaging debut by the granddaughter of notorious Russian double agent, Kim Philby. 
Straddling the line between domestic suspense and spy novel, it is a very personal story largely devoid of the professional and tradecraft detail that usually accompanies tales of espionage.   The book opens with successful magazine editor Anna Witherall planning to abandon her husband, David the heir to a prosperous business tycoon, and her twin daughters whilst on a supposed business trip to Greece.  It is a heart wrenching decision, but you get the sense in those first few pages that Anna has little choice. Gradually as the book moves between London, the Greek Islands and the Maldives we learn through flashbacks of the build-up to that decision and of Anna's dangerous descent into the spying that led to it.
It would not be fair to reveal more of the plot here, as Philby only gradually doles out the snippets of information that reveal what is going on. Instead of telling all upfront, she gradually draws us into Anna's story making the reader become interested in her plight and then twisting and turning the story in unexpected directions. For the first hundred pages, or so, the story is told solely from Anna's point of view, but after that Philby introduces a second viewpoint in the form of Maria, who was a childhood friend of David from his time holidaying as a child on the Greek island where she grew up. The story then alternates between Anna and Maria, as they become tangled up in each other's life.
In the end it is probably more domestic suspense than spy novel, with the focus largely on Anna's relationships and her deteriorating mental health. The spy elements are interesting and very modern in their focus, with none of the Cold War antics that engulfed Philby's grandfather. The ending has some good twists and the final page will leave you thinking.
It is a good story, but there are some slow patches and Anna is a frustrating central character. Her gullibility and helplessness become a bit tiring and only at the end does she show some real strength. Maria is a far more interesting character and it would have been good to see more of her. I am also not sure that all the elements of the plot hold up to close scrutiny.
On positive side, Philby is a very fine writer who captures scenes well and can convey emotions in a beautiful way:
"For a moment, my whole body turns cold and then a little piece of my heart floats away like an iceberg breaking free of the glacier into the abyss."
In all, an interesting and quite enjoyable domestic, spy fusion.
Four stars out of five.
The Most Difficult Thing has just been released in the United Kingdom and will be released in Australia on 22 July.
Thanks to Harper Collins Australia and the Canberra Weekly for an early copy of the book.