THE NIGHT FIRE By Michael Connelly (Allen & Unwin, $32.99)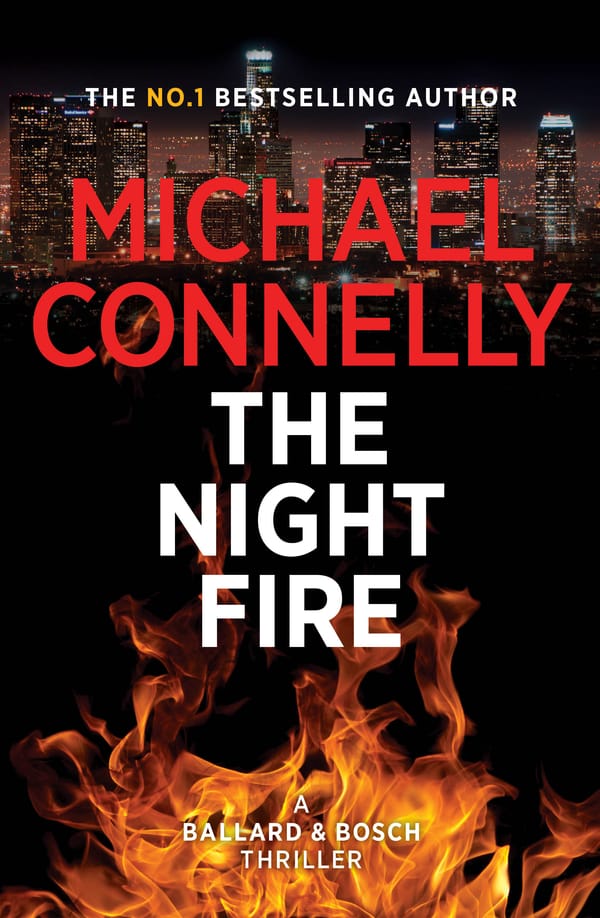 Bosch and Ballard are back!
When Harry Bosch was just starting out as a detective in the LAPD's murder squad he had an inspiring mentor, John Jack Thompson. Now the long retired Thompson has died and Bosch is at his funeral reflecting on old times. After the funeral, Thompson's widow gives him an old murder book that Thompson took with him when he left the LAPD twenty years before. It relates to the unsolved killing of a young, recently released convict in a dilapidated alley notorious as place where drug deals occur.
Bosch is baffled why Thompson would take the murder book with him and sets out to resolve the mystery of the killing. Assisted by LAPD detective Renée Ballard, he tries to work out why the case was so important to Thompson and if any of the original suspects are left alive. He and Ballard also have to deal with the possibility that Thompson took the murder book not to work on the case in retirement, but to stop others from solving it.
As with all of Connelly's novels, The Night Fire is a smoothly written and very engaging crime novel. Within a few, well written paragraphs Connelly has you caught up in Bosch's and Ballard's world and before you know it you are totally engrossed in the story and the pages are flying by, even though not a lot happens in the opening section.
Connelly enjoys building layers in his novels, and in The Night Fire there is a lot going on. In addition to the old alley murder, Bosch is also caught up in a court case that his half brother, Mickey Haller, is defending involving a man accused of murdering a judge and is worried about a sexual predator who is preying on girls in the campus where his daughter is studying. While Ballard, is dealing with the possible murder of a homeless man by immolation and other cases she encounters on the night shift. Some of these cases come together in unexpected ways, while others form interesting background to the story.
As the story progresses, the suspense mounts and the book builds to an exciting and tense climax. There is also a neat little coda which adds to the pleasure. The courtroom scenes are also very entertaining and overall it is a very good read. There are possibly too many coincidences and lucky breaks for Bosch and Ballard, but these quibbles do not detract greatly from what is a first rate crime novel.
One of the things which really impressed me with The Night Fire was the continued development of Ballard as a character. This is her third outing, and Connelly seems to be coming more comfortable with her. He is fleshing her out in interesting ways and she is growing as a character. Less strident than she was in the first book, The Late Show, Ballard seems more assured this time around and her detective skills are more evident. She also interacts well with Bosch and together they make a good team.
Connelly may not be at the top of his form in The Night Fire, but it is still a damn fine book and streets ahead of most other crime novels.
Four and a half stars out of five!
The Night Fire is released in Australia on 21 October and in the UK on
29 October 2019.
Thanks to Allen and Unwin and the Canberra Weekly for an advanced copy of the book.