THE SECOND SLEEP by Robert Harris (Hutchinson, $A32.99 or £15.99). Released 20 August in Australia and 5 September in the United Kingdom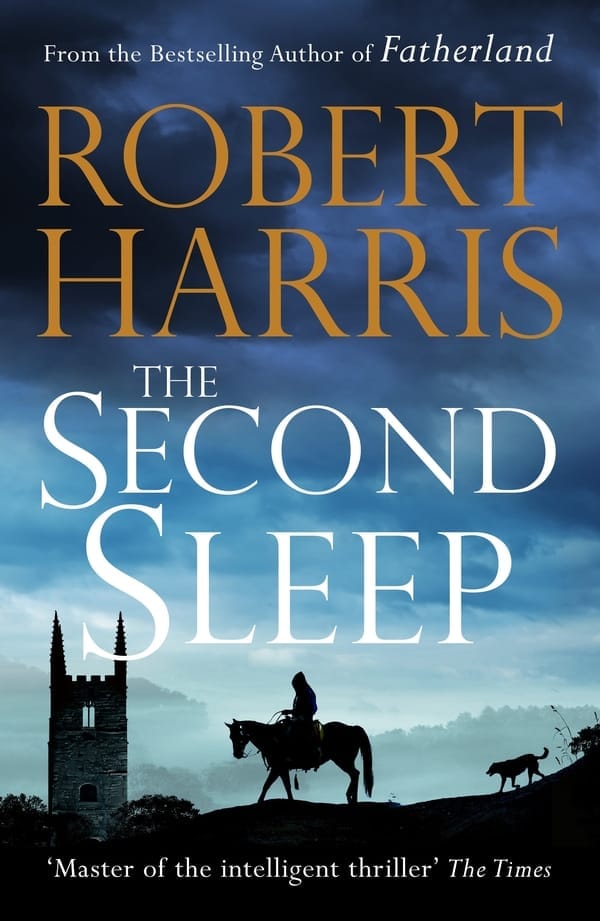 Robert Harris' The Second Sleep is a difficult book to review. Mainly due to the totally unexpected direction the book takes after the first three chapters. Coming cold to the book I was surprised by the development, although it explained a few little queries I had as I was reading. It was one of those rare occasions where I re-read the relevant passage a second time and went "what the hell!"
It would be churlish of any reviewer to ruin the pleasure of that surprise, so I am going to keep my review general and give nothing away.
As the back cover informs us, the book opens in 1468 with a young priest, Christopher Fairfax, riding to a remote Exmoor village to conduct the funeral of the old local priest. The priest has died after a fall and it is up to Fairfax to conduct the funeral and tidy up the priest's affairs. He only plans on being there for a day or so at the most, but, as is the way with these things, a rising river traps him there and he then becomes caught up in the dead priest's fascination with old artefacts. He becomes to suspect that it is this fascination, and the priest's possibly heretical activities, that may have led to his death.
The Second Sleep is a very clever book and contains elements of the mystery and adventure genres, along with some interesting philosophical reflections and a dollop of romance. Although not of this time, the book's reflections and insights hold significance for today's society and are seamlessly woven into the story.
After the initial surprise, the book moves at a good pace, with plenty of interesting developments and moments of action and suspense. The characterisations are solid and interesting, and the central character, Christopher Fairfax, is an engaging narrator. The rationale for his activities stretches credibility a little, but not enough to detract from the enjoyment of the book. The world created by Harris is convincing and well supported by the minor details and as his descriptions of the small homes that the villagers live in are evocative and credible.
The ending is full of tension and surprises, but the final pages are a little flat and I suspect that some readers would prefer more revelations. Nevertheless, it is a superior piece of writing, with some great descriptions, and I thoroughly enjoyed it. And that twist is fantastic!
Four and a half stars out of five!
Thanks to Penguin Random House Australia for an advanced copy of the book. The Second Sleep is released in Australia on 20 August and in the United Kingdom on 5 September.