THIS WEEK IN THE CANBERRA WEEKLY – 26 NOVEMBER 2020 – CHRISTMAS BOOKS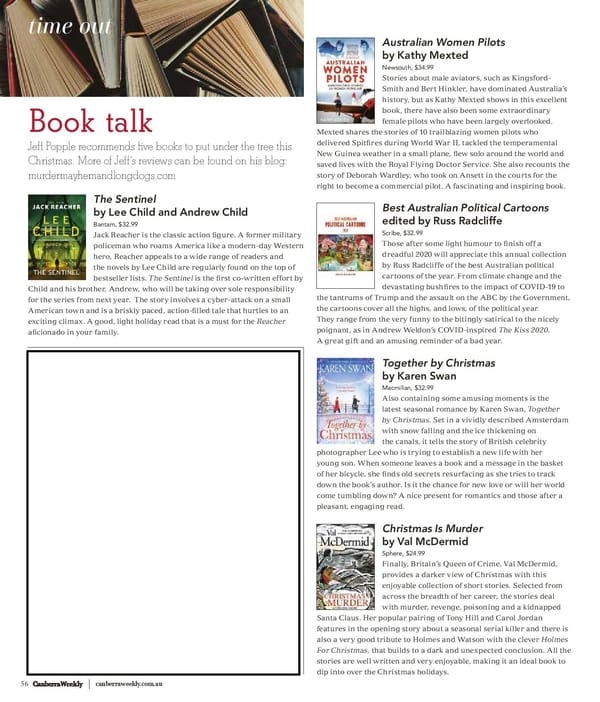 This week in the Canberra Weekly I suggested Five Books To Put Under The Tree This Christmas.
First up was The Sentinel (Bantam) by Lee Child and Andrew Child. I described it as:
"Jack Reacher is the classic action figure.  A former military policeman who roams America like a modern-day Western hero, Reacher appeals to a wide range of readers and the novels by Lee Child are regularly found on the top of bestseller lists. The Sentinel is the first co-written effort by Child and his brother, Andrew, who will be taking over sole responsibility for the series from next year.  The story involves a cyber-attack on a small American town and is a briskly paced, action-filled tale that hurtles to an exciting climax.  A good, light holiday read that is a must for the Reacher aficionado in your family."
I also did an earlier longer review at:
Kathy Mexted's Australian Women Pilots (Newsouth) is a fascinating and entertaining account about some of Australia's forgotten pioneers of aviation. Well written and very engaging, it provides new insights into our aviation history. I described it as:
"Stories about male aviators, such as Kingsford-Smith and Bert Hinkler, have dominated Australia's history, but as Kathy Mexted shows in this excellent book there has also been some extraordinary female pilots who have been largely overlooked.  Mexted shares the stories of ten trailblazing women pilots who delivered Spitfires during World War II, tackled the temperamental New Guinea weather in a small plane, flew solo around the world and saved lives with the Royal Flying Doctor Service. She also recounts the story of Deborah Wardley who took on Ansett in the courts for the right to become a commercial pilot. A fascinating and inspiring book."
Russ Radcliffe's annual collection of the Best Australian Political Cartoons (Scribe) is always a fun read at Christmas and a good reminder of the political antics and crises that have made up this year. The 2020 edition seems just a bit more poignant than usual, but will still bring a smile to your face.
I described it as:
"Those after some light humour to finish off a dreadful 2020 will appreciate this annual collection by Russ Radcliffe of the best Australian political cartoons of the year.  From climate change and the devastating bushfires to the impact of COVID-19 to the tantrums of Trump and the assault on the ABC by the Government, the cartoons cover all the highs, and lows, of the political year.   They range from the very funny to the bitingly satirical to the nicely poignant, as in Andrew Weldon's COVID-inspired 'The Kiss 2020".  A great gift and an amusing reminder of a bad year."
Those after a light, enjoyable, romantic read to give as a present, will appreciate Karen Swan's latest seasonal novel, Together By Christmas (Macmillan). I described it as:
"Also containing some amusing moments is the latest seasonal romance by Karen Swan, Together By Christmas.  Set in a vividly described Amsterdam with snow falling and the ice thickening on the canals, it tells the story of British celebrity photographer Lee who is trying to establish a new life with her young son.  When someone leaves a book and a message in the basket of her bicycle, she finds old secrets resurfacing as she tries to track down the book's author.  Is it the chance for new love or will her world come tumbling down? A nice present for romantics and those after a pleasant, engaging read."

Finally, Val McDermid is one of the United Kingdom's best crime authors and this selection of criminal tales with a Christmas theme, Christmas Is Murder (Sphere), is a good book to dip into during the lull in seasonal festivities. I described it as:
"Finally, Britain's Queen of Crime, Val McDermid, provides a darker view of Christmas with this enjoyable collection of short stories. Selected from across the breadth of her career, the stories deal with murder, revenge, poisoning and a kidnapped Santa Claus. Her popular pairing of Tony Hill and Carol Jordan, feature in the opening story about a seasonal serial killer and there is also a very good tribute to Holmes and Watson with the clever 'Holmes For Christmas', that builds to a dark and unexpected conclusion. All of the stories are well written and very enjoyable, making it an ideal book to dip into over the Christmas holiday."
I also did a longer review here:
In all, some good book choices for Christmas. I will also be looking at Coffee Table books for Christmas and some summer reading titles over the next couple of weeks.
Thanks to the publishers and the Canberra Weekly for the books.